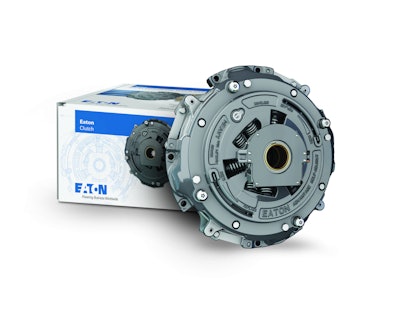 Eaton introduced an upgraded line of Advantage Series heavy-duty clutches at Heavy Duty Aftermarket Week (HDAW) 2017 in Las Vegas Tuesday.
The new design, Eaton says, improves durability, reduces harmful vibrations and better enables smooth shifting across a wide range of Eaton Advantage Self-Adjust and Eaton Easy Pedal Advantage clutches with torque ratings up to 2,250 lbs.-ft.
OEM production is scheduled to begin in the second quarter of 2017 with aftermarket production beginning in the third quarter, and the company says the new clutches will replace the company's existing products.
Ben Karrer, global product strategy manager, says the improvements were made to support the changing requirements of contemporary diesel engines and powertrains, including downspeeding designs."
"In addition, this newest line of clutches is the smoothest and most durable ever developed by Eaton," he says.
Improvements include anew strap drive system, which affixes the intermediate plate to the housing on the clutches, prolongs clutch life by eliminating lug fatigue that over time could lead to failures. The design also eliminates noisy rattle that is associated with the prior lug design; Eaton's soft rate dampers effectively absorb engine vibrations to prevent driveline damage and are now standard on all clutches. This premium damper technology enables downspeeding at all torque ratings up to 1,850 lbs.-ft.; a patent pending spring separator system permits cleaner, quicker disengagement with the engine for more efficient, smoother shifting; and a second wear tab indicator has been added to the Advantage Self-Adjust model giving maintenance professionals better access during visual inspections.
Eaton adds that the Eaton Advantage Self-Adjust and Eaton Easy Pedal Advantage clutches also include a reduction in part numbers from 41 to 28 by combining several earlier models into one. Karrer says these reductions should provide easier stocking for customers and distributors, and will will still cover all commercial heavy-duty truck applications while allowing dealers to reduce inventory levels.
Eaton Advantage Self-Adjust clutches in a new truck application are warranted for three years/350,000 miles. The new truck warranty for Eaton Easy Pedal Advantage clutches is two years/200,000 miles. Aftermarket warranty coverage for both designs is two years/unlimited miles. Release bearing lube intervals for all Eaton Advantage heavy-duty clutches is 50,000 miles.