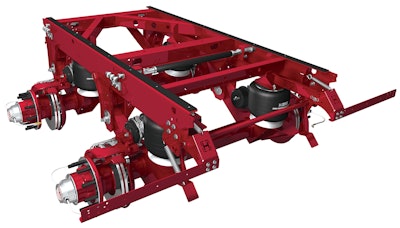 Hendrickson, at the North America Commercial Vehicle Show in Atlanta Tuesday, introduced a lightweight trailer air disc brake option engineered to maximize brake component life while cutting 33 pounds per slider.
Hendrickson's Chamber Up relocates the brake chamber to above the suspension trailing arm – a more protected spot within the slider, giving up to 60% more ground clearance than standard designs, which helps minimize the likelihood of damage to the brake chamber due to road debris or hazards.
Hendrickson CEO Gary Gerstenslager said disc brakes make up roughly 15% of the van and reefer markets in North America, but noted as fleets continue to make the investment, they must carefully consider factors like maintenance intervals, component life and payload value in their ROI calculations.
By rotating the orientation of the disc brake system, Gerstenslager said Chamber Up provides improved access to the brake pads and brake retaining hardware to help simplify maintenance when the system must be serviced.
Available exclusively on Ultra-K air slider systems spec'ing air disc brakes, Chamber Up saves 133 pounds over other industry air sliders systems with standard ADB installation packages.
Hendrickson updates HaulMaax suspension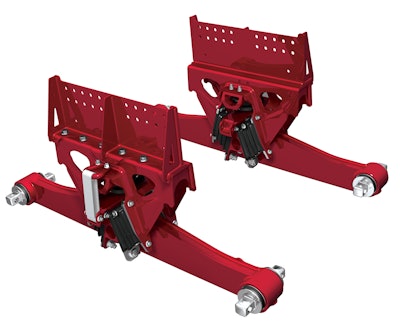 Also Tuesday, Hendrickson unveiled its next generation heavy-duty rubber suspension, HaulMaax EX.
"We've waited for this product for a long time," Gerstenslager said. Advancements in progressive load spring technology allowed engineers to design HaulMaax EX with more vertically angled bolster springs to carry the majority of the payload in compression during the empty or lightly loaded conditions, which improves ride quality. As the load increases, Gerstenslager said ride and suspension characteristic change to meet needs without an abrupt change in feel. Improved ride translates to reduced road shock and vibration to the vehicle, contributing to longer service life of the cab, chassis and body equipment and less driver fatigue.
Company expands relationship with OE partners 
Hendrickson also expanded of its Steertek NXT portfolio of fabricated front steer axles to include 8K, 10K and 12K capacities for the medium duty truck and bus segments. The new 10K and 12K configurations are now available to order on International MV trucks and IC Bus CE Series buses as optional equipment with 8K availability coming in 2020.
Hendrickson also launched its Optimaxx forward liftable tandem axle system and Airtek NXT for the Freightliner Cascadia. Operating as a liftable axle in the forward tandem position provides versatility for fleets with variable loads. Optimaxx's fully automated control module eliminates driver intervention and allows the tractor to adapt to the requirements of the load. Raising the axle when the additional capacity is not needed and lowering the axle to distribute the load evenly when required.
Airtek NXT combines the Steertek NXT axle and air suspension technology with a lightweight integrated clamp group design, saving up to 65 lbs. over standard setup and assisting in protecting drivers from road irregularities and improving ride quality.
Hendrrickson's new wheel-end sensor technology for trailers
Finally Tuesday, Hendrickson introduced its wheel-end sensor technology for trailers that operates on the vehicle area network developed by Sensata Technologies. Watchman's initial product offering will include trailer tire pressure monitoring, wheel-end temperature and wheel-end vibration data that will be communicated to the fleet through the tractor telematics system pulling the trailer.
Gerstenslager said Hendrickson is working with the Society of Automotive Engineers (SAE) to develop standards for the industry in the communication of data and fault codes for trailer wheel-end information.
Watchman's wheel-end sensor kit includes four battery powered wheel-end sensors that transmit wireless RF signals to the Sensata gateway module, which collects data from the sensors and will be used as the communication hub for the trailer. The information will be transmitted from the Sensata gateway module to the tractor electronic control unit (ECU), either via a wireless link or hard wired, and will utilize the SAE J1939 communication protocol.  Additionally, the wheel-end data output from the Sensata gateway module will be made available to on-board trailer telematics devices for transmission to the fleet's back office.