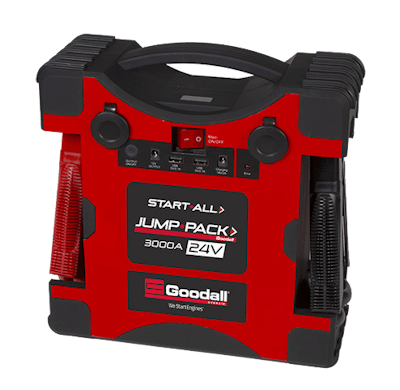 Vanair Manufacturing has debuted its new Start-All Jump Pack series of portable jump starters.
All Start-All models provide safety features including reverse polarity, low-voltage protection, short circuit overheat protection, and over-discharge protection. Integrated heavy-duty cables with large metal clamps for maximum safety and protection are included on all models.
The Start-All Jump Pack series is comprised of four models: 2500A 12V, 5000A 12V, 10000A 12V, and 3000A 24V and each model in the Start All Jump Pack series also doubles as a portable power bank. Equipped with DC auxiliary, USB and 12-volt output ports, the Start-All Jump Pack units can recharge personal electronics such as cell phones, laptops, and speakers, as well as provide power for tire pumps, lights, and more. A 500 lumen LED flashlight with SOS strobe functions comes standard with each model as well.