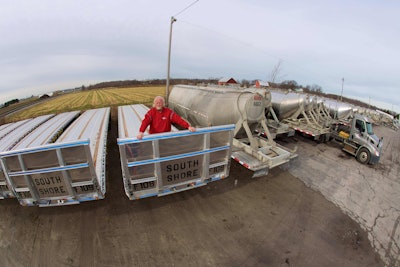 Kevin Tomlinson seemed destined to wind up in the driver's seat of a big rig, jamming gears and hauling cattle somewhere on the Illinois Interstate.
Yet somehow, even with both his father and grandfather once successful drivers, Tomlinson didn't answer when the road came calling.
"I've thought about it," he says, "and I just really don't know. I guess I liked working on stuff more than driving."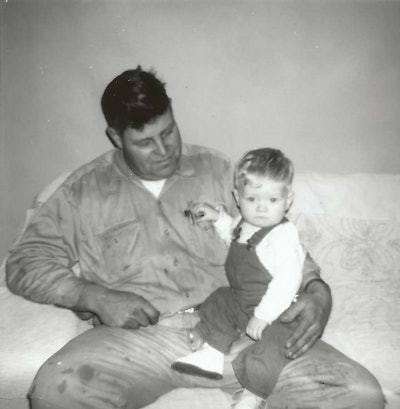 Tomlinson, who now serves as director of maintenance for South Shore Transportation, was introduced to trucking before he could walk by his grandfather, Harry Jonson, who co-founded Johnson Bros. Trucking Co., a company that specialized in flatbed and cattle hauling.
The small company quickly started to root itself as a family business beyond just the Johnson brothers.
"My grandfather owned some trucks," he recalls. "My dad (Tom) drove for him. That's actually how he met my mom (Barbara)."
Out of the cab and into the garage
Growing up around trucks, Tomlinson was usually an available and steady shop hand and discovered his real passions lie, as he puts it, "in getting dirty."
"I was the only boy in the family, and I looked to tinkering as a way to stay busy," he says. "There were no video games."
As a high schooler, Tomlinson worked on farm equipment, the cars of friends and family and anything else he found inoperable. His talents started to grow, and his future became clearer.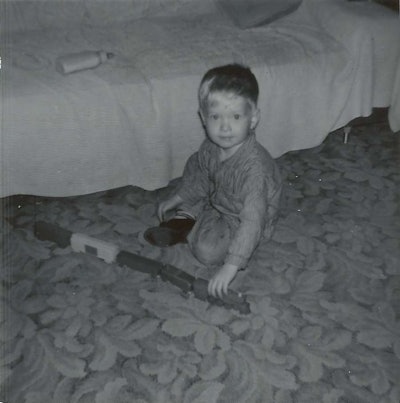 "I knew I was going to be in the trucking business, I just wasn't sure what aspect," he says of a career that now spans 37 years in the industry. "I learned early on that I didn't want to be gone, but I still wanted to be involved in the mechanical part of [trucking]. It was a lot of fun making something operate and trying to fix it."
Tomlinson finally made his break into the industry in 1979, right out of WyoTech's six-month technician program – a program where he thrived.
"It was set up just like a job," he says of the eight and a half hour daily course load where he achieved perfect attendance. "You had to be on time. You got breaks. It was structured just like a job."
WyoTech certification in-hand, Tomlinson joined Cummins in Rock Island, Ill. where he worked in service and engine rebuilding. But his budding career was put on pause about 18 months later when an economic downturn forced company-wide layoffs.
With time on his hands, Tomlinson turned to farming briefly, before latching on in February 1981 with Munson Transportation – a move that eventually would change his address and his life.
A life changing experience
Originally hired to turn wrenches on nightshift in Monmouth, Ill., Tomlinson spent the next seven years climbing the management structure at Munson.
In 1988 he was asked to relocate to Woodville, Ohio where Munson hoped to install a terminal. As Tomlinson went about building his team in Woodville that year, he met and hired John Satterfield to serve as a mechanic for the new facility.
Aside from being "a good wrench," Satterfield's role in the rest of Tomlinson's life is fairly significant.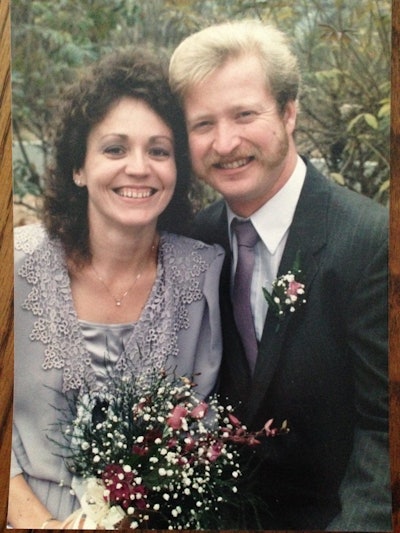 Many a long and hard day have wound down at local watering holes around the country, and one such informal gathering in northern Ohio included Satterfield's sister, Beth.
"I've lived here ever since," says the Illinois-born Tomlinson, now-married father of four.
When Munson Transport was sold to Heartland in 1994, Tomlinson moved on to W.W. Williams Detroit Diesel where he found himself an ill-fit for the OE side of the business.
"It didn't take me long to realize I didn't like that," Tomlinson says of billing truckers for service. "These [drivers], struggling to make a dollar already, and I just didn't like handing them a bill to fix their trucks."
The self-professed "Cummins guy" found a much better fit at the Sandusky, Ohio-based South Shore Transport, a predominantly flatbed fleet that hauls building materials to building retailers and wholesalers in and around Ohio.
He oversees the upkeep of 160 trucks and roughly 400 trailers, and all he hands the company's roughly 130 drivers now are paperwork and keys.
"What I enjoy is dealing with the people and trying to come up with solutions," he says. "Finding better ways, quicker ways, safer ways … I like working with the drivers and trying to find causes for the problems. It's always challenging. It's always something different."
Building a life and a career
Tomlinson's cell phone rings often, and at weird hours. Drivers in need of some mechanical advice aren't really worried about his sleep habits. And neither is he.
"It doesn't happen as often now, but three or four times per week was a pretty normal week," he recalls of pre-dawn wakeup calls. "5 a.m. was my cut-off. If I couldn't get to the shop, fix the problem and get back to bed before then, I'd just stay up there or sleep in my office."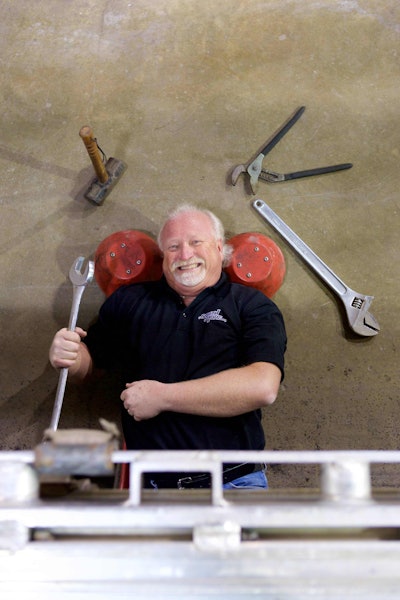 Oddball wakeup calls and long nights could be hard on a less understanding wife, especially after the grind of 27 years, but Beth knew the drill.
Her father drove a truck most of her life and she held various roles at the Ohio Mack Truck dealerships her grandparents owned growing up.
"Eventually, I didn't even hear the phone ring any more. If I woke up and he was gone, I knew where he was."
That level of understanding comes in handy when family nights don't always go as intended.
"There are times that it is pretty annoying," Beth adds, "because we have plans and those plans change, but I understand this is what he does and when you're running trucks, trucks break. If Kevin can't get somebody to run over and get it fixed, then he's going to be the one to get it fixed. It comes with the territory."
"We joke that [the priorities are] the job, the dog and then me," she adds. "Kevin does what he loves doing and he's passionate about what he does."
While Tomlinson ­contests the order of the list, he says the job and all its needs and demands are a big part of his life.
"Obviously that isn't a reflection on (Beth) or anything or anyone else," he says. "It's just that the job is very important."
Family is also a big part of his life. The father of four (Johnathon Tomlinson, Samantha Leichty, Gary Klavinger and Jennifer Everhardt), grandfather of 12 and great-grandfather of five is the "go-to," Beth says, for his entire family.
"When something needs to be fixed or done, he's the one that they run to," she says.
A career nearly four decades in the making
Almost 40 years in the same industry can take its toll on anyone, but for all the bumps, bruises and bloody knuckles, Tomlinson has left a lasting impression in his wake.
He's been involved with the Technology and Maintenance Council (TMC) for about 18 years, having served as vice chair for S1 study group (electrical) and chairman of S12 (onboard vehicle electronics). He's been on the TMC board for six years, including serving as chairman, and was a 2009 Silver Spark Plug Award winner.
He's long become an advocate for attracting new talent to this aging business.
"I've always been involved in the technician part of (the industry)," he says. "Trying to come up with the people that are going to take over when we're gone."
It's people, and the relationships they forge, that Tomlinson says make trucking a special – if not infectious – career, regardless of the path you take in the industry.
"The business revolves around people," he says. "We can buy all the trucks we ever wanted, and we can buy all the trailers we ever wanted, but you have to be able to interact with all different types of people because the guys are all different. And you need to be able to adjust quickly to that mind and mindset."
Making relationships work
Tomlinson's ability to adjust and interact meaningfully with his peers is evident around the South Shore Transportation terminal in Milan, Ohio that he calls home.
Terminal manager Chuck Weagley has the office right across the hall. While he and Tomlinson have worked together for only a year, it didn't take long to make a lasting impression.
"Transportation is always busy, a lot of challenges," Weagley says. "I've been in the business 35 years and he's one of the best I've worked with. Kevin does everything well. The trucks are running. We don't have a ton of maintenance issues, very few driver complaints about equipment; just the whole package. Everything runs very smoothly out there."
A critical part of building relationships is the ability to deal with people all along the chain of command. That's an area, Weagley says, where Tomlinson excels.
"He's an excellent communicator," he says. "He always tries to lace it with a little humor, and I am no mechanic by any stretch, so he'll put it into layman's terms for me. He can communicate with anybody. Drivers can be a challenge but he gets them calmed down and puts them at ease."
Communication is a tool often underappreciated, but Tomlinson says it's not so much a skill he's developed. His philosophy in being an effective communicator is driven by wanting everyone around him to be successful.
"I love the business," Tomlinson says. "I love the people, and I love the truck drivers as much as they drive me crazy."