In Pursuit of Perfection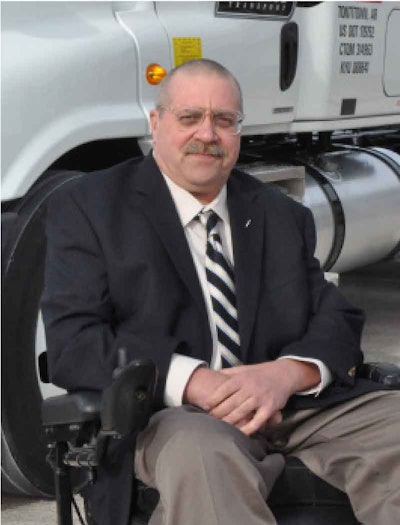 By his own admission, Carl Tapp, vice president of maintenance for P.A.M. Transportation Services Inc., is most comfortable working behind the scenes to move both the Tontitown, Ark.-based company and the trucking industry as a whole forward.
Throughout his long and varied career – first as a U.S. Army electronic maintenance specialist and noncommissioned officer, then as a trucking owner-operator, mechanic, shop foreman and finally as a vice president of maintenance with a national reputation as a technology leader, TMC task force chairman and Silver Spark Plug recipient – Tapp has stuck steadfastly to his core values in the face of seemingly insurmountable personal and professional challenges. In the process, he helped transform P.A.M. from a small regional carrier into a major national truckload fleet and an acknowledged leader in cutting-edge maintenance practices.
Learning leadership
Enter into even a brief conversation with Tapp, and his passion for education and knowledge quickly becomes apparent. That's not surprising when you consider that both his parents were college professors specializing in foreign languages. In fact, Tapp's father was fluent in about 15 different languages, and young Carl and his brother grew up speaking German as their first language.
Despite seemingly insurmountable challenges, Carl Tapp works steadfastly to give back to the industry that has served him so well over the last 30-plus years.
By the late 1950s, Tapp's parents were teaching at Kent State University in Ohio. The school, the site of the Kent State massacre in 1970, was a hotbed for Vietnam War protests and left-wing politics, which Tapp found distasteful. Upon graduating from high school, he shocked his parents by announcing that he was enlisting in the U.S. Army. "It was a form of rebellion," he says. "My parents sort of assumed I would go straight to college. My father felt that he'd sacrificed enough during World War II. He didn't feel his sons were under any obligation to serve."
While growing up, Tapp and his brother had tinkered with mini-bikes, go-carts and cars, including a 1958 Ford that Tapp bought for $10 and helping a friend race a 1959 Triumph TR3. While it was not surprising that Tapp did well on the languages portion of the Army aptitude tests, he also scored well in electronics and opted for cryptographic electronic repair training. A few months later, despite being fluent in German, he found himself posted in Hawaii serving Southeast Asia.
It was in the Army that Tapp first began to develop the professionalism and philosophies that would define his career. Placed in charge of a team of electronic maintenance specialists, Tapp would load his people into Air Force transports and fly all over Southeast Asia to troubleshoot sensitive electronic warfare systems in helicopters, aircraft, tanks, jeeps, trucks and even backpack radios. "It was a life-and-death situation with the COMSEC circuits we worked on," Tapp says. "Someone was depending on the job you did. Do it wrong, and you could easily wipe out a whole platoon of soldiers."
Here, for the first time, Tapp began to place an emphasis on not just his own attitude, but the attitude of the troops he was leading. "You have to maintain a good attitude, regardless of what is going on," he stresses. "Your attitude makes a difference. And if you have the same drive every day, no matter what's going on, that's contagious in an organization."
Moving into trucking
With Vietnam winding down, making the Army a career didn't seem like an option for Tapp. So in 1977, he was honorably discharged and went into business for himself as an owner-operator. "I had a cabover Kenworth tractor," Tapp recalls. "It was serial number 220091 – complete with a big doghouse in the cab and a 270-horsepower Caterpillar engine. And I ran all 48 contiguous states with it and Canada."
Tapp – who wanted to see the country and thought he would get rich while doing it – found the life of an owner-operator to be invigorating. "I saw the U.S.A. through a windshield," he says. "And I had a lot of interesting experiences hauling oversized machinery. I got to see a lot of different manufacturing processes for the materials I hauled."
But it was the late '70s, and deregulation was looming. "I'd been buying diesel fuel at 19 cents a gallon, and prices kept creeping up," Tapp notes. "I swore when it got to a dollar a gallon, I was going to get out of the business." Fuel prices hit Tapp's cutoff number while he was visiting his brother in Houston. Luckily, his brother was working as a mechanic for Rollins Truck Leasing and helped Tapp get a similar job for the fleet.
Although he didn't have any formal diesel training, Tapp drew on his Army electronics training and quickly began to learn the ins and outs of truck maintenance. "I started at the bottom, washing trucks, and then moved on to brake jobs and other repairs," he notes. His academic upbringing also proved helpful: Tapp began taking any mechanics course he could find in order to increase his knowledge base and skill set. In 1981, he passed the ASE Master Heavy Duty Truck Certification, which he has maintained ever since. At the same time, he quickly began to move up through the ranks at Rollins, eventually rising to district service manager and helping grow the company.
In 1987, Tapp took what he learned at Rollins and went to work for Ryder System in Texas, a job that proved to be challenging. "They needed a maintenance team that could deliver good performance because the company was growing at a very fast pace and experiencing all the usual problems that go along with rapid growth," he says.
A large part of the growth process at Ryder involved acquiring other trucking companies and integrating those personnel and operations into a seamless operation. "I had to go into these newly acquired fleets – some of which were old companies, very set in their ways and corporate culture – and say, 'Forget the old company, forget the old ways. Here's who you're working for today, and we all need to get on the same page.' It was tough work, but I was very successful in integrating those operations with our existing maintenance programs."
P.A.M. calls
Despite all his hard work at Ryder, Tapp was still a low man on the corporate totem pole. When companywide layoffs hit in 1995, he suddenly found himself out of a job.
Making the best of a bad situation, Tapp took some time off, toured Germany and then came home, rolled up his sleeves and started looking for work. One day, a headhunter called and wanted to know if he'd be interested in talking with a small fleet based near Fayetteville, Ark. Tapp and his brother had inherited a lake house in the area from an aunt a few years prior, so the offer was intriguing.
The company was P.A.M. Transport – a decent-sized fleet with about 600 tractors. "It was near chaos on the maintenance end," Tapp recalls. "P.A.M. was in an aggressive growth mode and needed more up-to-date maintenance support to accomplish that."
Despite these issues, P.A.M. was, in Tapp's eyes, a "diamond in the rough." Even more exciting, it was a pristine environment in which he could muster up all his years of experience and education and put his own stamp on an operation. When P.A.M. offered him the maintenance director's job, Tapp happily accepted.
Tapp's first order of business was restoring order in the shop. "It was dirty, disorganized and unkempt," he says. "It didn't stay that way long." Tapp also interviewed every single employee with the goal of improving morale. Today, with improved facilities, technology, tooling and higher standards, technician quality and morale is high, he says.
"Never give up. Dare to soar. And do whatever it takes. Those are things that I've lived with."
A greater battle was in changing P.A.M.'s corporate culture. Thanks to his background in electronics, Tapp always had been an early adopter in terms of new technology. But in those days, P.A.M. was very much an old-school trucking company. "There wasn't a single PC computer in the company," Tapp says. "We needed to improve our maintenance practices, our purchasing philosophy and our equipment spec'ing."
Slowly but surely, though, Tapp began to put his ideas into play. An early implementation was the adoption of a computerized real-time maintenance recording system – including work orders, barcoded parts, warranties and reports. The system proved so effective that the company is still using it today. Other innovations soon followed, including central purchasing and tire programs; a dedicated road-rescue staff; an aggressive, proactive preventive maintenance program; and ISO certification in the shops.
At the same time, Tapp worked hard to bring the fleet's equipment to a higher standard. "We've embraced other technologies as well, things like automated manual transmissions, idle-reduction systems, tire inflation systems on the trailers, LED lighting and satellite tracking. We realized that we were going to have to use technology to move ahead. As a result, the entire company has embraced technology in all departments and really made it work for us."
"If it's a piece of junk, I'm going to tell them it's a piece of junk. But I'm also going to come to them with a solution or at least a possible fix."
By any standard, the technology push has paid off. Today, P.A.M. is an irregular-route common carrier running about 2,000 tractors out of nine maintenance facilities across the country. The company is divided into several business units – automotive, dedicated refrigerated and two-man-team expedited services, to mention a few. "We just started a new company in Mexico, P.A.M. de Mexico," Tapp adds proudly. "We're the sixth-largest carrier to Mexico." Additionally, thanks to Tapp's influence, P.A.M. is investing in compressed natural gas-powered tractors, including a soon-to-open CNG safety-compliant facility in Arlington, Texas.
Dare to soar
Like all previous Career Leadership Award winners, Tapp has worked steadfastly to give back to the trucking industry that has served him so well over the last 30-plus years. He's completed his NATMI Director of Maintenance certification and now mentors new candidates.
"Arkansas is a huge trucking state," Tapp notes. "We've got Interstate 40 running the width of the state. I think something like every 13th person in Arkansas depends on trucking to make their living." Given that reality, it was only natural that Tapp first made his mark working with other Arkansas fleet directors on the state level.
An early victory was the establishment of the Arkansas Maintenance Council. Working with Mike Jeffress, vice president of maintenance for Maverick Transportation in Little Rock, and Jim Robertson of McKee Foods, Tapp helped found Arkansas' first statewide technician championship in 2004 and parlayed that experience and knowledge into the successful launch of TMC's SuperTech Competition in 2005.
Tapp makes a point to stay involved in many different groups, including currently chairing a S.1 Recommended Practice Task Force committee and working with various Study Groups as well as the American Trucking Associations' Technical Advisory Group (TAG committee).
"I've spent a lot of time arguing with OE engineers," he says wryly. "If it's a piece of junk, I'm going to tell them it's a piece of junk. But I'm also going to come to them with a solution or at least a possible fix."
Because of his behind-the-scenes approach, Tapp said his Silver Spark Plug nomination and award last year was a complete shock. "I'm geared toward getting something done," he says. "But at the same time, I don't mind sharing my knowledge or experience with people, and I felt like the Silver Spark Plug was an acknowledgement of that philosophy."
Despite Tapp's career successes, it hasn't all been easy for him. In 2002, he was diagnosed with primary progressive multiple sclerosis – a cruel disease that slowly robs its victims of the physical use of their bodies, and a harsh blow to an active man like Tapp, a former paratrooper, avid hunter and outdoorsman. Still, he says the disease has, if nothing else, given him the opportunity to practice what he preaches.
"Never give up," he says. "Dare to soar. And do whatever it takes. Those are things that I've lived with. I can't get into my pocket anymore, but if you dig down in the back of my chair, you'll find an 'Attitude is Everything' coin that I've carried with me for many years. This disease is tough, but you can't quit. So I just keep on pushing every day."
Gruff exterior, big heart
By any measure, Tapp's career and accomplishments are impressive. And Tapp's coworkers and professional peers confirm that assessment.
Dan Cushman, P.A.M.'s chief executive officer and president, joined the fleet a year and a half ago, and says that from a selfish standpoint, he was thankful to have Tapp in his corner as he settled in. "It was a new job with lots of things going on and issues that had to be addressed," Cushman recalls. "But with everything I had on my plate, I never once had to worry about maintenance or shop issues, because that area was squared away and was going to stay squared away as long as Carl had anything to say about it."
Cushman also referenced Tapp's multiple sclerosis. "In spite of the illness, I have never heard Carl once express any self-pity," Cushman says. "This disease has been hard on him, given the type of man he is. But he doesn't complain – he doesn't use it as an excuse. He just soldiers on, doing his job the best he can, day in and day out."
Tim Musgrave, president and chief executive officer of tire pressure monitoring system manufacturer P.S.I., has been so impressed with Tapp's passion for learning and willingness to share knowledge that he inaugurated The Carl Tapp Award at P.S.I. (See "A fitting tribute," page 55.) Winners of the award can choose from four commemorative coins struck with Tapp's personal philosophies: "Dare to Soar," "Never Give Up," "Attitude is Everything" and "Do Whatever It Takes."
"Carl can be gruff as hell," says Bruce Purkey, CEO of Purkey Fleet Electronics. "But he's got a big heart, too. And that really is apparent when you see him working with and mentoring young people, because he knows they are the future of this industry. He's like a tough old Army sergeant – hell to work for if you're not performing to his expectations, but he'll fight to the death for you if you're on his team."
"Carl is my mentor," says Gerry Meade, director of maintenance at P.A.M. "But Carl looks to go beyond business relationships and wants to establish true friendships with his coworkers. You can disagree with him. You can fight with him. But once that disagreement is over, he throws a switch, doesn't hold it against you, and you're back to being friends. And I think that ability is something all great leaders have." n
A FITTING TRIBUTE
P.S.I.'s Carl Tapp Award Reflects Namesake's Core Values
Tim Musgrave, president and chief executive officer of tire pressure monitoring system manufacturer P.S.I., has known and worked closely with Carl Tapp for nearly 20 years. The two men have become close friends over the years, and Musgrave says he routinely is awestruck by Tapp's commitment to live by his own honor-rich personal code. So much so, in fact, that when Musgrave decided to establish an employee recognition award at P.S.I. to highlight professional dedication in the face of difficult challenges, Musgrave knew right away he wanted to name the award for his friend and use Tapp's personal philosophy as a guiding force for the company.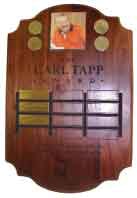 "We are guided every day by the four cornerstones on which this company was founded," Musgrave says. " 'Attitude is Everything,' 'Never Give Up,' 'Dare to Soar' and 'Whatever it Takes.' There are many people in our industry who embody these ideals, but Carl stands out to all who know him as we do as someone who epitomizes the true meaning of those cornerstones. In spite of the significant physical challenges he faces every day, Carl is an active participant and positive force in the trucking industry."
Musgrave says that despite Tapp's increasing difficulties of traveling with multiple sclerosis, he has made it a point to visit P.S.I. and meet with winners of the Carl Tapp Award several times since its inception. "Our employees who have won this award are aware of who Carl is and how he lives his life according to those four creeds," Musgrave says. "And over time, we've seen it become the biggest award we give out at P.S.I., because if you win it, it shows that you're living your life right – not only with your job, but with your God, your family and your fellow employees as well."
With Tapp's typical wry sense of humor, his initial reaction when told the award would be named after him was to ask if people thought he was about to die. "I told him 'Absolutely not!' " Musgrave says while chuckling. "But I asked him, 'Why does somebody have to be dead to have an award named after them? Why do you have to be dead before we can show appreciation for the values you live by?' "
Tapp's response was that he felt odd having an award named after him while he was still alive – to which Musgrave replied, "Buddy, I hope you're alive for another 20 years to see us give that award out 20 more times!"