Robert M. Braswell is a man of many talents.
He's a capable shade tree mechanic and an award-winning journalist. He at one point pursued a career as a physician. As Executive Director of ATA's Technology & Maintenance Council (TMC), and a TMC staff member for nearly 30 years, his fingerprints are on the organization in places too numerous to count.
A self-described tinkerer, Braswell grew up in southern Maryland, spending a lot of time on construction sites alongside his father, a marble and tile tradesman.
"What you could do back then, you could never get away with today," he said, "but I was going with my father on job sites when I was as young as four or five years old, carrying tile boxes back and forth and observing everything."
It was on construction sites where Braswell first recalls being exposed to a commercial truck – the multi-wheeled machine that would lord over much of the rest of his life.
"It was my dad's 1963 International A120 Metro van," he said, noting that the family still owns it. "That was one of his main work trucks when he'd go to job sites."
The work van itself was a fairly standard one-ton, dual real wheel configuration – more common among package couriers than a construction site – but Braswell noted it was a capable workhorse nonetheless.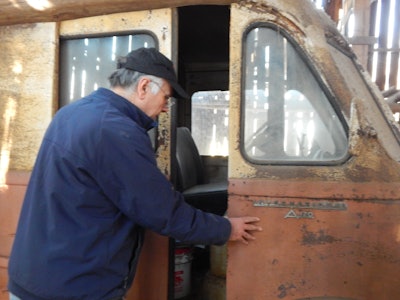 "It had the sliding cage like any one of those UPS delivery or FedEx package trucks out today," he said, "and I remember – kind of amazing to think how it was back then – but you know, cars or trucks didn't have seatbelts, and the A120 only had one seat. So [my dad] used to have a fold-up chair for me sitting there next to him. He'd occupy the driver's seat, of course, as he was driving and behind the engine doghouse, there'd he put a fold-up chair. Just so happens one day the cage was slid open and as we were pulling up into a driveway on a hill, I slid all the way to the back — still in the chair — landing in a pile of sand that he had for his work materials. That was probably my first experience in what you would call the need for supplemental restraint devices."
The next day, Braswell's father — Robert G. Braswell — bought a brand new Chevrolet Cheyenne Super pickup equipped with (lap) seatbelts – a now 50 year-old truck that the family still owns with more than 650,000 miles on the odometer. "I don't think there's probably a piece of equipment that we don't still have these past 50 or 60 years," he said. "I've spent most of my life working on one piece of equipment, or truck, or car or another you-name-it." 
Braswell's inclination to tinker, he said, is "probably what attracted me to the [trucking] industry; just that kind of an upbringing. I never expected to go into this industry, but there it is."
Braswell could have followed his father into construction if it weren't for the guidance of ... well ... his father. 
"My dad used to tell people who asked 'why are you taking your son to all these jobs with you?' And he says, 'I take my son with me on these jobs so he knows what not to do when he grows up.' I think that was very indicative of that generation; to say they want something better for their children," he said, "and so they discouraged them from entering the trades. They discouraged them from entering industries where you worked with your hands, feeling somehow that they wanted their children to do something better."
That's a sentiment Braswell said routinely surfaces at TMC in meetings, where some of the trucking industry's best technical minds mostly encourage their children to pursue another career path. And it's something Braswell and his group have worked hard to reverse. 
"Like Mike Rowe often says, people have been dissuaded from tactile learning and trades for many, many years. I myself have great respect for the trades," he said, "and have had very diverse interests in education."
He's the one they call Dr. Goodwrench?  
Diverse might be the best way to describe Braswell's interests in education.
"My actual post-secondary training was as a microbiologist but I never completely entered the field," he said, noting he worked as a technician in a garage while studying in college. "I've always had kind of an eclectic mix of interests, and it's taken me in different directions when it comes to that kind of stuff."
Braswell played several instruments in band, showed an affinity for writing and debate, and was active in various clubs in high school, but tinkering with computers and "keeping my 1968 Buick Wildcat running," he said, were important priorities. 
"And of course, you know, it's not a brand new car. The Wildcat was a hand-me-down and just keeping that up and running and learning how it worked was a big experience," he said. "I started turning wrenches because I wanted lift time to work on my car, because I had an older car and you always have something to fix and/or you want to improve on it. And working at a garage was a great way to do that."
All throughout college, Braswell worked at the garage doing "a little bit of everything," he said, "from painting curbs, oil lube and filter to take on/put off, to a little bit more complicated things after you got trained – tire and wheel service, you know. I enjoyed installing, repairing and balancing tires."
Braswell recalled when the shop got its first static/dynamic balancer that "I thought that was the coolest thing. It had push-buttons on it. It was computerized. It was just like something from another planet compared to what the old days were like," he said. "I just thought that was really cool, but it wasn't something I ever expected to have a career in. It was a skill to have, but not necessarily that it was going to be my career."
Braswell had his sights on a career that would take him far from the grease of the garage. Majoring in chemistry and microbiology with an interest in pre-med, "I was actually studying to be a physician," he said of his time at the University of Maryland-College Park. "I did pretty well and I was intending to continue on, but after graduating I wanted to take a break for a short while and try to do a couple of other things first."
He turned down a job offer in his original field of study and instead applied for a post as a writer at a newspaper in the metropolitan Washington D.C. area and "one thing led to another. I did get a job as a reporter on a short-term basis," he said. "I ended up winning an editorial award my first few months on the job – kind of got the journalism bug – so I did that for a couple of years."
In honors programs in high school and at the University of Maryland, Braswell noted, "writing was always something I enjoyed doing, and I was pretty good at it. I was told I could take technical and/or complex subjects and communicate them effectively. So that was a strength."
Pivoting from the life sciences, Braswell sought to combine his talent for writing with his passion for cars and cut a path in the automotive magazine business – a road he hoped would lead to Road & Track or Car & Driver.
"I just thought it was a very glamorous idea. I love cars. I love trucks," he said. "I thought 'wouldn't it be cool to be able to go out and test sports cars and get paid for it?'"
Braswell's goal was to build a writing portfolio that might draw the attention of the nation's most popular consumer automotive magazines, "so I started with the local newspaper, and that led to another job with a chain of papers in the Washington D.C. area. And then that led to another job as a medical writer, believe it or not. Back to medicine."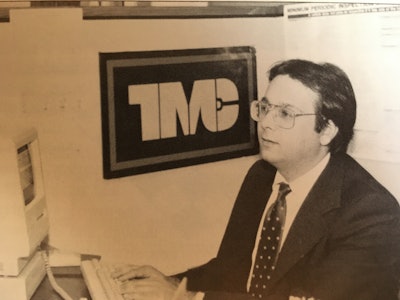 The fork in the road: Enter TMC
Life sometimes, even unexpectedly, comes full circle. Almost.
Braswell's stop as a medical correspondent for a subsidiary of Capital Cities/ABC Television was about as close to a career in microbiology and medicine as he had gotten, and it would be his last stop before pulling into TMC in 1992 – then just called The Maintenance Council. 
Landing at TMC, he said, was "an accident" in that he'd applied for a position at Transport Topics, still with the aim of building clips that would lead him to Road & Track.
"So, I figured, well, trucking. I know a little bit about trucks," he said. "Maybe I could try this for a while, never expecting to be any one particular place very long. Well, they said they didn't need me at Transport Topics, but did suggest 'There's this group at ATA called TMC. You might want to try that out. I hear they've got an opening.' And so I did. I applied and the rest is history. I've been there almost 30 years."
After two interviews and a writing test, he was hired as TMC Information Manager by then TMC Technical Director Carl Kirk and TMC Executive Director Bill Tracy, with responsibilities for the group's magazine, newsletter, technical journal, "and just about any other duties as assigned, I think that was in the job description. I even loaded and hauled boxes of newsletters and magazines in his pickup truck from the printer to the mail house," he said. "I was able to learn quite a bit of different things about the association business – something of which I absolutely knew nothing about entering into that job."
"A lot of life is luck. When I was hired, the S.5 Fleet Maintenance Management Study Group Chairman was Robert S. Braswell (no direct relation), from Central Freight Lines in Waco, Texas. So maybe a familiar name helped get my resume noticed by Carl and Bill. Carl and I had also attended the same high school, albeit 11 years apart, so that probably helped get me noticed, too."
Braswell was given opportunities to develop educational sessions for the association's meetings and work on projects beyond the tasks that were his core function. Always capable behind a microphone, Braswell was also able to hone his public speaking – a skill that would prove helpful in running and preparing large national meetings.
"I just enjoyed learning about the business – all different aspects of the business," he said, "from the technical side, which was the development of the recommended practices (RPs) and the products and the videos and the manuals, and things like that, that we were very famous for, to the meetings themselves, to the trade show. You know, all of that fascinated me."
Braswell served as information manager from 1992 to 1994, when he was named assistant technical director – a job he pursued "because I had a growing interest in the technical side of the business," he said. About a year-and-a-half later he was promoted to technical director, where he served from 1996 until 2017. "I have to say I owe a great deal to Carl Kirk, who gave me my start at TMC, encouraged my development and offered me so many opportunities to grow professionally. Heand others including Bill Tracy and senior TMC staff members Gerri Murphy and Paul Domer were instrumental in my career progression."
Serving as TMC's Technical Director, Braswell said, was "like going to graduate school for maintenance," during which time he was responsible for editing and organizing the Council's study group and task force recommended practices, information reports and related products. 
"It's almost like going to class 14 or 15 times, three times a year – back then we had three meetings a year – and we were probably developing 30, 40 sometimes 60 RPs a year," he said. "You become a subject matter specialist pretty quickly when working on a well-developed RP – just from reading and proofing it four or five times if nothing else."
Braswell has been TMC's Executive Director since 2017, succeeding one of the men who hired him, Carl Kirk, and noted that in many ways TMC's core mission remains much the same now as it did when he joined its ranks nearly three decades ago. However, he conceded that it has grown and expanded its aegis substantially.
"We've expanded beyond what originally was a Class 7 and 8 technical group to cover just about every kind of piece of equipment you can think of – light-, medium-, and heavy-duty, even off-highway a little bit," he said. "We cover a lot of different ground."
The Council, like the members it serves, has also become more data-driven and tech savvy in terms of IT, whereas that really didn't exist in the group's early days.
"When I first started at TMC, I remember I was one of the first people in the council that even had an email address," he said, "and I had been working with computers before that as a student and a journalist. I had to maintain an ArcNet/Novell NetWare network for one of my previous employers, for example, so I knew somewhat how networks worked, how to build/upgrade PCs and so forth."
TMC used Macintosh computers at a time when few people did, which Braswell said enabled the organization to be more nimble and adaptable to member needs, "and we could do things very quickly and very, very well," he said. "I remember setting up the first website for TMC, and I believe that was one of only two websites within all of ATA in 1993."
As TMC's Executive Director, Braswell rubs shoulders with some of the brightest technical minds in the industry – men and women who understand how things work, why they sometimes don't and can diagnose and triage downtime before many people could click the "Car Culture" tab on Road & Track's website. However, he said he's never been intimidated leading an organization comprised of such expertise.
"I would say the people at TMC have always been very welcoming. The members — there were so many I hesitate to mention names for fear of leaving someone out (but from the press corps Bob Deierlein, Jim Winsor and Paul Abelson immediately come to mind)  — were very generous with their time when I first started. I was very eager to learn, first of all. The material never intimidated me because I had some practical experience turning wrenches and an educational background where I had studied college level subjects covering calculus, chemistry, physics and engineering. I had experience working on computers, cars, trucks, motorcycles, or whatever. I felt confident I understood the basics and I don't think I was ever intimidated by the subject matter," he said.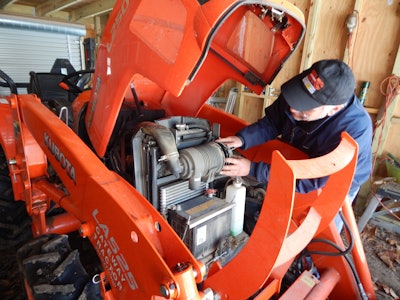 "There is a need for people who are able to bridge the worlds of the gear heads and the chip heads – the people that past CLA winner Darry Stuart likes to call 'doctors of iron' and 'doctors of data.' There's a need to be able to explain to both camps what's important and what needs to be done technically, and to the extent that we do that at TMC as professional staff, I believe we bring important value. I think that's where we bring a true expertise."
Braswell stresses whatever the Council has accomplished is because of the strength of its membership, its dedication to collaboration and consensus building, and a strong group of talented staff.  "I've been fortunate to work with great professionals for long stretches of time during my tenure at TMC. In an age when five years is an eternity, many staffers have served the Council for decades during its history, such as Carl Kirk, Gerri Murphy, Paul Domer, Marsh Galloway, Janet Howells-Tierney, and Jack Poster. They have provided a level of excellence and stability that is so important to the Council's success." Added to this, he says, is the vital support that comes from the numerous ATA staff — led by ATA President & CEO Chris Spear — and relative newcomers to the Council staff itself such as Ross Froat (who started with TMC but now serves as ATA's Director of Engineering & Technology Policy), Cori Hicks, Jack Legler, Rachel Akpotu, and Curry Blanton.
"The role of the council staff is to enable members to communicate professionally what it is they believe needs to be done for the sake of the industry. To the extent that I'm able to help them in that regard, I feel that's my function," he added. "There was an old commercial back in the day – I forget the company – but it said 'we don't make the so-and-so. We make it better.' And that's kind of how I feel my role is."
Focusing on the trades
In that much of what comes from TMC is a collaborative effort, Braswell is hesitant to pinpoint personal accomplishments as, he said, "I don't know that there's any one thing that I'm wholly responsible for."
However, he said he is pleased to have contributed to a number of initiatives, including the establishment of the Professional Technician Development Committee (PTDC).
Such a movement put Braswell at a crossroads with members of his father's generation who wanted their children to pursue professional jobs outside of a trade, and the role of leading a professional organization who needed skilled tradespersons.
"We recognized there was an ongoing issue with technician recruitment and development and I was part of the group (led by past CLA recipient Mike Jeffress) that helped to establish that committee for TMC," he said, "and then from that we established our national technician skills competitions – what we know collectively now as TMCSuperTech, and later, of course, TMCFutureTech for the students."
The genesis of this push was born in the early 2000s when the Society of Automotive Engineers (SAE) disbanded its Service Technician Society, "and it created a vacuum for heavy duty," Braswell said. "Some of the TMC members, we got together at a restaurant in Greektown while we were at an SAE meeting in Detroit. There was about eight or nine of us and we agreed there's got be a place to showcase the professionalism of heavy-duty technicians, because it seemed like technicians didn't have a very positive image even within trucking, let alone among the lay public."
Not only was PTDC born, it's grown and now covers medium-duty and trailer technicians as well as heavy-duty.
Braswell has more recently taken an interest in gamification as part of ongoing efforts to bring new technicians into the industry and sell the attractiveness of a commercial vehicle technician as a career option.
With the support of the Arkansas' Office of Skills Development, Travel Centers of America, and other sponsors, TMC developed an app-based game that he hopes students in middle and junior high school will download, play and learn about the business along the way. [The game is designed for Apple iOS and Android and is available on the Apple App store and Google Play — keyword search TMCSuperTech.]
"Basically, what you do is, you enter in as a trainee tech at Arkansas State University-Beebe and you fix trucks. You're responsible for a little fleet," Braswell said. "And the little fleet drives around the City of Little Rock, Arkansas in the game, and you've got trucks that break down and you've got to bring it into the barn and fix them. And when you do that, you get paid. And if you do a good job, you get rewarded with money and you can use that money to change the look of your vehicles and advance your skills and things like that."
There's also practical elements in the game that direct students to the Tech Force Foundation and information about scholarships "and ways of convincing your parents and guidance counselors that being a tactile learner is not a bad thing," he said. "There's a lot of good career opportunities to be a technician, and I just think that [gamification] is the future. You know, you have to be able to reach students at that level."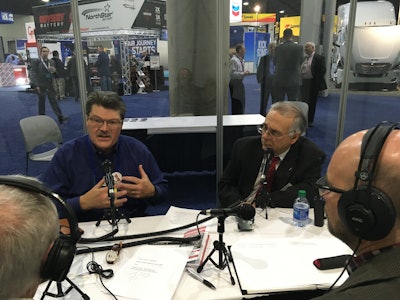 Braswell has also expanded TMC's professional reach by branching out its media presence, including the development of a weekly satellite radio segment on SiriusXM in partnership with Dave Nemo Entertainment, and logging more than 770 shows over 16 years.
"We're on once a week. It's a program where we have callers call in with their technical problems, their equipment problems, and then we present technical information and solutions to them as well," he said. 
The program that has run for more than a decade-and-a-half, Braswell said, was started "by accident." Braswell had been invited to the studio to simply sit in with a guest of Nemo's and leapt at the chance because "Dave Nemo was a legend in the trucking radio business," he said. 
Braswell and then-TMC General Chairman Dave Rehurek went by the Nashville studio and "we sat in for a couple hours with Dave on the radio. We talked and had a conversation. We answered some calls and I thought that was fantastic."
Six months later, Braswell got a call from Nemo asking him to become a regular feature on the program, "and I thought, 'yeah, that'd be great.' What a way to reach a large audience of company drivers and owner-operators we would otherwise never reach."
Braswell said he sees that type of outreach as important because it's enabled the organization to put TMC's technical expertise in front of the people who most need it, yet may not be as likely to seek it out. 
"When I first started with the council, a big push that our S.2 Tire & Wheel Study Group was making was to get owner operators to stop using thumping or billy sticks to check tire air pressure because you can't tell what the inflation pressure is in a tire with a billy stick," he said. "So the fleet managers all know you can't do that, but you had to get the word out to the owner operators. You have to get it out to the drivers. And TMC was never really an ideal forum for doing that. This was a way to talk directly to the owner operators out there. Of course, owner operators are the vast majority of your trucking companies."
"The segment — Tech Talk with TMC — is a great way to reach out and touch them directly each and every week in large numbers," he added. "We reach many more people through satellite radio than you would, let's say, in a meeting room of a thousand people, and we have learned so much from our listening audience, knowledge that has worked its way into various TMC RPs. It's been a fantastic experience working with Dave Nemo."
Staying ahead of the game
TMC, as an organization, is tasked with providing technical expertise on a variety of segments and all the dozens of thousands of components that support the vehicle, and even the rise of next generation technology – electric trucks, hydrogen trucks with an electric component and diesel units with an electrical pusher axle – won't slow down those efforts, despite the fact those solutions don't widely yet exist on the market. Braswell is adamant that proper recommended practices should be available even if that means they beat the technologies themselves to market.
"We're working on every single one of those topics," Braswell said. "We've got task forces and any one of 16 different study groups that are tackling all those issues right now."
"I think those (RPs) are a piece that need to come along first," Robert added. "Just like when ABS came out the second time in the '90s, TMC and SAE worked together to make sure that there were standards and recommended practices in place when that was happening. You can't have the technology come out, wait five years, and then do your RPs. You certainly can do some of them that way – lessons learned – but you have to be ahead of the curve. And I think TMC has always been very good about not just being reactionary, but being proactive when it comes to some of these things."
Braswell noted that electrification, hydrogen-electric or whatever the next big "it" thing turns out to be won't be the first time transportation has undergone major changes. "When the electronic engine came out in the late 80s to early 90s ... that was a big change," he said. "Just the idea of having to deal with vehicle electronics, something that was already on-board cars 15 years before. It always seems like the trucking industry is about 10, 15 years behind with the passenger car folks are doing," he said.
Braswell met his wife, Margaret, when they were both students at the University of Maryland. They first met while taking chemistry-level physics classes and quickly found a common interest in all things automotive — even though she was a Mopar fan while he favored General Motors' offerings. They were married in 1996. The couple has two children, Beverly and Robert W., each themselves now a college student at the University of Maryland. The family enjoys working on the family farm and fixing up their collection of classic cars and miscellaneous equipment.
Beverly already holds a degree in environmental technology and design and is pursuing her mechanical engineering degree. Robert W. is also interested in environmental technology and design along with natural resource management. Those degrees will put Braswell's children on the frontlines of where his industry is heading. 
"I think that's going to be the future. The green technology," he said. "That's going to revolutionize modes of transportation and just about every aspect of life. And I think those career paths that they're undertaking right now are very exciting."
Now is also an exciting time to be in the industry, even if you have a degree in life sciences. Believe it or not, Braswell said he routinely finds ways to use his schooling as he's plying his trade. 
"You look at, for example, issues such as onboard fuel contamination, diesel storage housekeeping, and cab cleanliness. They're caused by microorganisms," he said. "And what part of engineering does not involve physics? When it comes to chemistry, all our emissions issues deal with chemistry. Nitrogen oxides, oxidation catalysts, aftertreatment systems, that's all chemistry. Never underestimate what knowledge or training will eventually become useful to you at some point. I think I've been very fortunate being a jack of all trades, even though I may be master of none," he said.