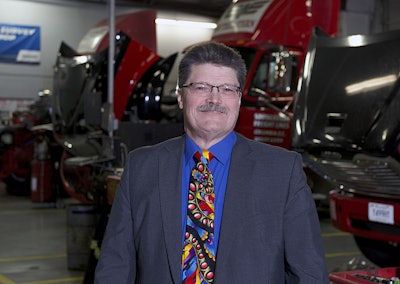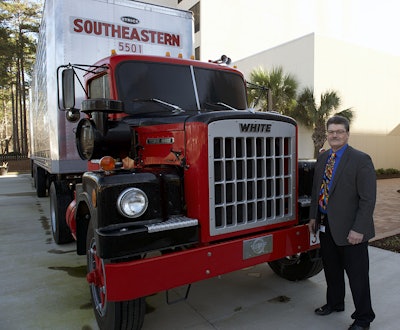 Lee Long's path toward a trucking career seemed obvious — until it wasn't.
Originally from Chariton, a small town in Southern Iowa, Long was the fifth of eight children born into a loving and devout Christian home.
From an early age, he was a familiar face on the shop floor, where his father served as traffic manager for the area's Hy-Vee grocer fleet.
"I thought my dad was the smartest man in the world on one cold, cold Iowa winter day," Long recalls. "A driver was complaining he couldn't start his truck. Dad went out, popped the hood on an old White, held a compression lever in and said, 'Spin it over.' He let the compression brake go, and she fired off. I thought, 'Man, that is cool.' "
By age 14, charged with steaming out trailers and revarnishing the floors, Long graduated from shop rat to the truck shop and eventually worked his way to apprentice.
"I had good tutelage from the guys in the shop and realized, 'Hey, this is not too bad of a profession to be in,' " he says.
Long mixed punching the clock in the service bay with high school wrestling and playing center on the football team. He also played the tuba in the band, was in the chorus – he played the leading role of Tevye in the school's production of "Fiddler on the Roof" his senior year – and was active in the local church youth group.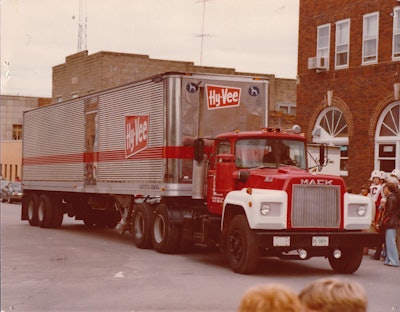 It was in that youth group where a teenaged Long would meet Debi — the young lady who eventually would become his wife of 41 years, and who jokes that Long had no choice but to date her because his family was so large, she was the only girl in town he wasn't related to.
"We had a large family," he recalls. "When we had a family reunion, we'd reserve the city park to have it in because we had all our relatives nearby."
On Saturdays during high school, Long cleaned out produce trailers, using an old International to shunt them around. One day in particular, love-struck Long was set to meet Debi on his break but was running behind for their date.
"One Saturday morning, I was running a little late," he recalls. "I pulled up to the shop, pulled the brake, opened the door and jumped out. But the truck didn't immediately stop. It went through the wall of the shop. My boss, the shop supervisor, says 'The only thing is you've got to tell your dad what happened.' It was a fun meeting with Dad telling him what I had done."
Trucking career almost takes a detour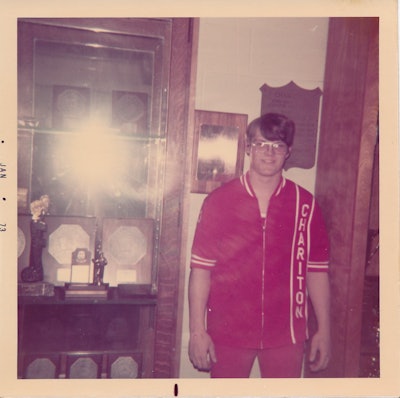 With high school in the rearview mirror, Long enrolled at Bob Jones University, a private nondenominational Evangelical school in Greenville, S.C., in hopes of becoming a preacher.
The Longs were a fixture in their church, and Long says he "felt called to serve others" through the ministry.
But as the coursework gravitated more toward theology and supplemental courses took their toll, Long felt the tug of a familiar place: the service bay. He picked up a job working in the school's auto shop after classes.
"After getting to Bob Jones, I realized I wasn't into Greek," he recalls. "My first speech class, I had to get up and give an impromptu speech, and I'm going, 'Man, this is some scary stuff.' I did more work in the auto shop than I did in the books because I loved cars. I loved working on equipment. I was one of only a few that had a CDL, so I got to drive the big F-Model Mack."
Long left Bob Jones for Indian Hills Community College in Ottumwa and added a night job. He often was in class until about 4 p.m. before heading off to work from 6 p.m. to 2 a.m. and heading back to class later that morning.
Despite what Long calls "a very busy time," he maintained a high grade point average and was elected student senate president on the platform of getting a foosball table for the Trades and Industry Building lobby.
"I succeeded in that, and we got another one, too," he chuckles. "So I over-excelled on my promise to those guys."
Long earned an associate's degree in applied diesel technology and formally kick-started his career in maintenance through an on-the-job training program with Vitalis Truck Lines, a soft drink hauler based in Des Moines.
Long and Debi married in June 1977 and settled in Ankeny, Iowa, and he went to work for Sunrise Dairy, an ice cream supplier for Hy-Vee and Fareway grocery stores across the state, where he moonlighted servicing liftgates and refrigerated units while training with Vitalis.
He also spent time quizzing Debi as she prepared for a career in nursing.
"He could have taken state boards with me," she says. "He helped a good bit."
Long joined Sunrise as the company's sole technician, but over the course of a decade, he came to oversee a staff of six and eventually was placed in charge of the trucks and the warehouse freezers.
"We actually had a body shop there that I was overseeing that built Model As," he says. "We had two guys there full time just working on Model A cars. Those two cars eventually took first place at Hershey, Pennsylvania."
In 1987, Sunrise shifted to a truck lease program, placing Long and his maintenance staff on the outside looking in. He was offered a job to drive for the dairy, but his mechanical skills were no longer needed.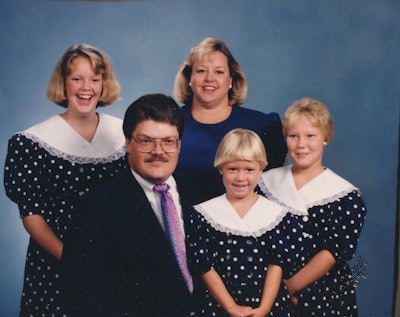 "I didn't go to school to be a truck driver," he says. "I went to school to be a diesel mechanic."
Long quickly jumped into the classifieds in search of a landing spot that would allow him to apply his trade.
He and Debi, the week after Christmas, drove through the night for an interview with Greenwood Motor Lines in Greenwood, S.C., where Long would become the fleet's director of maintenance.
"And the South was never the same," he laughs. "I didn't know I was a Yankee until I moved to Greenwood. It was a little cultural difference there, but it's one I've come to appreciate."
Long became active in the South Carolina Trucking Association, serving as its chairman in 1992.
"That was a great time of learning and growing in the industry there," Long recalls, adding it was through his service with SCTA that he met Duke Drinkard — the man who eventually would hire him at Southeastern Freight Lines, where he's worked for the last 27 years.
Long originally was intent on joining SEFL in a role that was opening in Tennessee, but as Greenwood entered deeper into a buyout with R&L Carriers, he found himself yet again in need of a change.
"Lee's got quite a few good qualities, but he was willing to work within the South Carolina Maintenance Council, which has no pay," Drinkard says. "A gentleman who will come in and work for no pay to advance the industry, and make sure that your co-workers and even your competition have a good understanding of what's going on and the advancements that's coming along and how they work — that's the kind of fellow that I wanted to hire."
As fate would have it, Drinkard and SEFL were readying to open a new shop in North Atlanta and were in need of someone to jumpstart the process.
"That was a bare shop," Long recalls. "We were hanging the oil reels, setting up the tables, the work benches and everything."
"He started on the ground floor there," Drinkard adds. "Everything from putting the shelves, parts and everything in to developing his crew. We would go in in the mornings and work until we couldn't, just to get this thing started up. Then we'd go in the bunkroom, sleep a few hours, come out and start again."
"I never left the property, basically, for six months," Long says.
With the North Atlanta shop open and running, Long took the post of regional manager based in Nashville, Tenn., overseeing SEFL operations across the state and at two Georgia locations.
"I kept North Atlanta, and Dalton was the other one," he says. "When I went into Dalton, I knew we were going to have some things that we needed to improve on, because when I got there, they had a deer strung up out on the steam rack gutting it out. So I knew that we needed to concentrate a little bit on the work that needed to be done instead of cleaning the deer."
Long became active in the Tennessee Trucking Association and eventually was named steering committee chairman.
In 2000, he was honored as TTA's Maintenance Professional of the Year for his work with the Tennessee Department of Education in developing standards for a diesel program that would be born through the Memphis School System.
"It's always been about the passion of wanting others to excel and giving them the tools to be successful," Long says.
Servant leadership and passion for education
Long's joining SEFL, where he now serves as director of Fleet Services, seems anything but fortuitous. The company's motto of servant leadership is one he had set to model his life after before ever considering a move to South Carolina.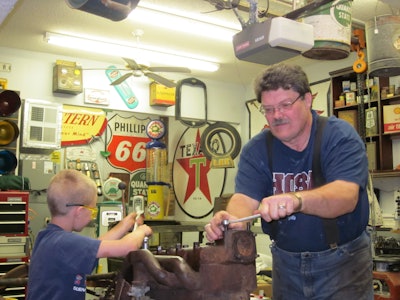 A member of the Technology & Maintenance Council since 1996 – Long says he joined TMC before ever attending a meeting – he has been involved with the formation of the council's Professional Technician Development Committee and the SuperTech National Technician Skills Competition.
In 2005, Long was tasked by then-SEFL vice president of Fleet Services and former TMC Chairman David Foster with developing and implementing a state-level contest to ready technicians for the SuperTech competition.
"It was a lot of fun to work with vendors and the techs to do so," Long recalls. "We worked side by side with SCTA and held a state competition as well in that first year. David's guidance and assistance in that competition was instrumental in having it come off without a hitch." After it came off successfully, Drinkard and Foster asked Long to attend the national SuperTech competition that fall in Valley Forge, Pa.
Long has chaired several task forces and served as PTDC chairman from 2007 to 2010. He was elected to TMC's board of directors in 2011.
In 2012, Long was named TMC general chairman and treasurer with the goal of raising awareness about career opportunities as heavy-duty truck technicians, specifically among students. He was awarded TMC's Silver Spark Plug that same year.
Long has made furthering education and training one of his career cornerstones, dating back to his time at Sunrise Dairy where early on he oversaw only two part-time high school employees.
"It's very important in our line of work to catch them when they're young and grow them into what we want them to be," he says, "All too often, we're so concerned with legalities and everything else, but unless we allow them to experience the industry, we're going to lose a lot of folks."
Providing education and hands-on training to prospective employees, Long says, is the best way to ensure that the industry is going to have the kind of employees it actually wants.
"My dad had the forethought to make me work with my hands and think through problems, instead of saying 'This is how you do it,' " he says. "You've got to get involved and pay it forward in order to get the kind of results you want back. What you get out of it is what you put into it."
A passion for helping people grow within the industry made Long a natural PTDC fit.
"The greatest enjoyment that I got out of that whole experience was getting to meet new people, listen and implement their ideas," he says. "Whenever you have a program that big, you've got to have new ideas, or the program becomes stagnant."
Despite a career full of accolades and honors, Long says he is most proud of his time with PTDC and his involvement with SuperTech.
"A lot of those guys that were charter members are still there today," he says about PTDC. "To have that be done with them year after year after year, that's a defining moment. That tells you that their heart and passion aligns with what you believe as well."
He's also proud to see how the SuperTech competition has evolved from its conception. "I think the success of SuperTech doesn't rely on Lee Long — it doesn't," he says. "It relies on everyone who's had a hand in making it a success. But being able to get on the boat and steer the ship through that time, I'd say that was probably the most rewarding experience that I've had."
Rewarding, he says, because the program gives technicians the opportunity to continuously hone their craft in an industry that is changing right under their noses.
"When I came into this business in 1974, I could have gone on an automotive track, or I could have gone on a diesel track," Long recalls. "You know why I chose a diesel track? Because [the truck] didn't have all those processors on it. It didn't have the smog stuff on it. And I'll be darned if that didn't happen about 40 years later.
"Developing the professionalism of the technician is one of the best things that SuperTech can continue to pursue," he says. "And they're doing a great job of it."
A stickler for accountability
Despite much personal and professional success, Long credits his father's influence for paving the way.
"Mom and Dad raised us to have a great work ethic," he says. "That's probably one of the biggest factors in why I've been blessed with an ethic of hard work."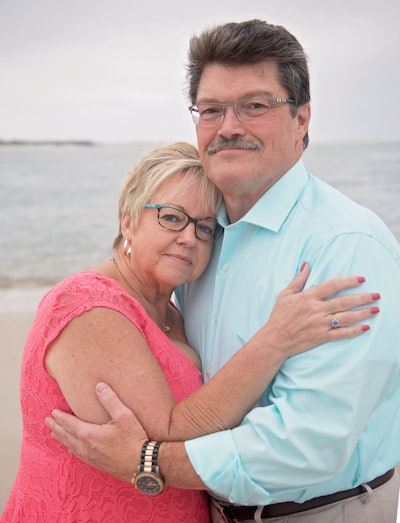 Long's dad was also a firm believer in facing the music when circumstances called for it, and one icy winter day, circumstances did just that.
Long recalls waking up at 4 a.m. for school before hopping on a bus en route for a sectional wrestling meet. Returning home at 1 a.m. the following day, he underestimated a turn near his home and crashed through a neighbor's fence. He walked home to get his father to help him get the truck, which now was stuck in the neighbor's field.
"We went and got the tractor, and we pulled the truck out," he recalls. "We get it back to the house, and I'm walking back toward the house, and he says 'Where are you going?' I said 'Dad, I've been up since early this morning. I'm going to bed.' He says, 'No, you're not. Louie's got cows in that field. We're going to go fix the fence.'
"Dad's direct guidance and influence in my life, in holding me accountable, has made all the difference in the world. Dad, at a very early age, let me know about being held accountable for your actions and making sure that what you do counts in life."
And, as Long learned during a high school football rivalry game against Albia, sometimes you just have to call your own shots — even if you might have to face a little heat for doing so.
"I was a line captain, being the center, and our quarterback wanted to keep throwing passes," Long says, recalling the offensive line struggled to hold back the defense in the muddy conditions. "I kept trying to tell our quarterback that, and he just would not hear me. I turned to the guards on the next play, and I said, 'We let everybody through,' and about 15 yards in reverse later, Steve got the message."
Long says that lesson in leadership quickly led to one of his own: one of leadership and its consequences.
"I'm immediately pulled from the game," he says. "I go over to the sideline, and my coach is thumping me over the head with a chin strap, and if you've ever had that done to you, it echoes forever. There's things that you do in life that you make decisions that there are consequences for, but you know overall that you're doing the right thing."
Drinkard says despite their differing backgrounds and perspectives, he and Long share one important philosophy.
"People don't work for you, they work for themselves," he says of enabling employees. "When you do that, and you respect your co-workers … Lee had that desire to make sure his co-workers came along also. One of the things you have to do is to have a caring heart for others, and Lee has that."
Nowhere is Long's caring heart more visible than when he's surrounded by friends and family — a throwback to a childhood where family reunions consumed an entire public park.
"There's not a holiday that goes by that we don't have a houseful," he smiles. "The house is rockin' all weekend long."
A father to three daughters and a grandfather to seven, Long spends his spare time surrounded by an array of vintage cars – a 1949 Packard, 1966 Mustang, 1968 Olds 442 and 1966 GMC pickup – often with his sons-in-law working on the automotive lineup he's named the Pack Rat, Maude, Sally and Lucille.
A Sunday school teacher and a member of the church choir, Long also routinely is seen working odd jobs around the house and enjoys making stained glass, even having made a stained glass panel for Sunrise Dairy.
"You see something that is beautiful and think 'I wonder if I could do that,' " he says. "By no means am I a Michelangelo, but I love taking something that's a flat sheet, being able to put it together and make it look really neat. I enjoy doing things with my hands that I can see the fruits of my labors."