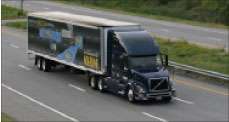 Pottle's Transportation, Inc.
Bangor, Maine
Developed program to highlight true earning potential and company employment costs for drivers.
Show them the money
Pottle's Transportation ties retention and profitability together with its Hidden Paycheck initiative
As a successful small business owner, Barry Pottle takes pride in his company's ability to offer a suite of benefits to its employees beyond gross pay. As the driver market continues to tighten, a competitive earnings package helps Bangor, Maine-based Pottle's Transportation, Inc. differentiate itself from its competitors. Some of the tools in Pottle's comprehensive driver benefits toolbox include vacation pay, holiday pay, bonuses, stop-off and layover pay and insurance.
Pottle says the way many trucking companies compensate their drivers is causing an unwanted and unnecessary black eye for new entrants into the industry. "People advertise 50 cents per mile, but they'll pay that for loaded miles, but not empty," Pottle says. "Some trucking companies today are too greedy and think these drivers are a dime a dozen. Everyone has these gimmicks; we're pretty black-and-white here."
Driver satisfaction is paramount at Pottle's, which has a fleet of 115 company trucks and 30 owner-operators. Pottle is quick to point out that without his drivers, he wouldn't need anyone else. "These drivers have no input on what kind of truck they drive or the customers," he says. "They're hired to drive a truck and take care of freight, be responsible and drive safe."
"Individuals don't realize what they cost the company. Not just wages, but all the benefits the company dishes out." Barry Pottle, president
Pottle's per diem pay is one example of putting its drivers first. With all the intangibles of life on the road, such as detention, breakdowns and other factors outside the driver's control, Pottle's offers breakdown pay of $150 plus hotel when drivers can't get home as expected. "The driver has a responsibility to leave on time and do the job he's asked to do," says Pottle. "If he does that job, we'll step up to the table. I was at a group meeting five years ago and when asked what they do for their driver when a truck breaks down, and one guy responded, 'We throw them in a hotel and give them $25 a day.' I said, 'You take your biggest asset and throw them in a hotel room?' Our philosophy is we don't want drivers making any less for us than he could make being at home driving a dump truck."

With its driver-first philosophy and all that his company is able to offer, Pottle understands that when a driver thinks the grass looks greener on the other side of the Interstate than it does at Pottle's, it's anything but an apples-to-apples comparison.
Revealing hidden costs
The challenge for Pottle's is to boil down its compensation package to give its drivers and new hires a clear idea of what they're making compared to the competition. The company developed a unique approach to helping its drivers understand their stake in the business – not just by what they earn, but by what they cost the company. Pottle's recently introduced its employees to the Hidden Paycheck concept, a one-page worksheet that allows drivers and other company employees to clearly understand their total benefits package as well as what the company has invested in them.
"Individuals don't realize what they cost the company," Pottle says. "Not just wages, but all the benefits the company dishes out. They just look at the gross and say, 'Well this is what I make,' and that's not true. They don't realize all the extra money the company is paying out for them."
As drivers come in to the office for safety meetings, Pottle provides each one with their Hidden Paycheck on an annual basis [see table to the right]. Upon seeing the results, Pottle says the response from its drivers is extremely positive. "We may have a driver that's unhappy here, but when he gets to looking at his vacation pay and everything else and realizes what he really makes, he won't leave," he says. "Some can't believe they made that much money. Some of these guys make $70,000 and don't even realize it."
As a result, the Hidden Paycheck system not only helps drivers see their worth well beyond their gross pay and boosts retention – Pottle happily points to the company's low 14-percent turnover rate – it also helps them understand how their own actions can adversely affect the company's bottom line. Among the line items on the Hidden Paycheck worksheet is "Accident Costs." If a driver has an accident or a cargo claim – whether it's $500 or $25,000 – that is tallied into what they cost the company to be employed there. "It's a big wakeup call for them when they look at that. It works to get them thinking about what we're watching," says Pottle.
Taking the message to its customers
This year, Pottle's plans to take its Hidden Paycheck concept and use it to rate its customers based on criteria such as how well they pay, the ease of doing business, driver friendliness, freight and other factors. The company will include feedback from its drivers in the customer rating process. The idea, says Pottle, is to work together with its customers to get them to understand how their policies and practices can impact Pottle's costs. The rating system will be a grade school-like 'A' through 'F' scale depending on how a customer measures up against its peers.
"If we're working with a company who thinks they are the cat's meow of all shippers and we can walk in and show them how they're rated with us and that we need a rate increase, they're going to step up to the table and take care of some of their issues, otherwise they're going to face a rate increase or we'll walk away from the business."
Pottle hopes the end result will be a collaborative effort between both parties to improve efficiency and profitability for both sides in order to keep rates steady.
"So many times we go in and a customer tells us how we're doing for them," says Pottle. "They want to do what they can to improve their bottom line, but they don't look at how they can improve our bottom line and keep our costs down. In the next couple years, shippers will want to work with carriers to keep their costs down and still give you some type of an increase." n
Plan Year 2009 – Employee Benefit Statement
Employee name John Doe
Date of hire 10/11/1996
Date of birth 11/27/1970
Base compensation $39,458.99
Other (stop off, lay over, etc.) $1,408.00
Overtime $0.00
Per diem $13,260.00
Total amount $54,126.99
Accident costs $0.00
Group life $40.80
Unemployment $281.20
Medical premium $2,108.28
Social security $2,742.86
Vacation $6,241.94
Holiday $525.00
Bonus $0.00
Retirement $0.00
Total value of benefits $11,940.08
Overall total $66,067.07
Pottle's Hidden Paycheck breaks down an employee's benefit package as well as the costs incurred by the company to employ him. Barry Pottle, president and CEO, says drivers are often astonished at their value to the company.
Innovators profiles carriers and fleets that have found innovative ways to overcome trucking's challenges.
If you know a carrier that has displayed innovation, contact Jeff Crissey at jcrissey@ccjmagazine.com or 800-633-5953.