If you're going to do something, you might as well do it right. For A&R Logistics, "Doing It Right" is its corporate mantra and its pledge to its customers to maintain the highest standards for safety, compliance and service.
The Morris, Ill.-based company has made significant investments in assets, technology and operations while continuing to grow to accommodate today's U.S. manufacturing expansion.
"We're walking the walk, making strategic investments in equipment, training and facilities," says Mark Holden, chief executive officer. "Not just because we're forced to, but because it's the right thing to do."
[gtblockquote type="right" quote_text_size="36″ quote_text_color="#000000″ source_text_size="36″ source_text_color="#000000″ border_style="dashed"]The bulk-haul transportation provider's safety initiatives allow it to post its best CSA scores.
A&R provides dry bulk delivery solutions to numerous multinational companies in the chemical and plastics industries. The company's suite of supply-chain services includes over-the-road transportation, transloading, packaging, distribution and logistics solutions, warehousing and end-to-end outsourced transportation management through a nationwide network of 25 facilities, a combination of company-owned equipment and owner-operators and a nonasset-based transportation management division.
A&R's commercial headquarters are in Houston, and its customer service headquarters are in Morris. The company has a fleet of more than 800 trucks and 1,200 trailers, and in addition to its substantial infrastructure, it is backed by $1 billion in private equity.
Safety first
A&R had been a Bluegrass Region transportation staple since its beginnings in 1969, and when new ownership took the reins in December 2012, that's when the company's "Doing It Right" safety steamroller picked up the pace.
Seeing an opportunity to capitalize on favorable trends in the chemical and plastics industries, private equity firm Mason Wells and industry veterans and investors Holden and Rich Mitchell – now A&R president – acquired the company, along with members of A&R's management team and other investors, from private investment firm FdG Associates.
"We were excited about partnering with the A&R team," Holden says. "We viewed the investment in A&R as the first step in our long-term goal of building a diversified global transportation and logistics company focused on bulk materials."
Holden says that since the acquisition, the company has spent $24.4 million to repair, fix and upgrade its fleet and has made safety its top priority. "The first two years were a lot of turnaround work," he says.
For proof of the company's safety commitment, one need look no further than its latest Compliance Safety Accountability results, which were its best since the program's inception in 2010. Its point values for unsafe driving (18 percent) and hours of service (25 percent) were its lowest since the Federal Motor Carrier Safety Administration rolled out CSA.
"Our safety culture starts at the top," Holden says. "This latest accomplishment reflects that our focus is delivering the results that we demand and our customers expect."
The strategies behind A&R's safety achievement were and remain varied. In the first month after acquiring the company, its new owners lowered all tractor speeds from 75 to 65 mph and mandated electronic logs for all company-owned tractors and owner-operators.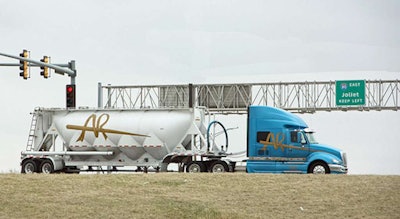 "While many bulk carriers claim that e-logs are unnecessary, we simply believe that it's a better way of doing business, particularly in an age when customers can be held financially liable if their carriers aren't up to safety standards," Holden says. "We further enhanced our operational procedures relating to the logging of hours to ensure we can better document full compliance."
A&R also has developed an extensive driver training and onboarding program, and it's not only driving where the company insists on safety. Drivers performing pretrips on their tractor, trailer and tires also must check their trailer's bulk cargo equipment, as they are responsible for loading and unloading the variety of loads they haul.
Also, safety gear is required to be worn at all times while handling hoses and transloading material. The company has training silos in Morris and Highlands, Texas, to provide hands-on training for new employees and keep veterans posted on the latest technologies and techniques.
A&R compensates drivers well for the extra hassles of strict hours and safety compliance and bulk hauling demands. Holden says the company's driver pay ranks in the industry's top 10 percent.
To improve the efficiency of its day-to-day operations, A&R has upgraded its warehousing and packaging technology across the nation. The company's railcar facility in San Bernardino, Calif., is staffed by its own rail technicians who track all daily inventories of transloading activities, electronically verifying and physically inspecting the cars to improve productivity and enhance safety.
A&R works with many of the largest dry bulk product producers to educate them on the difference between paper logs and electronic logs; hours-of-service compliance in general and related vicarious liability exposures; and loading and unloading processes for product such as plastic resin, which results in two hours of driver time on each end.
The company logs its actual loading and unloading times and not an industry-held standard, which Holden says is generally about 25 minutes to load and the same time to unload. If a company goes by that standard and is using paper logs, it unofficially gains more than an hour of driving time on each end.
"Our goal is to set the standard in safety and compliance in the dry bulk transportation industry," Holden says. "We are working closely with industry leaders to ensure safety standards are fully understood and consistently applied by all carriers and shippers. We take safety and compliance seriously and believe we help our industry set the standard."
Holden says A&R's unsafe driving scores were 28 percent lower than the previous year when the company first achieved its best score since CSA's inception. "You only see this type of year-over-year record-setting improvement when you have an organization and a safety culture that is dedicated to chasing perfection," he says. "We made the decision to put safety ahead of profit, and we see it in our safety results. We're very pleased with our progress, and our customers are very pleased."
Continued growth
If A&R has proven anything since its acquisition three years ago, it's that it's never satisfied with its past and current accomplishments. With its safety initiatives entrenched and goals continuing to be established and achieved, the company posted record revenues of about $220 million in 2014, Holden says, and it now is setting its sights on future growth, both organically and through acquisitions.
"Houston is the largest originating region for bulk liquid chemicals," he says. "Houston is the chemical capital of the world, and that's where the majority of our customers are headquartered. These customers are encouraging us to expand into the liquid business."
To those ends, A&R now is spec'ing and considering the purchase of new liquid chemical trailers with the latest technologies, and it also is exploring the acquisition of companies with annual revenues between $25 million and $100 million.
Smaller companies that A&R would like to acquire may be more willing than in previous years to enter into a deal because of a regulatory environment that is becoming more stringent every day, Holden says.
"We are seeing a number of family-owned businesses evaluating their options about continuing on or selling their company," he says. "The new regulations for trucking companies are more complicated and expensive for liquid transport. Our size and scale can benefit us. We can invest not only in technology to help address regulations, but we also can invest in people."