CCJ Innovators profiles carriers and fleets that have found innovative ways to overcome trucking's challenges. If you know a carrier that has displayed innovation, contact CCJ Editor Jeff Crissey at jcrissey@ccjmagazine.com or 800-633-5953.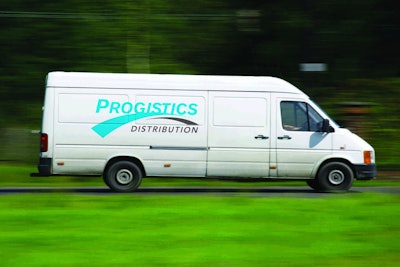 Nestled in the outskirts of Silicon Valley in neighboring Oakland, Calif., Progistics Distribution has been serving customers in the same-day delivery market for 30 years under different names. During that time, the company has grown to become a dominant player in the Western United States with 700 company drivers and nearly 500 independent contractors. It recently expanded its footprint to include markets in Illinois, Texas and seven major Canadian cities.
The ecommerce boom of the last few years has opened up new last-mile delivery opportunities for Progistics Distribution, which has on-demand and urgent delivery services as core segments of its business.
"This is an exciting time," says Joel Ritch, chief executive officer. "The landscape has changed dramatically in the last three to four years. Until then, the concept of ecommerce really did not exist."
The ecommerce phenomenon has greatly increased customer expectations for service. What used to be a minimum three- to four-day turnaround from order to delivery just a few years ago has shortened to next-day service – and even same-day service in the case of Amazon, which offers that rapid turnaround in 27 metropolitan cities across the country for more than one million items.
"We have been providing same-day service for companies like Saks, Nordstrom and Macy's for as long as I can remember," says Ritch, "but now product is coming directly out of stores instead of warehouses, and people want their packages delivered in only one to two hours."
But the last-mile market is fraught with inefficiencies and higher costs of business than most other trucking segments.
One of the greatest variables in servicing ecommerce customers in last-mile logistics is traffic congestion, as most of these services are offered in metropolitan areas. In Amazon's same-day delivery model, orders placed before noon are guaranteed by 9 p.m., meaning delivery vehicles are on the road at the height of rush-hour traffic running from a distribution center or retail location to the consumer's front door.
Another constraint on the last-mile segment is overwhelming freight volume. Even with the tens of thousands of trucks and vehicles at the disposal of companies such as FedEx, UPS and DHL, the surge of business-to-consumer and business-to-business deliveries has outpaced capacity.
"Amazon recognizes that they can't rely on UPS, FedEx and the U.S. Postal Service to deliver all of their packages," says Ritch. "They have now committed billions of dollars into developing their own delivery system, and just three years ago, they weren't doing anything there."
Of course, Amazon isn't alone in the ecommerce world. Google, as well as startup same-day delivery service companies such as Deliv and GrubHub, all offer greater opportunities for Progistics Distribution and other similar carriers.
"We are an active player in that process," says Ritch. "All these guys in that space are trying to figure out how to deliver something at an effective price point with proper service standards. We are one of the early players, and we continue to provide excellent service."
Building a better platform
The challenge Progistics Distribution faced was providing top-notch service to a wide variety of customers in various geographic regions across North America while managing its fleet and drivers.
To help it manage its business as an integrated system rather than disparate operations by region, Progistics Distribution set out in search of third-party solutions, but it found no providers that could solve ecommerce problems they had never seen before.
When a large furniture vendor asked Progistics Distribution management how to create a same-day home delivery freight solution delivering hundreds of furniture loads from a single warehouse, the company realized its answer would require building its own technology platform that would provide transparency and accountability for its customers.
Fortunate to be near the technology capital of the world, Progistics Distribution developed a robust technology team of Silicon Valley talent to develop a proprietary system for the last-mile industry.
The result was its TAGNET and eDemand technology platforms that the company says "offers the distribution industry significant productivity gains and measurable customer service improvements."
TAGNET is Progistics Distribution's internal portal and serves as its main messaging processing gateway, accessible by company drivers and independent contractors in the field. Elements include modules for reporting, electronic data interchange, document management and unified messaging.
"The driving force for developing TAGNET was that part of our business model is centered on independent contractors, and there were no tools that did compliance for ICs, scheduling and constant contact in one package," says Sean O'Steen, chief technology officer. "We also wanted to create something where we could get order status on one webpage."
The TAGNET platform features a control number lookup that provides a one-page view of an order's entire lifecycle, including emails, phone call recordings and order notes.
In a few cases, customers have extranet logins to the system and have the same visibility and clear access to their order information without having to go through Progistics Distribution's customer service department.
"TAGNET gives us two main benefits – transparency for shipper and consignee, and responsiveness," says O'Steen. "We feel it really reduces costs and gives us a competitive advantage."
The eDemand web app, currently in beta testing, is Progistics Distribution's latest application that enables the company to tap into its network of drivers, connecting them via their mobile devices to enable communication between businesses, drivers and brokers. It optimizes the planning and routing of operations, taking time constraints, vehicle constraints, driver rules and customer requirements into consideration.
"We don't have to have dispatch for items that we have enough lead time on, so the lowest bidder can accept the work and get it done without interaction," says O'Steen. Progistics Distribution expects to officially roll out the eDemand app this spring.
"Response from our ICs has been very good," says O'Steen. "It creates an equal marketplace, and they can make more at the end of the day by lining up work along the corridor."
To help lower operating costs in the last-mile segment, Progistics Distribution also matches individual shipments to the most efficient vehicle in its fleet, which includes tractor-trailers, straight trucks, pickups and vans with flatbed and refrigerated capabilities.
The company's fleet mix allows it to do "anything and everything where we can make a profit," says Ritch. "You'd better have the right equipment to get all the product moved correctly."
In the last four years, Progistics Distribution has grown from $20 million in sales to $65 million today with hopes of eclipsing $85 million by yearend. Ritch says that despite the company's robust growth, it has bigger ambitions for the future.
"Our goal is to merge with or acquire equity to where we can become a national player all under one entity," says Ritch. "If you look at the ecommerce world and large logistics companies, 'last mile' is on the tip of their tongues, but they don't understand it. We will grow without hesitation. The only limitation is finding the customer."