CCJ Innovators profiles carriers and fleets that have found innovative ways to overcome trucking's challenges. If you know a carrier that has displayed innovation, contact CCJ Editor Jeff Crissey atjcrissey@ccjmagazine.com or800-633-5953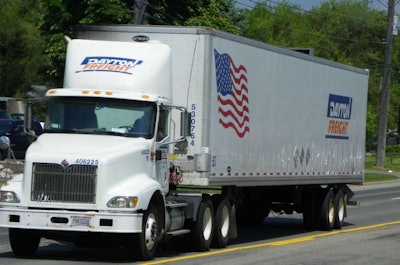 Dayton Freight Lines (CCJ Top 250, No. 75), a Dayton, Ohio-based less-than-truckload carrier, says its mission is to be "the recognized leader in providing high-quality regional LTL transportation services. We will accomplish our mission through trained and empowered employees who are dedicated to continuous improvements that focus on our customers and internal processes. Our ultimate measure of success will come from customer loyalty and partnerships."
Founded in 1981, Dayton Freight believes that by emphasizing company-owned facilities and a culture that is professional, positive and people-centered, it will continue its growth that is fueled by the dedication of its employees and the loyalty of its customers and business partners.
Today, the private company has 48 service centers in the Midwest region, employs more than 3,600 and has a fleet of more than 1,200 tractors and more than 3,000 trailers.
Dayton Freight offers shippers one- or two-day service to thousands of points throughout a 13-state area: Illinois, Indiana, Iowa, Kansas, Kentucky, Michigan, Minnesota, Missouri, Nebraska, Ohio, Pennsylvania, Tennessee and Wisconsin.
The company can serve all of the United States, Canada, Mexico, Puerto Rico and Guam through its partnership in the Strategic Alliance Network, which also includes Southeastern Freight Lines, Midwest Motor Express, A. Duie Pyle, Central Arizona Freight, Lynden Transport, Honolulu Freight Service, Oak Harbor Freight Lines and Manitoulin Transport.
The guiding principle behind Dayton Freight's success is summed up in its corporate vision statement – "Delivering Value Today … Driving The Standard For Tomorrow" – which translates into doing the best it can every day to bring real added value to customers through on-time pickups and deliveries, careful freight handling, ongoing fleet maintenance and accurate documentation of all operations. In other words, it strives to be the best as what every successful fleet does.
The company says the statement also means planning for the future in terms of extensive employee training, growing its asset-based service center network and investing in technologies that will help it stay on the cutting edge of the transportation and service equation.
"From the start, we've emphasized the importance of straightforward, honest and timely communication with customers, employees and partners," says Tom Cronin, president. "It's the only way I know."
Service and safety
Dayton Freight's impressive service record reflects Cronin's emphasis: Last year, 98.20 percent of its shipments arrived on schedule, with 99.8 percent of them arriving claims-free.
But perhaps the statistic that excites the company the most is its safety record: Last year, only 0.12 percent of its U.S. Department of Transportation-recordable accidents per million miles were deemed preventable.
Dayton Freight attributes its safety success to a companywide team effort and says it is due to the quality of the employees its hires, along with ongoing education and fleet maintenance.
Drivers are trained to recognize that attention to speed limits, road conditions and other drivers are critical components of quality freight management. Dockworkers, whether they operate forklifts or load freight, are reminded continuously to adhere to strict company guidelines regarding proper job procedures.
Dayton Freight's ongoing safety initiatives include continuous improvement of all dock and vehicle operations; safety representatives serving at each service center; an annual employee safety awards program; a Million Mile Club for drivers; ongoing companywide safety communications; and driver recognition for successful DOT and independent monitoring service inspections.
The company's hard work and dedication haven't gone unrecognized. Last year for the first time, Dayton Freight won the 2014 Ohio Trucking Association President's Trophy for the Large Division, 10-20 Million Mile Category. The company also won the Fleet Safety Award in the Large Division.
OTA's annual program identifies carriers operating in Ohio that have the best safety record in their respective class. The program rewards safety accomplishments, recognizes professionalism and focuses on the principles of safe driving.
"This award is all about the safety efforts of our Dayton Freight drivers," says Derek Kirby, director of safety.
Working with CSA
Dayton Freight stresses its support of and compliance with the Federal Motor Carrier Safety Administration's Compliance Safety Accountability program to improve the safety of its employees, its customers' freight and the driving public.
To ensure it posts the best scores possible in CSA's Behavior Analysis and Safety Improvement Categories such as Unsafe Driving, Cargo Securement, Vehicle Maintenance, Driver Fitness and more, Dayton Freight's current CSA plan includes:
Manager/supervisor education;
Driver meetings;
Safety program assessment and improvement;
Remedial training;
Corporate communications;
Operational changes;
Progressive discipline policy; and
Vehicle monitoring technology.
Dayton Freight says it believes that its overall safety record is one of the industry's best and that it will continue to uphold its own high standards of on-time intact service.
"By traveling at a safe speed, using excellent following distances and respecting the rules of the road, our drivers reduce the occurrence of preventable accidents," Kirby says. "As a company, we are dedicated to making sure that safety is at the forefront of everything we do."
Making the difference
The company's commitment to safety and compliance is only part of what it likes to call "The Dayton Difference" – going "above and beyond" the norm in all areas, such as when employees step outside of their everyday responsibilities to help another employee, a friend or a charity.
"'The Dayton Difference' is all about going the extra mile to make sure our customers are not just taken care of, but are thrilled with the service they receive from us," says Mike Cronin, executive vice president.
Dayton Freight believes that such acts of kindness – large or small, one time or ongoing, on the job or in one's personal life – serve to create its unique corporate community where thinking about other people is the norm and plays an important role in its success as a company and as individuals.
"Our hope is that each and every one of our employees feels valued and respected," says Tom Cronin. "They are the key to our current success and future growth. Yes, 'The Dayton Difference' means we invest in good equipment, technology and facilities. But we know that the real difference is our employees."