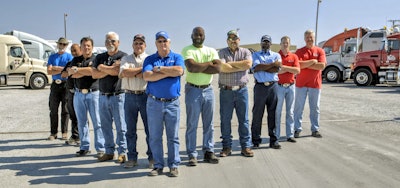 CCJ Innovators profiles carriers and fleets that have found innovative ways to overcome trucking's challenges. If you know a carrier that has displayed innovation, contact CCJ Editor Jeff Crissey at jcrissey@ccjmagazine.com or 800-633-5953.
During the worst of the recession in January 2009, Dallas-based investor Don Daseke and trucking industry veteran Dan Wirkkala acquired the assets of Smokey Point Distributing for $34 million. The Arlington, Wash.-based specialty hauler became the first open-deck carrier in Daseke's company.
At the time, Daseke, chairman and chief executive officer, recognized the growth potential of a highly fragmented $133 billion segment of the trucking market and began actively pursuing new acquisitions. By the end of 2013, Daseke had acquired flatbed carriers E.W. Wylie, J. Grady Randolph, Central Oregon Truck Co. and The Boyd Companies (including Boyd Bros. Transportation, WTI Transport and Mid Seven Transportation) to become one of the five largest flatbed carriers in North America.
The acquisitions of Lone Star Transportation, Bulldog Hiway Express and Hornady Transportation in 2014 and 2015 earned Daseke the top spot in the flatbed/specialized/heavy haul segment and the 42nd spot overall in the 2016 CCJ Top 250 ranking of the industry's top for-hire carriers.
While geography was important to the company's growth strategy, Daseke focused more on companies that represented the "best and brightest" leadership in the trucking industry. That goal is reflected in the many recognitions Daseke companies receive, including the Truckload Carriers Association's Best Fleets to Drive For program and numerous industry safety awards.
Going public
On Feb. 28, after a merger with Hennessy Capital Acquisition Corp., Daseke went public and began trading on the Nasdaq Capital Market.
"Our vision from the start was to become a public company so we could have access to the capital markets in order to continue our focused consolidation strategy," said Daseke at the time. "We believe we have an acquisition pipeline that could enable us to double Daseke's adjusted earnings … over the next three years. Daseke has less than a 1 percent share of this highly fragmented open-deck freight market, and we believe we have a tremendous opportunity for future growth and continued market penetration."
Daseke continued its expansion efforts last May with the acquisitions of The Schilli Companies and Big Freight Systems and now has more than 3,500 trucks, 7,300 trailers and 2,800 company drivers.
Industry-first public ESOP
Each of the 11 carriers in Daseke's current portfolio operate separately and remain led by the leadership in place at the time of their acquisition, but their executives meet throughout the year to share business strategies and best practices to improve Daseke's overall performance.
Daseke already offers a 401(k) plan with a company match up to 4 percent and other benefits, but Daseke and his executive team wanted to develop a program that values its drivers in a way that sets the Daseke companies apart from the other 99 percent of the flatbed market.
"I've said from day one that people make the difference," said Daseke. "In our industry, professional truck drivers truly are the heart and soul of everything we do."
With that mindset, Daseke announced its intentions to develop an employee stock ownership awards program at the same time the company went public.
"From the beginning, our plan was to have a stock program for all of our employees, including an industry-first public stock plan for our company drivers," Daseke said. "We always have had a vision of a stock ownership plan that all employees could participate in, but we couldn't do that officially as a private company," adding that was the No. 1 motive behind the decision to go public. "Giving our people the opportunity to be owners in Daseke is a great day for me on a very personal level."
Daseke made good on its plan, officially rolling out the Daseke Employee Stock Ownership Awards program in May as a cost-free benefit above and beyond normal compensation. The company earmarked roughly one million shares at an estimated value of $9.9 million to be awarded to eligible employees, including 2,100 drivers and 800 non-driving personnel who began their Daseke careers by yearend 2016. Stock grants also will be available to Daseke drivers and employees who begin working for a Daseke company this year.
Daseke's employee stock award program was developed as a recruiting and retention tool as well as to give all employees a personal interest in the company's performance.
"[Open-deck carriers] have a disadvantage in recruiting because of the challenges of irregular routes, being away from home for two weeks at a time, climbing on the flatbed to strap loads and cover cargo with 100-pound tarps even when it is raining or snowing," said Daseke. "And when people feel like they are an owner, they will represent themselves at customers better, create new ideas and procedures. We want people to think in those terms."
To become eligible, employees must begin employment by yearend 2017 and stay with a Daseke company for one full quarter. Stock unit awards then are awarded beginning the following quarter.
The number of shares employees receive depends on the current stock value for Daseke (NASDAQ: DSKE) at the date of the grant. For company drivers, the program provides $4,000 worth of stock units. Non-driving employees receive grants determined by the operating head of each Daseke subsidiary.
The vesting schedule takes place over a five-year period. On the anniversary of the stock award grant date, 20 percent of the awarded stock units will mature into ownership stock. Each following anniversary, an additional 20 percent of the stock units will be vested similarly.
Vested stocks are taxed as compensation by the federal government, so Daseke's payroll department withholds the necessary number of shares required and uses those to pay taxes on an employee's behalf.
Employees can manage and monitor their stock performance and vesting schedule in Shareworks, a web portal provided by Solium, Daseke's stock plan administrator.
"This is about being an owner," said Daseke. "We want people to come together, be empowered and build our company with the mindset of ownership. We are just now making it to first base in our strategy to build the premier specialized open-deck transportation company in North America."