CCJ Innovators profiles carriers and fleets that have found innovative ways to overcome trucking's challenges. If you know a carrier that has displayed innovation, contact CCJ Editor Jeff Crissey at jcrissey@ccjmagazine.com or 800-633-5953.
In 1992, Rick Williams shifted gears in his transportation career from being a truck driver to an owner of Central Oregon Truck Co., which he launched with a few business partners.
Before purchasing fleet assets, COTC started out brokering local and regional freight in the Pacific Northwest. Today, the Redmond, Ore.-based flatbed carrier operates more than 300 trucks.
Williams says his experience as a truck driver formed his understanding of the value that high-quality drivers add to a trucking company. He wants COTC to be a place where top-level professional drivers choose to spend an entire career.
"There are multiple things we do that are high priorities on a driver's list," says Williams, the company's chief executive officer. "We try to make sure that when we get a high-quality driver that this has become their new home."
COTC has been recognized as a Best Fleet to Drive For by the Truckload Carriers Association for five consecutive years. Each year, program finalists are chosen by CarriersEdge – an online training provider that administers the program for TCA – via interviews with management and driver feedback.
Among the attributes that distinguish COTC's workplace for drivers are generous pay, incentives and benefit programs. The company also has created unique systems to eliminate week-to-week pay variability and establish a personalized work experience.
Stabilizing pay
To smooth pay variability from one week to the next, COTC pays drivers on all actual and approved dispatch miles, including empty miles. Its payroll is not tied inflexibly to cutoff dates for delivery status and paperwork on loads.

"We figured out how to handle that differently," Williams says. "Our driving team members' pay is very consistent."
COTC also has a minimum pay guarantee program. To qualify, drivers must meet the fleet's safety requirements and be willing and available to work 25 days out of the month.
The company's minimum pay program makes up the difference between a driver's gross monthly pay and a guaranteed monthly amount of $4,250, although drivers generally earn more than that. COTC's pay program can be viewed as a "salary plus" program, Williams says.
The salary is based on the minimum guaranteed pay of $51,000 annualized, with performance pay that adds to it. The performance pay gives drivers of all experience levels an equal opportunity to increase their earnings. The program rewards up to an additional 12 cents per mile each month.
If a driver runs 12,500 miles in a month and qualifies for the full 12-cent performance pay, the driver would receive an additional $1,500. The percentage of drivers earning at least some of the performance pay is 98 percent, Williams says.
The program has measurements in four categories: performance, safety, fuel and "focused pay." The data for each of these measurements come from systems that include telematics and video event recorders with inward- and outward-facing cameras.
The "focused pay" category is selected monthly based on COTC's goals. The options are safety, productivity or a "new category," Williams says. In February, the chosen category for focused pay was safety.
Last year, the company's average annual wage was $57,000 before the paid benefits. Adding in this benefit, its average driver pay was $63,500. So far in 2018, the average driver pay is trending at $62,150, and with the performance incentives, some drivers will crest $80,000.
COTC also developed a mobile app for drivers to track their performance in each category to predict their monthly payout.
A vacation pay program also begins on day one with an accrual rate of between 1 to 3 cents per mile depending on experience, and drivers can use the pay accruals for more than taking days off. The company also offers paid sick days.
"We know things happen in life and that a lot of Americans live paycheck to paycheck," Williams says. "The account becomes a slush fund that drivers can withdraw monies from, just like a savings account."
Expanding benefits
Driver benefit programs are paid 100 percent by COTC for life, health, vision, dental and short-term disability insurance. Beyond the insurance benefits, the company also has a tax-savings program built into the pay package.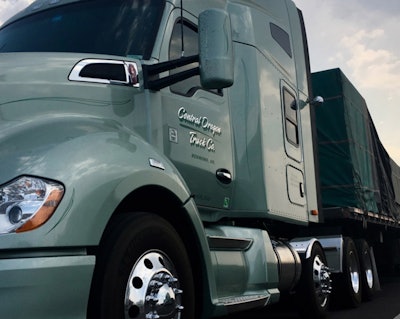 The tax program consists of a safe harbor 401(k) plan with matching contributions and no vesting period, flexible healthcare spending accounts and per-diem pay that disperses weekly.
The safe harbor 401(k) and health insurance are among benefits that COTC shares with other flatbed carriers in the Daseke family of companies. COTC was acquired by Addison, Texas-based Daseke (CCJ Top 250, No. 37) in 2013.
"If drivers use all the benefits, the tax plan is very good," Williams says. "Those kinds of things help drivers increase their net income with pretax dollars."
COTC's per-diem pay will remain in place after recent changes in the Tax Cuts and Jobs Act signed into law last year by President Trump. Companies that have a per-diem pay plan such as COTC's can deduct between $17,000 and $20,000 of income annually for every driver. At COTC, this payroll deduction can save drivers between $3,000 and $4,000 in taxes annually.
Finding the right fit
While high pay and benefits certainly grab drivers' attention, COTC's core strategy for recruiting is to screen drivers to ensure the company is a good fit for the individual, Williams says.
COTC does not use "recruiter" in any job title. The company employs "hiring coordinators" who ensure that job applicants meet its qualifications and standards to ensure a fit. The fit also is based on the driver's willingness to work and share core values and beliefs in safety.
"We don't talk to (drivers) about pay before we discuss fit," he says. "We are a process-driven company. We look at every one of our trucks as an individual franchise. We know how they make money, and if drivers follow the direction of the franchise, they will be successful."
Individual attention
As the company has grown, Williams has placed an emphasis on developing technology to keep a personal touch with drivers. Despite operating more than 300 trucks, "we know all our drivers' names," he says.
The name recognition is nurtured by a policy that office and shop employees follow for using the driver's name whenever they communicate information. When sending an email to the shop, an office employee would not write "Truck 863 is here for service," but rather "Bill in truck 863 is here for service."
To help create a personalized experience for drivers, COTC has radio frequency identification tags on all its trucks. As drivers enter the fleet's yard, an RFID reader triggers the information that appears on a large screen. The driver is greeted by name and given relevant information about past loads and safety and recognized for recent accomplishments.
Similarly, screens pop up on office monitors to let staff know which drivers are entering the facility to "make sure we put a name with a face," Williams says. Each department sees different information to facilitate work for the driver – such as vehicle maintenance or training meetings – while he and his equipment are at the yard.
All these efforts contribute to COTC's driver satisfaction and retention. The company's annualized driver turnover rate is 85 percent, but that includes drivers who do not pass orientation or drug tests, as well as those who retire or leave the industry, Williams says.
Once drivers understand COTC's benefits and culture, turnover drops significantly, he says. Turnover for drivers with the company from one to three years is 70 percent; three to five years, 31 percent; and five or more years, 18 percent.
Excluding terminations and retirees from the three-to-five-year and five-year-plus groups, the turnover rate is 22 percent and 8 percent, respectively.
Compared to industry trends, "that is pretty low for a true long-haul irregular-route company," Williams says.