CCJ Innovators profiles carriers and fleets that have found innovative ways to overcome trucking's challenges. If you know a carrier that has displayed innovation, contact CCJ Editor Jeff Crissey at jcrissey@ccjmagazine.com or 800-633-5953.
On Tuesday, Jan. 9, owner-operator Rick Downey had loaded in Portsmouth, N.H., and was headed south to Norfolk, Va., for a next-day delivery.
Downey had been to Norfolk two times previously for expedite carrier Load One. His own records show he waited between one to two days after unloading to receive his next dispatch. He knew this time would be different.
Layovers are common in the expedite business, says John Elliott, Load One's founder and chief executive officer. The Taylor, Mich.-based company is among the largest full-service transportation and logistics providers in the expedite segment with a fleet of 400 power units.
About 80 percent of orders from customers have immediate service requirements. Expeditors are like an ambulance service, Elliott says, and this makes it nearly impossible to pre-plan loads for drivers.
The standard dispatch practice is to call drivers who are closest to the available loads. If two or more drivers are in the same area, dispatch moves according to wait times — first driver in, first out.
Until recently, drivers for Load One and other carriers in this time-sensitive business relied on experience and advice or "best guesses" from dispatchers to position themselves for the next load, Downey says.
Drivers typically go to the closest major city or the nearest truck stop, but guesswork and waiting "inherently builds up anxiety and frustration," he says. Hours may turn into days, and "the squirrels in your mind start spinning, and you wonder 'What is going on?' "
Accelerating change
Load One always is looking for ways to differentiate its services and innovate for customers and drivers, says Elliott. The company previously was recognized by CCJ as an Innovator in 2012 for launching an online rewards program that improved driver engagement and retention.
Since March 2017, the pace of technology development has accelerated after Load One contracted with App Nouveau Canada as its exclusive transportation technology consultant and developer.
ANC was formed by developers with extensive experience in transportation-related software and programming. Ed De Leon, chief executive, was a founder of the web-based Sylectus dispatch and transportation management system used by Load One and other expedite carriers.
With deep knowledge of the Sylectus database, ANC programmers moved quickly to develop integrated applications. One of the first projects was Load One Track, a mobile app that gives customers total transparency of shipments.
With the app, Load One's shipper and third-party logistics customers can view real-time locations and ETAs and receive instant alerts for any potential shipment delays caused by weather and other events.
After launching the customer app, Load One rolled out another app for drivers last December. The goal for the new technology, called the Load One Ultimate Advantage Driver App, was to give employees and contractors a tool that no other carrier offers, Elliott says.
Some features in the driver app such as instant two-way messaging, document scanning and access to payroll settlements are common in other apps developed by industry suppliers and carriers. Unique features of the driver app include real-time weather and traffic and a single sign-on to the company's driver training and rewards web portal from Stay Metrics.
The stand-out feature – and the potential game-changer for drivers – is a mapping tool that provides Load One drivers with historical and real-time information on demand and capacity. With a few clicks and swipes, Load One drivers can determine where to optimally position themselves.
With this newfound business intelligence, drivers can reduce wait times and increase productivity and earnings.
Planning ahead
Downey was handpicked to participate in testing Load One's driver app before it was released to the fleet. On Jan. 9, before he had arrived in Norfolk, Downey used the app to decide where he would go after making the delivery. He used the mapping tool to see every shipment that Load One moved, brokered or turned down in the Norfolk area in the last two days, seven days and 30 days.
Green pins on the map show locations of loads moved by Load One. Red pins represent missed opportunities — shipments that Load One brokered or turned down because a truck was not available. Dark blue pins show current locations of other Load One trucks.
Drivers can limit their view to loads and trucks that match their equipment type. Downey has a tandem axle 24-foot straight truck with a 22,000-pound load capacity.
"That uniqueness alone narrows the field to promote productivity," he says. "I see exactly what I need to see."
Without this market intelligence, Downey would have gone to a truck stop 20 miles from Norfolk to wait. With the app, he saw this plan would have decreased his odds of getting a load.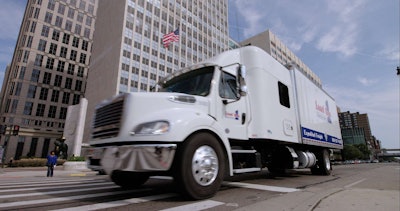 Instead, he planned to go 100 miles northeast to the Maryland border. At this strategic location, he would be available for loads in three areas where freight had been "popping," he says. He felt confident that a call would come from dispatch before 5 p.m. Wednesday, Jan. 10.
The workweek for Load One, or rather its payroll cutoff, ends on Monday. Downey believed he would pick up his next load on Wednesday afternoon or on Thursday morning to deliver Friday or Saturday, which could give him enough time to complete another load by Monday.
Downey predicts the app will help him increase his number of loads and revenue by 10 percent or more in 2018.
Tying it together
The demand and capacity information for the mapping tool comes from several databases.
Load One developed its own consolidated "bid board" of time-sensitive shipments from private websites used by 3PLs and shippers in the automotive business. The bid board database has rate and capacity information that Load One dispatchers use to determine which loads to accept or turn down.
Data from the bid board is displayed on the mapping tool in the driver app as red pins. This shows drivers where Load One has missed opportunities due to not having trucks available.
Load One also has a database of truck locations from carriers using the Sylectus TMS software with its protected load board. The locations of trucks are displayed on the mapping tool alongside booked and loads/bids missed by Load One to help drivers locate a good spot, Elliott says. The database of trucks from Sylectus users and Load One drivers is displayed live in the mapping tool.
A driver that is 75 miles away from Memphis, Tenn., might see the market is red-hot based on the number of loads on the map. With the capacity icons, the driver may see that seven Load One trucks already are positioned there and decide to move 25 miles southwest of Nashville, where they will be number three in line for dispatch.
Drivers also can view freight patterns by day of week by viewing loads over the last 30 days, seven days and two days.
Before developing the app, "there was no way to tie all that together," Elliott says. "Now these guys can map it. I think it really says to the driver, 'There is a level of transparency here that you won't get anywhere else.' "
An instant hit
With the electronic logging device mandate in effect, drivers appreciate technology that helps them maximize time and money, says Elliott. The technology also has customer service benefits.
As drivers reposition themselves to the best areas, Load One will be able to respond faster and better to customer needs. And since Load One pays its company and owner-operator drivers a percentage of revenue for loads, "every time we win, (drivers) win."
Another benefit is that dispatchers will spend less time answering questions from drivers about where to position or reposition equipment and be able to focus on more important business.
Additionally, drivers can better manage their business and make decisions independently, which helps protect the contractor status.
"Drivers are quickly seeing the power of the app and the value proposition of it," says Elliott, who sees the value in recruiting as well. "(The app) will make us even more attractive of a choice to owner operators thinking of changing carriers."
Since announcing the app to drivers, more than 70 percent were using it within a few weeks, says Elliott, who explains to drivers that being in the expedite business is similar to being in a casino: You never know when or where the next load will come from.
"We are trying to build a system to help you count cards and increase your odds of legalized gambling," he says.