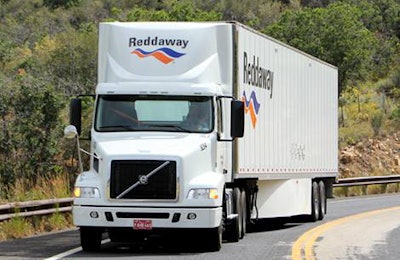 CCJ Innovators profiles carriers and fleets that have found innovative ways to overcome trucking's challenges. If you know a carrier that has displayed innovation, contact CCJ Editor Jason Cannon at jasoncannon@randallreilly.com or 800-633-5953.
Drivers new to the industry are the most likely to leave it, and they're also the most prone to accidents.
Tualatin, Ore.-based less-than-truckload carrier Reddaway, through its Reddaway Driving Academy and Truck Driving Apprenticeship program, is hoping to suppress both trends.
The apprenticeship, a yearlong training program, allows applicants to earn their Class A license and accumulate driving experience while being paid full wages plus benefits. Students who successfully complete the apprenticeship are graduated to a job as a driver for Reddaway — celebrating its 100th year in 2019 as the oldest continuously operating motor carrier in Oregon.
The apprenticeship program is open to Class A holders with less than one year of experience or no experience, as well as individuals interested in a career as a professional truck driver.
Jared Smith, senior director of human resources for Reddaway, expects to train more than 180 drivers this year at the Reddaway Driving Academy.
The program is sectioned into three parts spread out over a year: four weeks within a dedicated school environment; three weeks with one of Reddaway's more than 70 certified driver trainers in a live environment; and consistent follow-up training throughout the driver's first 12 months.
The initial four weeks of training are held at one of four school locations: Los Angeles, Salt Lake City and Portland and Medford, Ore.
"This is so apprentices can focus solely on learning," Smith said. "A designated area gives apprentices a safe open space to practice and enhance their skills. During the initial four weeks of training, apprentices attend classes, practice their driving on the skills development course and receive on-the-road training."
Apprentices are paid and meals are provided for the duration of their training.
Remaining training occurs at terminals throughout the Reddaway network. Reddaway provides direct regional delivery in California, Colorado, Idaho, Montana, Nevada, Oregon, Utah, Washington, Wyoming and British Columbia.
"Instructors work one-on-one with apprentices to personalize a learning plan to ensure their success," Smith said.
Checking in
Once apprentices are released to the open road – ongoing learning plan in-hand – their job descriptions barely differ from that of a career driver. However, periodic check-ins are used as extensions of the driver's formal training.
"Someone will reach out to discuss and review, provide additional training — skill training or a reassessment," Smith said. "It's not as if once someone leaves the academy, it's done. Most people don't master every concept the first time they hear something. [Drivers] will have some things we'll want to see continually developed."
Check-in cycles vary from driver to driver, but Smith said drivers play an active role in the personalization of their learning plan. As things get checked off the plan, it evolves to further hone their skills.
"You get some good training initially, but [the apprenticeship] puts us to where you hear from your safety manager or a terminal manager, so there's that extra layer of accountability," Smith said.
The apprenticeship significantly ups the minimum requirements to be a driver, Smith said.
"We're not going on a compliance standard — we're going on a success standard," he said. "Even in that initial period, we're going beyond what we have to do and showing this is a long-term program and an investment."
Favorable early returns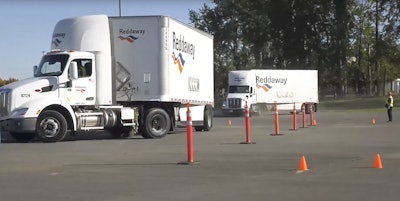 There are currently 46 active Reddaway line-haul drivers who have driven more than one million miles without a preventable accident, while 23 have done even better by reaching two million miles. Smith is hoping to see those numbers grow as more apprentices hit the highway.
Reddaway's initial data show immersion in the training program leads to safer drivers, as accidents for drivers with less than one year of experience are down 30%.
Safety incidents among those enrolled in the program are also better when compared to drivers who didn't come up through the academy but joined Reddaway with more time behind the wheel.
"This group of new drivers is outperforming groups that have come in and have more experience," Smith said.
For the early part of 2019, LTL carriers saw driver turnover climb about 8%, according to the American Trucking Associations. Now reaching 18%, LTL turnover is at its highest point in 15 years but is still below truckload turnover of about 73%.
"We tend to keep a lot more people in their first 90 days," Smith said of apprenticeship enrollees. "The stress of starting a new job and new career is significant, and [the apprenticeship] sends people out there with confidence, and I think that keeps them in the industry longer."
Reddaway's first group of 12 apprenticeship enrollees were set to complete the program at summer's end. Upwards of 50 enrollees are more than halfway through the program, and 125 people have started it.
Driver retention among the group going through the experience is currently in excess of 85%.
"When I go out and talk to people at schools, people want to be successful," Smith said. "They want to be a good driver. [The apprenticeship] really appeals to people who want to be really good at their job. They know that we've bought into them. 'Here's a program where I'm not just going to have a job, but people are going to help me be a professional and safe driver.' "
Accountability is paramount
Reddaway's apprenticeship program was certified May 31 by the U.S. Department of Labor — a step Smith said the company wanted to take to show enrollees that just as the carrier holds its drivers accountable to a standard, the company also holds itself to one.
"You get a second set of eyes," Smith said of having DOL review the program's coursework and training programs. "It improves the quality of the written materials out there, it puts requirements on our training and follow-up times, and people know it's been thoroughly vetted and approved. It adds a legitimacy to the program."
Certification also unlocks state and federal dollars that can be applied toward career training programs. Reddaway recently received a $40,000 grant from veteran employment software company Fastport to support the apprenticeship program.