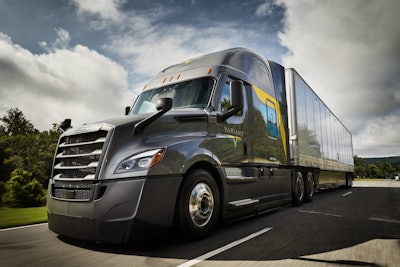 CCJ Innovators profiles carriers and fleets that have found innovative ways to overcome trucking's challenges. If you know a carrier that has displayed innovation, contact CCJ Editor Jason Cannon at jasoncannon@randallreilly.com or 800-633-5953.
Since IBM's Deep Blue computer defeated renowned chess player Garry Kasparov over 20 years ago, it stands to reason that artificial intelligence one day might gain enough ground to master the sometimes hair-pulling unpredictable twists and turns of daily truck driving.
According to Variant President Cameron Ramsdell, it has. For the past year, Variant, an Atlanta-based subsidiary of U.S. Xpress (CCJ Top 250, No. 15), has enjoyed a reduction in driver turnover and an uptick in freight efficiency thanks to a route planning program the company developed called Optimizer.
Ramsdell credits Optimizer for more effectively scheduling loads while providing drivers with more miles on the road and more on-time arrivals at home.
"I look at the Optimizer as a significant enabler of our strategy and our success," said Ramsdell, who was chief technology officer at Coyote Logistics before joining Variant last year to head Optimizer's development. "Variant, at its core, is really technologically-centric, a digitally native fleet."
The homepage of Variant's website makes it clear that the company is focusing on driver satisfaction through technology. New Freightliner Cascadias are paired up with auxiliary power units (APUs) and virtual dashboards that connect to Apple CarPlay and Android Auto. Photos and descriptions of its home office in Atlanta recall a creative Silicon Valley think tank in design and culture. But it's Variant Optimizer that gets top billing on the site, as it courts prospective drivers with a system that "only makes plans that make sense. And it's always updating to get you more miles and better loads."
When compared to industry averages, Variant reports that its drivers get 20% more miles per week and 10% more pay.
"We have seen a strengthening in solo driver retention of around 90%, and we consider this tool one of the key contributors to that jump," said Donald Ramsey, vice president of fleet operations for U.S. Xpress.
U.S. Xpress enjoyed a 29% surge in its stock price in late July thanks to a healthy second quarter earnings report which included an optimistic outlook attributed largely to the success of Variant Optimizer.
Increasing driver satisfaction through high-tech algorithms along with being more responsive to driver needs has taken plenty of work. Trucking invites a lot of complex problems that Ramsdell believes software can tackle best.
"It really is just an NP-hard computational problem," he said. "It is massively complex. Some of the brightest minds at the highest learning institutions in the country are fascinated with how complex it is. And that really is the entire gist of the Optimizer —making sure that the fleet is constantly orchestrated. It's looking at real-time variables. It's looking at things that are happening with the driver – instructions, traffic, weather, any plausible obstruction – and making sure that we're preparing those drivers and the fleet for it."
Fleet managers at Variant have been replaced with operations specialists who are free to provide drivers with more personalized one-on-one contact while Optimizer bears the heavy load of route planning. Response times to drivers typically are handled within two minutes. Drivers interact with Optimizer through a multifunction app.
"Interestingly, most of them have no idea it's planning their trips, and that's a good thing," said Eric Fuller, U.S. Xpress president and chief executive officer, who hired Ramsdell to improve asset-based planning. "Variant Optimizer runs in the backend, and results are shared through the app, so that's where drivers are really interacting. So far, it's been received incredibly well by our drivers."
Out with the old, in with the new
After assuming the role of CEO for Chattanooga, Tennessee-based U.S. Xpress in 2017, Fuller put some initiatives to work to improve freight efficiency and lower driver turnover, but nothing was quite hitting the mark.
Sensing that something dramatically and radically different was needed, Fuller sought out Ramsdell and brought him on board in April 2019.
"Honestly, I had spent no time on the asset-based side, but I had a lot of partnerships in my prior life with trucking companies," Ramsdell said. "For the longest time, I remember I had a couple of close friends who used to sit there and say, 'How has no one done anything remarkably different in the asset-based trucking space? How come no one is adopting technology in a radical way to make drivers' lives easier and to fix internal issues that create inefficiencies within the business?"
Ramsdell credits Fuller's leadership and the support of U.S. Xpress management for laying the foundation for Optimizer, which debuted roughly one year ago with five drivers at Variant and now is approaching 500, making the company, as Ramsdell pointed out, "one of if not the fastest-growing carriers in the country."
The majority of drivers have come in-house.
"Variant is a new brand, and to date, we haven't recruited many drivers externally," Ramsdell said. "We just recently opened external hiring a couple of months ago and are focused on steadily recruiting."
Variant driver Steven Armstrong is among that growing pool of truckers. Following 26 years of conventional driving, Armstrong decided it was time for something new.
"It's been a great, seamless behind-the-scenes technology," he said. "What I like best about the Optimizer system is the consistency — the consistency of miles, planning me ahead and getting me home on time."
Armstrong said Optimizer has a "fairly easy learning curve. The key is just learning to trust that you always have a preplan."
When asked what he would say to other drivers about Optimizer, Armstrong said, "It's great. We don't have to wait for a load. The only challenge is when we don't have a trailer option."
Optimizer's multifunction app is designed to ease the burden of taking on new technology while building a better community of drivers. Driving instructions through the app are pretty clear-cut.
"The Optimizer says, 'Go do this route from Atlanta to New Jersey, New Jersey to Chicago, Chicago to Omaha,' " Ramsdell said. "We needed a way to show that to drivers, so that's absolutely where the app comes in."
The app does more than just provide driving instructions.
"We actually layered in some other functionality," Ramsdell said. "We created a community, so they're able to connect with one another. They can share stories. They can post information. They can share attributes about the facilities that they're going in and out of so that they're immediately empowering themselves and connected to one another just by virtue of being in the program. This creates a level of excitement for some of them but also a level of transparency that's never been seen."
After roughly a year of being on the road, a second-generation Optimizer is being rolled out into the fleet that's even more adaptive than the first.
"I think one of the ways that it's better is that it will sustain us well past 10,000, 20,000 trucks," Ramsdell said. "You can throw pretty much anything you've got at it, and it can handle it. It really is built for scale. It's far more sophisticated, and it's far more responsive. So while I do anticipate better overall performance from it, some of the other benefits are just the fact that we learned a ton over the last 15 months, and almost all of those learnings are represented in this new software. So everything that we got wrong, and we got a lot wrong in the first Optimizer – as you can imagine, we broke a lot of eggs to get to where we are today – we felt like we really took this opportunity to fine-tune what's rolling out next."
Continued fleet growth remains an important objective.
"Our first phase plan is to convert an additional 500 trucks and bring the total to around 900 OTR solo trucks operating in the Variant fleet," Ramsdell said. "That's our focus right now."