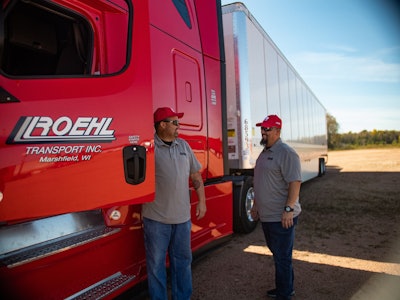 CCJ Innovators profiles carriers and fleets that have found innovative ways to overcome trucking's challenges. If you know a carrier that has displayed innovation, contact CCJ Chief Editor Jason Cannon at jasoncannon@randallreilly.com or 800-633-5953.
Time is money, but miles have long been the preferred unit of measurement when it comes to charging shippers and paying drivers. That can be problematic for shrinking lengths of haul and an industry that's fraught with delays like traffic snarls and shipper/receiver detention – losses in productivity that don't provide fleets with a lot of incentive to convert to an hourly pay structure.
Roehl Transport (CCJ Top 250, No. 59) this year blended the best of both worlds, offering its national, regional and home daily fleet drivers a mileage band pay plan featuring rates per mile based on the length of haul with added activity pay. Mileage bands start at zero to 50 miles and increase in 25-mile increments to 150 miles, where they jump in 50-mile increments up to 500 miles. According to Tim Norlin, Roehl's vice president of driver employment, the switch has equated to a 12% to 14% pay raise – the third driver pay bump in two years.
Roehl – a Marshfield, Wisconsin-based provider of dry van, refrigerated, flatbed and dedicated services – modeled its address-to-address pay structure off an hourly rate to come up with its mileage bands and mileage rates, which fluctuate by trailer type. For example, a driver running in the flatbed group will earn more per mile than a driver hauling a dry van, with reefer falling somewhere in the middle. There's also consideration for the region in which the driver operations.
"These enhanced pay plans, when combined with our address-to-address mileage calculations, 3-cent accident-free pay and performance bonuses, ensure that Roehl drivers receive some of the highest compensation in the industry. In fact, some drivers will earn $1.64 per mile," Norlin said. "It encourages the driver to be productive, but it also takes into consideration the driver's time. We're trying to hit that $27-$28 an hour sweet spot for a driver with this new compensation plan."
Even though the company has a per-hour rate benchmark that it's seeking to provide the driver, Norlin said not going to a full per-hour pay model leaves productivity incentives in-play.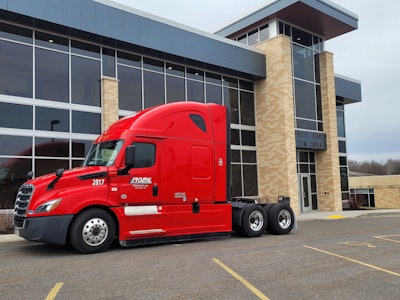 "When we have that productivity incentive in there, we think that helps the drivers and encourages the drivers to stay productive," he said. "To sweeten that, we also have a quarterly bonus that drivers can earn based on their productivity and miles – anywhere from a penny a mile all the way up to 5 cents per mile, depending on the miles. It's a point-based system, so it's miles, it's loads, it's on-time performance, and obviously, accident-free is in there as well."
Norlin said the shift away from a static CPM on all miles in favor of a sliding mileage scale based on length of haul – and taking into account the value of a driver's time – has made the company's shorter hauls more appealing to drivers by offering compensation for routes that, while short, are often time consuming.
"We know that a 50-mile load isn't gonna take one hour to do. It's probably gonna be on the order of two hours, even a little bit more than that," Norlin said. "So we wanted to make sure that the drivers are kept whole when they're doing those shorter lengths of haul and they're not able to run as many miles."
The new pay structure, Norlin said, kept the best parts of Roehl's Your Choice pay plan (like a point system that allows drivers to earn additional pay), which the company rolled out in January 2012, but simplified how drivers earn their base rate and simultaneously makes take home pay more predictable.
"It's a simple pay plan to understand and [drivers] can determine their pay before they take the load," he said, "I guess the biggest thing that this has done for us is, sometimes when a driver is offered a very short haul, they want to refuse it because they want something longer. This takes that pain out of the equation because the driver is going to be more compensated for their time. The pay model is not just about miles anymore. It's about the work that the driver does."
Productivity, Norlin said, moved slightly higher following the change, but has since settled back "to near identical levels prior to the increases."
With the ability to earn more money on shorter hauls, Norlin said the new pay structure has given drivers incentive to take multiple short drops versus waiting for a single longer one.
"I understand that if you give me a 200-mile load, I'm gonna do really well on that load versus waiting around for 400-mile length of haul because we can keep them busy. It takes that pain out of maybe taking a shorter length of haul load and then following that up with either a longer length or even another shorter length of haul. If you can do two 200-mile loads in a day, a driver's gonna do very, very well."
With average length of haul continuing to decline industry-wide (Norlin said his company is being offered more and more shorter length of haul freight), the new pay plan has helped Roehl insulate its drivers from a reduction in mileage-based pay and "keep our drivers within that regional boundary and get them home the way we want to get them home – the way they want to get home. This helps us do that and it helps the drivers stay whole and make it good living," Norlin said.
Paying on address-to-address practical route miles incentivizes shorter hauls, but Norlin said there's also benefit for drivers who prefer the open road, adding "if you do the math on if I'm running 500 miles at 60 cents a mile versus 200 miles at $1.15, in the end it all works out to be about the same earnings per hour for both loads."
"So many drivers don't understand how their miles – their paid miles – are calculated, and they could be leaving a lot on the table if they're at a carrier that pays short route versus address-to-address versus practical route, city center to city center. The miles that we pay our drivers are as close to the actual miles they drive as possible without moving to hub miles," Norlin added. "If you're at a carrier where you're getting 52 cents a mile for all miles, regardless of the length of haul, you probably shy away from those shorter lengths of haul because a 50 mile load paying 50 cents a mile isn't gonna pay you very much for the time that it takes to do that load. But if you come to Roehl we're going to pay $1.45 a mile for that same load. That's almost three times as much as you're making now. Now that makes it worth your while to do that load, and it increases your earnings potential."
Roehl company drivers last year earned more than $3.5 million in safety incentives, and the company won a fourth President's Award from the American Trucking Associations (ATA). Roehl was the first truckload carrier to win the award and the only one to win it four times. Roehl recently made a profit-sharing contribution of 7% of eligible employee wages – the largest contribution in the company's history.
The CCJ Innovators program is brought to you by Comdata, Freightliner Trucks, Omnitracs and Valvoline.