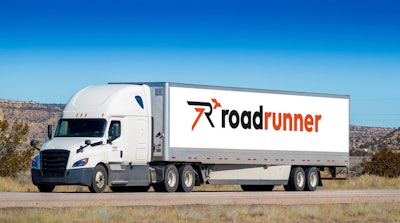 Roadrunner
CCJ Innovators profiles carriers and fleets that have found innovative ways to overcome trucking's challenges. If you know a carrier that has displayed innovation, contact CCJ Chief Editor Jason Cannon at jasoncannon@randallreilly.com or 800-633-5953.
While much of the blame for shipping delays around the U.S. has been laid at the feet of the trucking industry and its lack of workforce, many experts have said it's not a matter of a driver shortage but of inefficiencies that could be solved with things like telematics and automation.
One metro-to-metro less-than-truckload carrier is proving that hypothesis.
Illinois-based Roadrunner (CCJ Top 250, No. 99) has made significant changes in its operations to improve its reputation and efficiencies with new leadership, a new network and new technologies, resulting in greater capacity and reduced transit times.
Roadrunner President Frank Hurst said customers have recognized improved service and quality; there has been a reduction in cargo claims; and driver uptimes have increased following these changes.
The company, which uses core key performance indicators as a measurement, posts transit times for every origin and destination zip code, published internally on its RapidShip LTL transportation management system. Roadrunner customers using RapidShip can automate manual shipping processes, improve transportation reporting and store documents. The TMS is designed to be a central platform for all shipping activities for small and medium-sized LTL shippers.
"In a turbulent logistics marketplace where longer delivery times are the norm, Roadrunner is ecstatic to speed up deliveries for its customers in 120 long-haul lanes across its 32 markets," said Roadrunner President Frank Hurst. "Careful study of sustained transit time improvement over several months gave Roadrunner the confidence to stand behind these tightened transit times. We expect to implement additional improvements in the months ahead to further enhance our service-first, competitive value offering."
The 38-year-old company, which experienced a setback in 2017 following an accounting scandal, has rebuilt itself from nearly the ground up.
It all starts with service
The company's accounting fiasco wasn't the only thing bringing it down.
Hurst said Roadrunner went from being a great long-haul, metro-to-metro provider to one lacking quality service and driver satisfaction.
"I think it all starts with service, and I've been very public in saying that, over time, Roadrunner lost its way," he said. "Our service had really gotten to almost a deplorable level. We had lack of visibility of the shipments; our service was not good; our quality was not good.
"We almost had to really start at ground level and almost rebuild a company that was all around taking care of the customer and at the same time taking care of the driver because we all know in our business that without a driver, we don't have a business," he added.
Hurst said a lot of Roadrunner's legacy issues were an effect of trying to service too many markets, so they discontinued service in 20 delivery-only markets – or 30% – and repositioned assets to focus on direct routes. It now has 32 markets where it picks up and delivers through a circuitous and scheduled line-haul network that Hurst said the company created from scratch so freight moves on a consistent schedule every night.
In doing so, the company saw a reduction in transit times by a day on average across 120 long-haul lanes – no small deal in the logistics world.
"We didn't really have consistency in our line-haul network. Drivers did not like the inconsistency in the network we had, so we made a decision last Spring to reposition assets and exit markets that were not our core competency at Roadrunner," he said. "If you are creating a network from scratch, you definitely wouldn't have created what we (previously) had at Roadrunner, and when we started making these changes, the majority of the service and quality issues were in these markets that we decided to vacate."
Roadrunner began executing its network changes last year, and Hurst said the company saw instant improvements in transit time and service.
"That's really the key. We carefully studied the transit times in our network, and we're always looking to speed up select lanes," he said. "One of the key advantages of Roadrunner is our assets, which are our service centers, our people, our forklifts, our technology, and you combine those with a very flexible driver network … (it's) all around moving freight faster, especially in a time when there's so much supply chain disruption. We feel that we're actually a great opportunity for customers who have not tried Roadrunner, or it's been years since they've used Roadrunner."
Technology updates drive efficiency
Those technology assets played a major role in increasing efficiencies at Roadrunner in addition to the network overhaul, Hurst said.
Hurst said Roadrunner went to the source – customers and drivers – to determine what needed to change.
Leadership developed a team to focus on driver retention and set out to find the causes behind each driver that had previously left the company. At the same time, the company spent a lot of time with customers to understand and remedy any issues they had.
They found that customers needed better transit times and that both drivers and customers wanted shipment visibility.
The answer? Investing in technological advancements.
Roadrunner developed internal proprietary business intelligence tools to better track all facets of a shipment, from quote to invoice – improvements that Hurst said allow Roadrunner to continuously work on building an efficient network with reduced handlings and speedier transit times.
Roadrunner also revamped its Haul NOW mobile app to simplify self-service and delivery processes for independent contractor drivers. The app includes a real-time view of available loads that allows for proactive booking, giving them flexibility in the loads they choose, as well as real-time communication with dispatchers. It also allows drivers to view documents, access historical dispatch and settlement information and obtain directions to service centers. Tomasz Jamroz, chief technology and innovation officer at Roadrunner said the upcoming release of the newly redesigned app has a tool that enables a familiar ride-share-like functionality for owner operators.
The company's RapidShip platform enhances visibility of freight rates through direct API integration with carriers and improves shipment planning for cost and service optimization. The TMS offers a single-page view for quotes, real-time tracking information, carrier consolidation and a calendar view of upcoming and current shipments, allowing shippers to easily identify their preferred carrier for each shipment.
Hurst said Roadrunner then turned to its service-center managers and asked what information they needed to run an efficient operation. The company's IT team built proprietary dock automation technology to meet those needs.
"First and foremost was dock automation … making sure our service centers had the visibility and technology from a dock automation standpoint," Hurst said. "We digitized all of our services to allow for real-time visibility of shipments and also direct our operations on when and where to load shipments for optimum efficiency and service. Our technology advancements start with visibility, providing real-time tracking for customers, our operations team and drivers,"
Dock automation and drivers with handheld devices supports tracking. All service centers have scanners and dimensioning equipment that capture the dimension, weight and density of shipments and dynamically routes shipments for optimal service and efficiency. Nearly 100% of shipments are run through dimensioners to give Roadrunner better visibility into costs to offer customers the best pricing.
And all that information connects internally within Roadrunner's load-planning software and load dispatch boards.
Through API and EDI tracking, customers can track the lifecycle of their shipments in real time within the service center and throughout its journey on the truck.
"We think about the technology that we've implemented, and shippers benefit because they've got increased visibility of shipments within our network. There's the old adage that visibility of the shipment is almost as important as the shipment itself," Hurst said. "Also shippers benefit because we understand our business from a cost standpoint, which allows us to be more competitive in a market where rates are increasing the way they are. Drivers benefit through improved planning and communication. So because we can plan our networks better, we have a scheduled line-haul network, we can reduce (driver) downtime and improve their miles per week."
Leading the transformation
Roadrunner also invested in technology to streamline operational and financial analytics to increase agility.
Hurst said Andrew Leto, founder of supply chain and logistics management company GlobalTranz and one of Roadrunners new directors, was a major player in guiding the company in its investment in business intelligence tools.
"Finally, we have developed internal KPIs through business intelligence tools that enable our management team to get a real-time snapshot of our business, empowering them to make key decisions much faster ... We really want to understand how our business operates and how freight operates in our network so we can make fast decisions, not only around pricing but also so we can communicate with the customer, having real-time conversations about how their business operates within our network," Hurst said. "Then it's all around providing information to our management team so they can make quick decisions about our operation and move fast to ensure that we've got the best service and quality. So whether it's line-haul, yield management, safety, improving driver retention or operations, we've basically transformed all of those groups under our business intelligence tools."
He said, like the real-time visibility of shipments, the company wanted a real-time snapshot of its business, which has improved its decision-making time tremendously compared to the time before its newest leaders were onboarded.
Former OmniTRAX CEO Kevin Shuba joined the Roadrunner's board of directors in addition to Leto, following their investment in the company. About a year ago, Roadrunner raised nearly $50 million in capital, much of which came from new investors, to make these changes possible.
"If you think about laying the foundation in changing a network, it takes serious investment, especially in systems, technology and people, but if done right, the payoff can be enormous, and that's really the way we look at that ROI within the business," Hurst said.
Due to a historical lack of investment, the business was previously managed using a series of over 350 largely manual data reports and spreadsheets generated from a range of systems in the organization. Hurst said that meant numbers often disagreed with one another, resulting in significant time spent reconciling information on which to base decisions – a process which, in some instances, was too little too late.
He said Roadrunner has since completely overhauled its previous approach by meticulously going system-by-system, connecting data feeds into a single business intelligence platform and building a series of intuitive dashboards and indicators on top of that upon which the company drives 100% of its business decisions.
"Having a single source of truth means we aren't debating the facts and instead spend all of our time focused on the key levers at our disposal to delight our customers and keep our drivers moving and making money," Hurst said.
He said the company will take its return on investment and reinvest into the business with the goal to continually improve Roadrunner customers' businesses in what he called a "virtuous cycle of providing better service."
"We love that our customers are seeing the positive impact of our investment in building a best-in-class team, an optimized network with new facilities and superior technology," said Roadrunner Executive Chairman Chris Jamroz. "We have a culture of ongoing improvement, and we will continue to put resources towards providing the best possible service for our customers and the best possible environment for our drivers."
The CCJ Innovators program is brought to you by Comdata, Freightliner Trucks, Omnitracs and Valvoline.