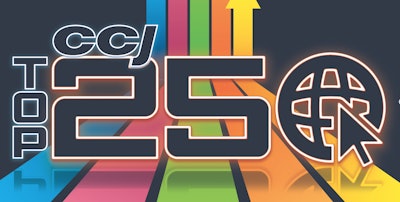 A full, downloadable list of the 2015 CCJ Top 250 is available at CCJtop250.com. There you can also find listings broken down by revenues or number of trucks, tractors, trailers or drivers, and by type of haul and geographic region.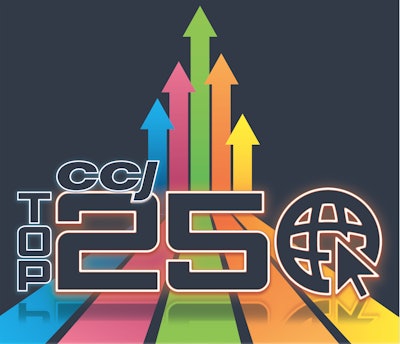 With favorable freight pricing and tight capacity, the trucking industry witnessed positive economic conditions across all segments in 2014.
Carriers ranked in this year's CCJ Top 250 also experienced sizable growth in terms of revenue and equipment capacity. After a relatively flat year in our last ranking, companies in this year's ranking account for a total of 650,688 power units, up from 606,274 last year.
OEMs saw a huge boost in Class 8 truck sales in 2014, netting their strongest year since the pre-buy phenomenon in 2006 with more than 380,000 orders placed in the North American Class 8 market, according to industry analyst firm ACT Research.
The segments with the largest percentage of power unit additions this year are flatbed/specialized/heavy haul and general freight at 16.7 percent and 10.4 percent, respectively. Power unit numbers shrank for both the household goods and intermodal segments.
In terms of revenue, all segments experienced growth according to companies self-reporting revenues for both 2013 and 2014. The general freight segment led the way with 14 percent growth year over year, followed by the dedicated contract carriage and refrigerated segments at 10.9 percent and 10.2 percent, respectively. Even the flatbed/specialized/heavy haul segment, which saw revenues shrink last year, rebounded well, according to this year's report.
Although the pace slowed, driver numbers also increased for this year's crop of CCJ Top 250 companies, totaling 723,933 (both company equipment drivers and independent contractor drivers), a 1.2 percent increase from last year following a 3.9 percent increase the prior year.
Acquisitions among large carriers continues
Carriers looking to diversify their businesses or create greater economies of scale continued a steady pace of acquisitions in 2014 and the first half of 2015.
Forward Air Corp., which jumped from No. 77 to No. 58 in this year's ranking, purchased Central States Trucking Co. and Central States Logistics in early 2014, and followed it up a year later with the acquisition of Towne Air Freight, No. 97 in last year's CCJ Top 250 ranking.
XPO Logistics (No. 12), which initiated an aggressive acquisition strategy in the last several years after acquiring Pacer International, 3PD and Express-1, among others, continued with the acquisition of UX Specialized Logistics and Urban Express earlier this year. It also completed a $3.5 billion acquisition of Lyon, France-based Norbert Dentressangle SA, which recently had acquired Des Moines, Iowa-based Jacobson Companies, further enhancing XPO's North American portfolio. The company says its North American revenues now total $4 billion annually.
Celadon also moved up four spots to No. 35 thanks in part to adding capacity from the acquisitions of New Freedom, Pa.-based A&S Services Groups (No. 197 in last year's ranking) and Hope Mills, N.C.-based Taylor Express.
Phoenix-based Knight Transportation (No. 24) purchased Barr-Nunn (No. 187 last year) in October 2014 for $112 million, adding 547 tractors and 1,780 trailers to its dry van business.
North of the border, Montreal-based TransForce – No. 7 and Canada's largest trucking company – continued its torrid pace of acquisitions in recent years with six strategic purchases, most notably the $495 million acquisition of Ontario-based Contrans Group.
While the regulatory environment continues to swirl with a pending final rule for electronic logging devices and proposed rules for minimum entry-level driver training requirements and speed limiters still in the works, the industry's top for-hire carriers continue to face an onslaught of driver recruiting and productivity challenges from Washington. However, if the continued good news in consumer spending continues to propel economic growth and fuel prices remain low, these factors should help sustain momentum for trucking's top fleets.
About the CCJ Top 250
Commercial Carrier Journal has ranked the top for-hire trucking companies since the late 1960s. The CCJ Top 250 is the most comprehensive ranking of active carriers. Our ranking takes into account not only the revenues posted by a trucking company but also its fleet size and employment base.
Rankings based strictly on revenues often capture activities that have only an indirect relationship to transportation. Blending revenue, equipment and drivers also allows for a reasonable way to capture carriers that decline to disclose revenue.
The CCJ Top 250 ranking treats all carriers under one umbrella as a single entity; carriers with significant ownership by an individual, family or company but not organized under a single management team are treated separately. For a detailed explanation of the CCJ Top 250 ranking methodology, see "Ranking Methodology" to the right.
Our presentation of the CCJ Top 50 continues to evolve. Last year, carriers that went out of business or were acquired by other companies in 2013 weren't listed; instead, only active carriers were displayed, and we continue to use that criteria. And as we have done the past two years, this year's print version of the CCJ Top 250 information provides only very basic information on the carriers we rank. Virtually all of the underlying data – revenues, power units and drivers, for example – appear only online at www.ccjtop250.com.
The CCJ Top 250 begins with data provided by Randall-Reilly's RigDig Business Intelligence based on data supplied by carriers to the Federal Motor Carrier Safety Administration on their required Form MCS-150 filings. Because this data can be – although rarely is – as much as a couple of years old and because the MCS-150 does not include information on revenues, all carriers included in the ranking were given an opportunity to review FMCSA data for freshness and to supply information not included on the form. In some cases, CCJ supplements its data with other official sources, such as reports filed with the Securities and Exchange Commission.
If a carrier declines to verify or update the data that we provide it for review, we presume the publicly available data is valid and use it for ranking purposes. Carriers are never allowed to opt out of the ranking.
Ranking methodology
CCJ 's ranking of companies is a blended scale based on a combination of revenue, total power units and number of drivers rather than a ranking simply by revenue. Companies considered for inclusion in the CCJ Top 250 were ranked from high to low by revenue, power units (weighted based on the type of power unit as discussed below) and drivers and assigned a rank in each category.
The numerical rank stored in each of the three fields was added together (revenue rank + vehicle rank + driver rank) to provide a rank sum. This sum then was ordered to provide the overall ranking assigned to each carrier, with the lowest sum receiving the highest rank.
A number of carriers failed to report actual 2014 revenue. In order to be included in the blended ranking, they were assigned – for blended ranking purposes only – a calculated revenue figure determined by multiplying the carrier's total number of power units by the average of the bottom 50 percent of revenue per power unit performers for the companies in that carrier's primary segment.
Calculated revenue is discounted by using the average of the bottom 50 percent of performers so that carriers failing to report revenue are not given an undue advantage in the ranking. Calculated revenue almost always will differ from actual revenue, of course, but the effect on the blended ranking likely is slight.
The power unit ranking, which represents an investment as much as a physical-count measure of trucking assets, takes into account the difference between tractors and trucks. The assumption is that a for-hire carrier with 1,000 tractors has a greater investment in equipment than one with 1,000 straight trucks. For the purpose of the blended rank only, a truck was weighted at half the value of a tractor.