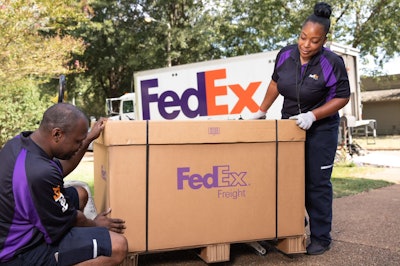 See the full 2021 CCJ Top 250 list here.
It's hard to imagine that a carrier with 36,000 tractors and 132,000 trailers isn't the top fleet in its segment, but for FedEx's position on CCJ's Top 250 list, that's long been the case ... until now.
FedEx sling-shotted past delivery rival UPS, and now sits atop our annual rankings.
The package segment was among the biggest winners (and saviors) in the depth of the pandemic, moving loads of personal protective equipment (PPE), vaccines and international release shipments in what FedEx founder Fred Smith said "has been perhaps this company's finest hour."
All carriers in the package delivery space reaped the benefit of an acceleration in e-commerce, riding the explosion to record quarterly and/or annual revenues. And while this segment is the smallest on our annual ranking, each of the four carriers listed (FedEx, UPS, DHL and Spee Dee Delivery) moved up compared to last year's list.
"We not only posted record earnings, but also created 20,000 new jobs worldwide," said Frank Appel, CEO of Deutsche Post DHL Group.
The U.S. domestic parcel market is expected to surpass 107 million packages a day in calendar year 2022, with e-commerce contributing 88% of total U.S. market growth. Excluding Amazon volume, the U.S. domestic parcel market is expected to be 72 million packages a day in calendar year 2022.
UPS has more than 19 million customers, with Amazon its largest customer. "We enjoyed growth with that customer in 2020," UPS President Carol Tome noted. "If you look at total revenues for our company in '20, Amazon now makes up about 13.3% of our total revenues, up from 11.6% last year."
FedEx's largest customer is the Postal Service via its SmartPost platform, which the carrier is working to integrate into its standard FedEx Ground operations for improvements in delivery density and access to technology.
Through calendar year 2020, FedEx Ground's full seven-day operations, including weekend residential delivery coverage, reached 98% of the U.S. population on Saturdays and 95% on Sundays. FedEx Freight provided approximately 70 million line-haul miles and delivered 1.75 million packages for Ground in fiscal year 2021.
UPS divested itself of its UPS Freight business in January, citing its focus to get "better not bigger," but held on to its more than 27,000 tractor-trailers as part of its parcel delivery service, which it still retains, along with its freight brokerage (Coyote Logistics), its cargo airline and more.
"UPS Freight is a capital-intensive low returning business," UPS President Carol Tome noted after the sell. "We do not need to own this business to provide an LTL solution for our customers. With the disposition of UPS Freight, we will be smaller, but we will be better, as without it, we will see an improvement in our operating margins and return on invested capital."