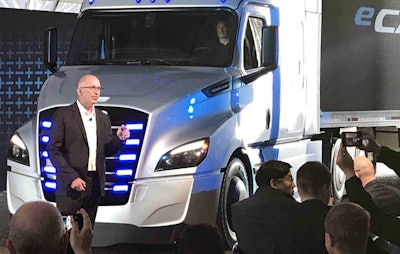 Freightliner has built more than 4 million trucks for the U.S. market sine 1936, and Roger Nielsen has been with the company in some capacity for 95% of the production run. 
When Nielsen – who will retire April 30 as President and CEO of Daimler Trucks North America (DTNA) – joined the company in 1986, Freightliner claimed just a 13% market share. In the 34 years years since, the company has become the market share leader in North America (at roughly 40%) in both medium- and heavy-duty trucks.
Nielsen has been DTNA president and CEO since April 1, 2017, but originally joined the company three years post-graduation from Oregon State University as "the lowest level engineer you could imagine," he said, adding he was charged with implementing a way to test wiring harnesses. 
Under his executive leadership, Nielsen has seen his company invest heavily in autonomous technologies kick off testing of electric trucks and buses.
"The world changed in 2017," he said, "and I was at the right time, right place to be a great front row witness to it. We finally realized for us to meet the demands of our customers – and to meet the demands of the regulatory agencies – we had to transform our way out of diesel." 
Freightliner debuted its eCascadia and eM2 in 2018, "and now to fast forward two-and-a-half years later, we've got 38 of those vehicles in full operation. We're well on our way to getting a million miles on the odometers of those trucks, and we're getting ready to introduce the second generation here soon," he added. 
Nielsen has also embraced the role hydrogen can play in green transportation.
"If you need the longer range and the higher payload, you're going to need an electric powertrain energized by hydrogen fuel cells to make it work," he said. "If we're ever going to get zero emissions in the irregular route long haul business, we're going to need hydrogen fuel cells." 
While Nielsen's four years at the helm of DTNA paralleled a green energy movement that is in the process of reinventing transportation, he's clearly most proud of initiatives that have enriched the customer experience. He noted an impromptu conversation in 2017 – just a few months into his tenure as company president – with a customer who noted "our relationship with [Freightliner] is the worst it's ever been and we've bought trucks from you for 30 years." 
Nielsen noted the customer told him that Frightliner had great people and great products, "but your processes suck," he recalled. 
In the wake of the conversation, DNTA reinvented its customer experience, Nielsen said, with a focus on making it easier and more fun to deal with DTNA. 
"Four months later, we stopped the company for a whole day and we taught people, introduced people, to the concept of the customer experience, which basically means whatever the problem the customer has you take it on as your personal job to make sure that it's solved with the same urgency that your customer wants you to take it on." 
He noted all employees are responsible for the customer's experience with the company and that the company stops work one day each year to bring in customers to better understand "what it's like to be on the other end of the transaction. The companies who get [customer experience] – who can create customer loyalty by making your company fun to do business with – those are the ones that are going to succeed in this business. Life's too short to be aggravating." 
Nielsen passes the torch to John O'Leary, the current Chief Transformation Officer for Mercedes-Benz Trucks in Germany, with whom he once shared an office. 
"He and I have been joined together as partners for some 20 years," Nielsen recalled, "and it's so great to turn the reins over to some one I trust so completely."