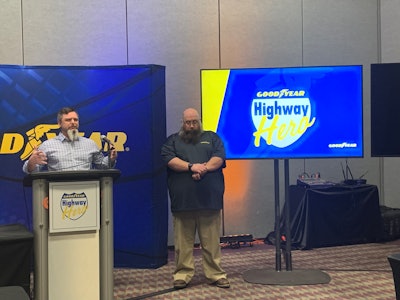 J.B. Hunt Transport (CCJ Top 250, No. 3) driver Andrew Waits of Tacoma, Washington, was named the 38th winner of the Goodyear Highway Hero Award at the 2023 Technology & Maintenance Council (TMC) Annual Meeting in Orlando, Florida, Sunday.
Waits, a military veteran and full-time truck driver, was celebrated for assisting a motorcyclist that had been struck by a car – an accident that happened right in front of his daycab last August. The result of an accident, a motorcyclist was thrown from his vehicle on a four-lane highway and Waits positioned his tractor trailer to shield the unconscious rider from oncoming traffic. Waits, also a volunteer firefighter, attended to the injured man until first responders could arrive.
"Choose the hard right over the easy wrong," Waits said of his decision to act, noting that the saying was something he learned and remembered from his days in JROTC. "You know you did something right when your father, who doesn't say it a lot, tells you he's proud of you."
Andrew is the first driver from J.B. Hunt to receive the award from Goodyear.
"He's just a kind, caring and genuine person," said Henrik Christensen, J.B. Hunt account manager and Waits' supervisor. Christensen noted that he was one of the first people that Waits called when the dust had settled at the crash scene, but he wasn't calling to tell Christensen what he'd done. "The first thing he said was, 'Boss, I'm delayed. I'm sorry.' He apologized for being delayed. He just did what he thought was right because he could and it needed to be done."
Waits was awarded $1,000 from Goodyear, a new television, new set of Goodyear tires for his personal vehicle and Goodyear-branded merchandise.
Two additional finalists for the honor were:
• Barry Perkins, of Burlington, New Jersey, who encountered a life-threatening accident that involved numerous cars, including a vehicle that caught fire with a family trapped inside. He extinguished the fire and helped the driver and her children exit the vehicle and get safely off the road.
• Robert Windsor, of Norman, Oklahoma, who encountered a vehicle that was pinned underneath a semi-truck and engulfed in flames. He used his fire extinguisher to neutralize the flames before rescuing a young girl from the pinned vehicle.