Trucking news and briefs for Monday, March 13, 2023:
Freedom Freight adding intermodal business
Tradition Transportation Group Inc., through its subsidiary Freedom Freight Solutions, is launching new intermodal services after picking up additional drayage business of both inbound and outbound freight through the Port of Savannah.
The company says it has enough drayage business to support a small fleet of full time drayage operations out of the company's Savannah, Georgia, location beginning this spring and recently completed a facility tour with a potential client, which translated into a contract and new customer to begin bringing in rail cars to offload into the Savannah warehouse location. The company anticipates the first railcars to begin arriving in the coming days.
"We are thrilled to announce the launch of new intermodal services through subsidiary, Freedom Freight Solutions," Robert Morris, CEO of parent company Aqua Power Systems, Inc. "Our company's expanding offerings and client solutions are a testament to our commitment to providing reliable logistics and transportation services to our customers."
AV industry lays out policy recommendations for regulators, lawmakers
The Autonomous Vehicle Industry Association (AVIA) earlier this month unveiled its federal policy recommendations for unlocking the full capacity of autonomous vehicles' safety, mobility and economic opportunities.
The framework outlines recommendations for Congress and the U.S. Department of Transportation to maximize the deployment and commercialization of safe autonomous technology across the United States.
AVIA convened its members, the leading AV companies in the world, to identify a comprehensive set of policies to encourage the growth and development of the AV industry. This is the first recommended federal framework that includes all modes of autonomous vehicles (AVs), including zero-occupancy delivery vehicles, trucks and passenger cars. The framework serves as a resource for all federal policymakers.
To open a path for the safe deployment and commercialization of AVs, Congress should enact federal legislation that:
Supports U.S. innovation in AVs with a clear federal framework that outlines necessary statutory and regulatory elements critical to the AV industry
Recognizes the importance of positive AV policy in maintaining the United States' position as an innovation policy leader in the world
Encompasses all vehicle types
Reforms and expands the vehicle exemption process
Expands AV testing and evaluation
Directs NHTSA to complete Federal Motor Vehicle Safety Standards (FMVSS) rulemakings
Codifies preclusion of "make-inoperative" provision for dual use vehicles
Codifies FMCSA interpretation that FMCSRs do not require a human driver
Preserves the federal role in regulating motor vehicles and interstate motor carrier activity
Expands access to mobility by not requiring a driver's license to be a passenger in an AV
Protects confidential information
Studies the economic, access and equity impacts of AVs
Studies and encourages the development of the AV industry workforce
To advance AVs, AVIA encourages the U.S. DOT to:
Update regulations to support AV deployment
Accelerate the path for novel design vehicles
Complete the final rule on safe integration of ADS in commercial motor vehicles
Promote AV safety by developing technical standards, conducting research, convening the industry to establish common approaches, and fully leveraging existing data collections to inform future regulatory approaches to AV safety
Preserve foreign market access via active engagement with other governments and international bodies
Fear of autonomous vehicles on the rise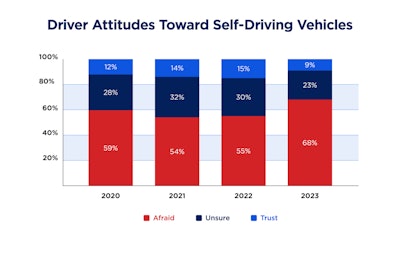 As autonomous vehicle companies look to advance laws and regulations to clear a path for the commercialization of AVs, the American public is increasingly skeptical of the technology, according to a recent AAA report.
The results of AAA's annual automated vehicle survey show that while there is still a high level of interest in partially-automated vehicle technology, attitudes toward fully self-driving vehicles have become increasingly apprehensive.
AAA reports that there was a major increase in drivers who are afraid of fully self-driving vehicles this year, rising to 68% as compared to 55% in 2022. This is a 13% jump from last year's survey and the biggest increase since 2020, the company said.
"We were not expecting such a dramatic decline in trust from previous years," said Greg Brannon, director of automotive research for AAA. "Although with the number of high-profile crashes that have occurred from over-reliance on current vehicle technologies, this isn't entirely surprising."
Xos intros nextgen stepvan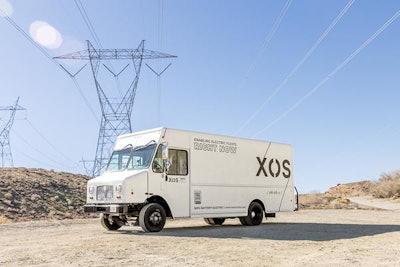 Battery-electric truck start up Xos Thursday introduced its 2023 battery-electric Stepvan, a next-generation truck that introduces several engineering changes to reduce direct material costs and enhance technology capabilities and savings for customers.
Built on the medium- and heavy-duty X-Platform chassis already on the road operating with fleets in parcel delivery, uniform rental and cash-in-transit industries, the 2023 Xos Stepvan features an enhanced telematics module and over-the-air software capabilities. Updates received via over-the-air offer additional features and improvements that will enhance the vehicle's performance, while the telematics module enables advanced remote diagnostics for subscription customers of Xosphere, the company's proprietary fleet management platform.
The 2023 Xos Stepvan operates with a centralized liquid thermal management system and includes several structural changes to the chassis system. Together, these optimize the performance of the battery systems and allow for more compact packaging of harnesses, hoses, and high voltage electronics, the company said.
"The structural changes we made to the chassis system of the 2023 Xos Stepvan reduce the curb weight of the vehicle, enabling greater payloads and a more efficient vehicle," said Scott Zion, head of engineering. "More compact packaging of the high voltage power electronics allows for body upfitters and fleets of varying vocations to utilize this chassis in new applications."