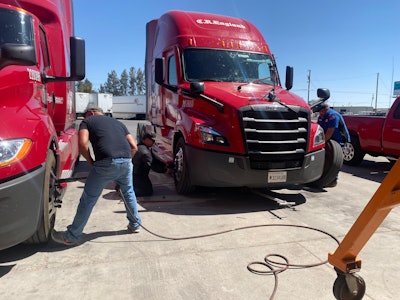 For more than 100 years, C.R. England (CCJ Top 250, No. 29) has focused on continuous improvement. One of those areas is fuel economy and sustainability efforts that not only help the company's profitability but also help the environment.
It's quite a milestone to thrive as a trucking company for more than 100 years; trucking through two World Wars, the Great Depression, the building of the Interstate Highway System, the Great Recession, the COVID-19 pandemic, and so much more — including a mountain of regulations on everything from drivers' hours of service to emissions reductions.
Through it all C.R. England, a refrigerated carrier transporting foods and medical supplies with 4,100 trucks and 5,400 trailers, has operated a family-owned business in Salt Lake City, which travelled 368,000,000 miles in 2022.
From the beginning the company has focused on improvement because it is vital to long-term success.
"Trucking works on small margins and fuel is the second largest single cost we have behind driver wages," Ron Hall, the carrier's vice president of equipment and fuel said of the company's philosophy. "For us, it is critically important that we take advantage of whatever technology is in the marketplace that allows us to manage our fuel expenses. At the same time, this helps the environment, which is important to our company and its sustainability goals."
He is quick to add that any investment in sustainability has to be cost neutral or beneficial and that the three inputs that go into an equipment spec'ing decision are "fuel economy, driver satisfaction and durability."
The company specs 455 hp engines on its tractors because the feedback it received from its drivers on 400 hp engines was too negative. "There are some decisions that we defer from a fuel economy standpoint, even though we're a leading fuel economy fleet. Fuel economy is a core tenant of our business, but so is driver quality of life and equipment durability."
Passing the tests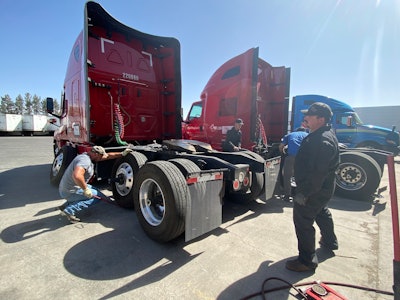 You don't last more than a century in trucking without being absolutely sure that your vehicle spec, and the devices you add to them, will lead to fuel savings. C.R. England has long been involved in fuel economy testing to determine how to spec its trucks and what add-ons will work best in its specific application.
Hall explains that for "platform level testing" (basically evaluating trucks from various OEMs), they traditionally used SAE Type IV tests and used SAE Type II test to evaluate simpler technologies such as aerodynamic devices they were going to install on their tractors and trailers.
Since 2014, C.R. England has broadened its fuel economy testing to include outside testing companies. One reason for the shift is to adopt technologies faster and more easily while helping the company navigate the increasing pace of emerging technologies. Too, the fleet's customers are more keenly interested in hearing about sustainability efforts, "and we want to give them the information they are asking for," he said.
"We've had a decades-long focus on limiting our use of fuel and improving our fuel economy," he said. "We are just doing it in a more public way now to make sure the industry recognizes our focus on fuel economy and as a result sustainability."
C.R. England is currently working on the first draft of a governance plan and creating a corporate social responsibility report highlighting its efforts in sustainability, in the community and with its workforce, said Guy Hurst, director of fleet technology and sustainability at C.R .England. The report will go beyond just the fleet's fuel economy performance and will look at how it manages its facilities, how it treats is employees and how it engages with the communities in which it operates.
By almost any measure, C.R. England has enjoyed wild success in its mission to improve fuel economy, saving 111,000 metric tons of carbon emissions annually based on their miles travelled and fuel economy numbers.
However, this has not been easy and fuel economy improvement requires a team effort to evaluate technologies, make decisions on whether to try out a technology on a portion of the vehicles and then determine if the technology should be rolled out fleet-wide if it proves reliable enough to withstand the rigors of the road.
In order to make these decisions, C.R. England management moved away from conducting its own fuel economy testing to working with MVT Solutions. Hall said he choose MVT Solutions because its fuel economy testing protocol goes further than the fleet's internal testing, and Hall believes that because MVT Solutions uses more modern methodologies than what have traditionally been used in trucking, it leads to more reliable and more precise data.
Data is gathered from individual segments of the test, allowing Hall to see and rationalize variables. "We can see the fuel economy difference when the truck is on an incline, for example," he said, which makes the data more actionable. "We have the ability to make decisions based on data in a more reliable way."
Hall also has confidence in the test results because they come from a third party. "When a supplier comes to us with fuel economy data, we can't accept it at face value," he said. "MVT Solutions validates the performance claims that the suppliers are making."
With the validated results, Hall said a vehicle spec change is made, or a device added to a portion of the fleet's vehicles, and fuel economy numbers are monitored to make sure test results translate to the real world. If they do, the change is implemented across the fleet, but that change is followed up with a post-implementation assessment designed to verify that not only the ROI was correct "but also to make sure that our use of the technology is consistent," Hall said.
When the ROI fails, Hall said it's almost never because of the fuel economy data, rather it's because the fleet's assumptions about how the technology would be used.
C.R. England is constantly evolving, moving the fuel economy threshold and improving its sustainability efforts.
"Based on our fuel economy expertise in trucking, we firmly believe C.R. England is in the top 1% in terms of fuel economy and carbon emissions reductions," said Daryl Bear, lead engineer and COO at MVT Solutions. "It's a testament to their dedication to sustainability."