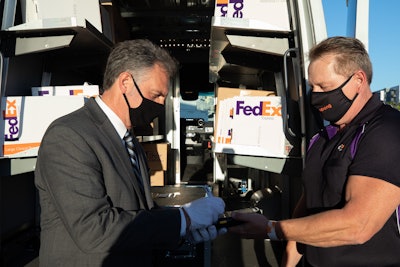 Craig Sniffen gets up every morning and puts on his uniform for work, just like the players who will square off in Super Bowl LV Sunday in Tampa, Florida. 
When either Tom Brady's Buccaneers or Patrick Mahomes' Kansas City Chiefs hoist the Lombardi Trophy Sunday night as Super Bowl champion, they'll have Sniffen – and others like him in a FedEx uniform – to thank for it.
FedEx Express has provided the safe and on-time delivery of the Vince Lombardi Trophy to the Super Bowl for the last 20-plus years and this year, Sniffen – a 27-year FedEx Express team member – helped make the final delivery to Tampa where it was handed off (virtually) to Super Bowl XXXVII Champion, 11-time Pro Bowler, and Buccaneer all-timer Derrick Brooks.
Sniffen followed his brother – himself a 40 year veteran of the CCJ Top 250 No. 2 carrier – to FedEx. The annual delivery of the seven-pound sterling silver trophy handcrafted by Tiffany & Co. is "one of more than a billion deliveries that the more than 600,000 FedEx team members make for and to customers around the world each year," according to FedEx, and was one of the more than 200 packages that Sniffen could handle on an average day – a figure that could balloon to more than 2,000 depending on which route the swing driver is assigned. 
He's a familiar face around Raymond James Stadium, especially at crunch time. Tampa has hosted four Super Bowls in his FedEx career and he's been one of the many couriers tasked with moving cargo in and around the area. 
"There's a tremendous amount of freight that goes out there," he said, noting everything from equipment to the stadium and team hotels to supplies that support business impacted by throngs of incoming football fans. 
Delivery of one of the most recognizable trophies in all of sports took all day, given the need to submit to various COVID protocols and working with both FedEx and NFL security. Crowds of onlookers ensured Sniffen would spend the rest of the day with the package he'd just delivered, despite it being just a "quick" 9-mile trip from Sniffen's pickup at the airport to the stadium.
"There were so many people there [and] the truck was parked right where the trophy was going to be," he said. "There was no way of me leaving until after 10:00 at night. There must have been 500 people at all times all around it."
Delivering a single package is quite a departure for a guy who on any given day might handle thousands, and with the magnitude of the cargo, Sniffen – an NFL blogger for New York Jets community fan site ganggreennation.com under the pen name superhuman – said the day felt "a little different."
"I wanted to make sure everything went well [and] everyone was having a good time," he said. "My main goal was to take care of the package."
FedEx SenseAware, a Bluetooth low-energy sensor device, provided real time monitoring of the trophy's location and integrity of the shipment during its journey from the NFL's New York City Headquarters, through FedEx's hub in Memphis, to the Tampa Riverwalk. The same platform helps FedEx monitor COVID vaccine distribution.
The package's roughly 1,200 mile journey was fairly uneventful, yet like any good quarterback Sniffen was quick to defer credit for the game-sealing handoff to his teammates. 
"I'm part of a team. There's over 600,000 Fedex employees," he said, acknowledging all the FedEx employees who passed the Lombardi Trophy along from the Big Apple to the Sunshine State. "I'm just a cog in the machinery. I'm the last link in a long chain."
With the trophy signed for and delivered, Sniffen can sit back Sunday and watch the home-standing Bucs chase their second Super Bowl title, but he said his game day plans were a fairly "low key" gathering with a few friends and his wife.
"I like the Bucs. I deliver to a lot of the Bucs," he said, noting a normal delivery route puts him face-to-face with many local athletes with the professional baseball, football and hockey organizations in the area. "[Tampa] is a big city but it's a small town."