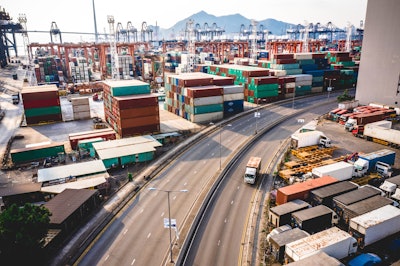 Getty Images
DAT Freight & Analytics has added new datasets to its DAT iQ platform.
The company has partnered with IHS Markit PIERS (Port Import/Export Reporting Services) to include import and export data in its RateView and Benchmark Analytics reporting.
The agreement gives DAT access to import and export trade data from all U.S. waterborne port locations, allowing the company to provide customers with shipment details down to specific HS codes and addresses on each bill of lading. PIERS analyzes nearly 60,000 bills of lading every day that are filed with U.S. Customs and Border Protection.
"Instead of seeing a general overview of container traffic at any given port, PIERS data tells us precisely how much container volume is arriving at U.S. ports and when, what's inside those containers, where those commodities are moving next and how the truckload sector is likely to be impacted," said DAT President and CEO Claude Pumilia.
"By coordinating PIERS information with data from RateView and Benchmark Analytics, DAT can give customers unmatched visibility into the flow of the goods at each individual port. This enables them to anticipate where and when to position assets and gain a distinct advantage over their competitors."
PIERS trade data provides commodity descriptions, tonnage shipped, TEUs, estimated values, historical data and other information about U.S. imports and exports.
RateView converts hundreds of billions of dollars in completed freight transactions into updated insights and intelligence available for carriers, brokers and shippers across more than 68,000 lanes. And Benchmark Analytics provides freight shippers, 3PLs and supply chain management operations with customized access to contract and spot transportation rates across the globe.
Adding PIERS data to RateView and Benchmark enhances DAT's ability to provide shippers, freight brokers, carriers and analysts with the industry's most accurate, comprehensive and actionable freight data.
"Giving DAT RateView and Benchmark Analytics customers access to PIERS import and export data provides important international context to freight flows," said Tim McLaughlin, executive director of industry solutions and trade products for the maritime and trade division of IHS Markit. "It increases the value of two powerful sets of data."