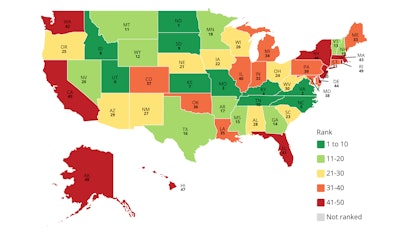 The trucking industry depends on state and federally funded roads and bridges, and the recently passed infrastructure bill includes $110 billion for roads and bridges.
But which states actually do a good job with their highway funds? The Reason Foundation, a libertarian think tank, recently released its 26th Annual Highway Report, which ranks the condition of roads and bridges and how much money the states spend to achieve that status.
While the Reason Foundation does have an ideological bent towards small, lean government, it's important to keep in mind that other reports on America's roads and bridges typically come from trade organizations like the American Road & Transportation Builders Association, which are inclined to lobby for more work for their members via state and federal projects.
The report ranked each state on 13 categories, including highway expenditures per mile, interstate and primary road pavement conditions, urbanized area congestion, bridge conditions, and fatality rates and then comparing those figures to how much the jurisdiction spent. A state spending money on highways and bridges without seeing any improvement on key metrics won't score well, but a state that does see improvements, even if it spent less money, would.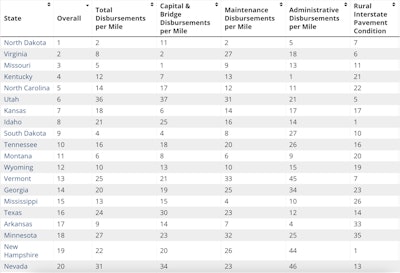 In 2021, the leading states are North Dakota, Virginia, Missouri, Kentucky, and North Carolina. At the other end of the rankings are New Jersey, Rhode Island, Alaska, Hawaii, and New York.
The list of top performers shows no clear urban or rural divide, as North Dakota won overall, but highly populous Virginia came in close second. Towards the lower end of the rankings, however, more urban states generally struggled.
The rankings also call attention to the concentrations of poor infrastructure. The report found 43% of the urban arterial primary mileage in poor condition in just six states—California, Massachusetts, New York, New Jersey, Nebraska, and Rhode Island. Furthermore, about 25% of the rural Interstate mileage in poor condition is in just three states (Alaska, Colorado, and Washington). Five states—Rhode Island, West Virginia, Iowa, South Dakota, and Pennsylvania—still reported more than 15% of all their bridges structurally deficient, but that number has decreased overall with time.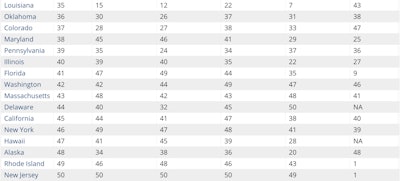 Perhaps most shockingly, the Northeast's cost of doing business on road building blew other regions out of the water. Three states—Massachusetts, New York, and New Jersey—spent more than $250,000 per lane-mile of highway. Further out west, five states—Missouri, South Carolina, West Virginia, North Dakota, and South Dakota—spent less than $30,000 per mile of highway.
Take a look at the full report here.