Trucking news and briefs for Tuesday, Jan. 25, 2022:
Trucking conditions bounced back in November after October slide
FTR's Trucking Conditions Index (TCI) for November rebounded from October's 7.75 to a 10.0 reading for the month, primarily due to steadier diesel prices. Slightly firmer freight volume and rates also contributed to the gain.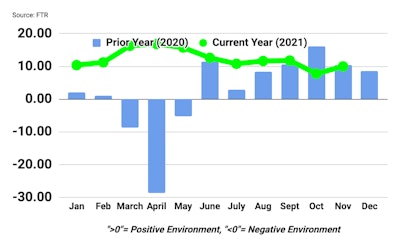 Diesel prices could continue to introduce some volatility into the TCI, FTR says, as prices declined in December but have risen sharply more recently. Even so, FTR's outlook is for the TCI to remain in the same range as November through the first quarter of 2022 and then settle into high single digit positive readings for the remainder of 2022. 
"Although we continue to forecast a quite gradual easing of trucking companies' robust market conditions beginning in the second half of the year, we certainly are seeing no signs of that happening yet," said Avery Vise, FTR's vice president of trucking. "Freight rates continue to strengthen at least marginally as the spot market shows unprecedented resilience. Solid consumer spending and industrial demand should maintain a high floor on trucking conditions even if we see some modest gains in capacity and productivity."
The TCI tracks the changes representing five major conditions in the U.S. truck market: freight volumes, freight rates, fleet capacity, fuel price, and financing. The individual metrics are combined into a single index indicating the industry's overall health. A positive score represents good, optimistic conditions. Conversely, a negative score represents bad, pessimistic conditions.
FMCSA adds alternative vision standard for certain truck drivers
The Federal Motor Carrier Safety Administration has published a final rule that, when it takes effect March 22, will allow truck drivers who do not satisfy certain vision requirements with one eye or the other to still be physically qualified to drive a truck without an exemption.
The new rule applies to drivers who do not satisfy, with their worse eye, either the existing distant visual acuity standard with corrective lenses or the field of vision standard, or both.
Currently, these drivers cannot operate in interstate commerce without an exemption from FMCSA. The new alternative vision standard replaces the current vision exemption program as the basis for determining the physical qualification of these drivers.
Drivers who physically qualify under the new alternative standard for the first time will be required to complete a road test administered by their employer before driving interstate. Drivers are exempt from the road test requirement if they have three years of intrastate or exempted interstate trucking experience with the vision deficiency, hold a valid federal vision exemption, or are medically certified under the previously administered vision waiver study program.
Before being medically certified under the new alternative vision standard, a driver must have a vision evaluation conducted by an ophthalmologist or optometrist, then a medical examiner performs a physical exam and determines whether the driver meets the alternative vision standard, as well as FMCSA's other physical qualification standards.
To be physically qualified, a driver must have at least 20/40 vision in the better eye and a field of vision of at least 70 degrees in the horizontal meridian, be able to recognize the colors of traffic signals, have a stable vision deficiency, and have had sufficient time pass since the vision deficiency became stable to adapt to and compensate for the change in vision.
FMCSA proposes 27% decrease in UCR fees

The Federal Motor Carrier Safety Administration is proposing reductions in the annual registration fees states collect from trucking companies, brokers, freight forwarders and leasing companies for the Unified Carrier Registration Plan and Agreement for 2023 and subsequent registration years.
The proposed fees for the 2023 registration year would be reduced below the fees for 2022 by approximately 27%, which would translate to a reduction between $16 and $15,350, depending on the number of vehicles owned or operated by the company.
In accordance with U.S. Code, UCR fee adjustments must be requested by the UCR Plan when annual revenues exceed the maximum allowed.
As seen in the graphic above, FMCSA proposes to reduce the fee for independent owner-operators with one or two trucks from $59 to $43, with reductions for each fleet size up to 1,001 or more trucks, which would see a reduction from $56,977 to $41,627.