Trucking news and briefs for Thursday, July 21, 2022:
Rising fuel prices led to falling Trucking Conditions Index in May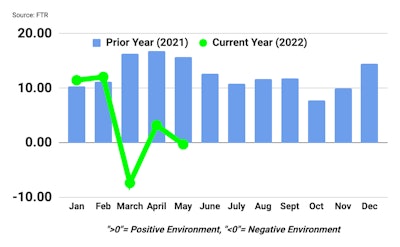 FTR's Trucking Conditions Index (TCI) for May fell back into negative territory with a -0.3 reading from 3.21 in April.
Sharp increases in diesel prices during May offset slightly improved freight market conditions for carriers, FTR said.
Freight demand, capacity utilization and freight rates were slightly stronger in May, but together were unable to diminish the negative impact of then-record diesel prices during the month.
The outlook is for conditions to continue close to neutral territory with index readings in either low positive or low negative figures from month to month.
"Upward pressures on trucking conditions are largely history at this point," said Avery Vise, FTR's vice president of trucking. "The question now is how high and strong of a floor remains. Employment data from recent months suggest that drivers are readily available for larger carriers, although much of that growth surely is coming at the expense of very small carriers that are failing due to record diesel prices – at least until recent weeks – and normalizing spot rates."
Vise noted that, despite rising inflation and other factors, "consumer spending and industrial production have remained surprisingly healthy. Driver capacity has faded as a wild card as the resilience of freight demand has taken its place."
FMCSA hosting Safe Driver Apprenticeship Pilot information session
Fleets interested in participating in the Federal Motor Carrier Safety Administration's under-21 Safe Driver Apprenticeship Pilot Program (SDAP) are invited to attend a webinar on Monday, July 25, from 1-3 p.m. Eastern.
The SDAP will help individuals between 18-20 years old explore interstate trucking careers and assist trucking companies in hiring and training new drivers through rigorous training standards – pairing each young driver with an experienced mentor.
The webinar will address training qualifications, participation requirements and instructions about the application process.
Fleets are asked to register for Monday's webinar by Friday, July 22.
FMCSA encourages companies to submit their questions in advance to safedriver@dot.gov, no later than Thursday, July 21.
Former Daimler CEO joins AI Fleet board of directors
AI Fleet, a scaling tech-first trucking company, announced that the former president and CEO of Daimler Truck North America (DTNA), Roger Nielsen, has been appointed to the company's Board of Directors as its first independent member.
"We are thrilled to welcome Roger Nielsen to the Board," said Marc El Khoury, CEO of AI Fleet. "His experience in successfully scaling tech-powered automotive companies to solve real-world transportation challenges is a perfect fit for our growth ambitions."
During his recent tenure at DTNA, Nielsen drove sales to $20B annually, with a market share exceeding 40%. As CEO, Nielsen was responsible for all aspects of DTNA and its affiliated companies in North America, Australia and New Zealand. Before being appointed CEO in 2017, Nielsen served as DTNA's COO, leading the company's entire manufacturing network in the U.S., Mexico and Canada, across all levels of operations, including quality, supplier management, logistics and more.
"By focusing on asset utilization, the day-to-day experience of drivers and building exciting technology that dramatically improves logistics, aifleet is poised to revamp an industry in need of innovation," said Nielsen. "I look forward to working with this extraordinary team to expand its impact on people, processes and markets across North America and beyond."
In addition to AI Fleet, Nielsen serves on the boards of several mobility startups and on the board of Proterra, a North American producer of battery-electric city transit buses and battery packs for electrified commercial vehicles.
[Related: Texas fleet develops algorithm to drive revenue up, turnover down]
Bridgestone and Pilot partner for tire monitoring, service at truck stops
Bridgestone Americas and Pilot Company announced Wednesday a collaboration on an advanced tire monitoring and service network for commercial fleets at select travel center locations.
The collaboration leverages Bridgestone Fleet Care mobility solutions and Pilot's network of travel centers to provide more convenient, frequent and actionable fleet tire intelligence. The initial trial phase will begin this summer with a rollout of the tire monitoring technology at 200 Pilot and Flying J locations.
Each router currently being installed in the fuel canopies of select Pilot and Flying J travel centers is linked to the Bridgestone tire pressure monitoring service, IntelliTire, and transmits real-time tire data in two minutes or less from trucks to fleet managers.
IntelliTire allows fleet operators to proactively address specific tire issues and mitigate unplanned maintenance, reducing downtime and improving driver safety. Fleets using this technology will have access to critical data such as tire inflation pressure and temperature, enabling them to continually monitor the health of each tire throughout its lifecycle.
With this intelligence in hand, fleets can also utilize the Bridgestone service event management application, REACH, to make preventative maintenance, roadside assistance and other vehicle service requests simpler and more efficient by connecting drivers, fleet dispatch, service centers, and technicians under one digital platform.
The use of the Bridgestone advanced tire monitoring system at Pilot and Flying J travel centers allows both companies to expand their service offerings and support the growing need for evolving technology offerings that make it easier and faster to maintain vehicles.