Trucking news and briefs for Wednesday, July 20, 2022:
Truck tonnage up in June despite economic challenges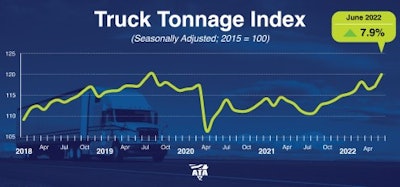 The American Trucking Associations' advanced seasonally adjusted (SA) For-Hire Truck Tonnage Index increased 2.7% in June after rising 0.3% in May. In June, the index equaled 120.1 (2015=100) versus 116.9 in May.
"June's jump tells me a couple of things: first, the transition in the freight market from spot back to contract continues -- ATA's tonnage index is dominated by contract freight, so while the spot market has slowed as freight softens, contract carriers are backfilling those losses with loads from shippers reducing spot market exposure," said ATA Chief Economist Bob Costello.
"Essentially, the market is transitioning back to pre-pandemic shares of contract versus spot market. Second, and perhaps equally important, while economic growth is expected to be soft overall in the second quarter, the goods-economy wasn't as bad as feared."
May's increase was revised down from ATA's June report.
Compared with June 2021, the SA index increased 7.9%, which was the tenth straight year-over-year gain and the largest since June 2018. In May, the index was up 3.5% from a year earlier.
The not seasonally adjusted index, which represents the change in tonnage actually hauled by fleets before any seasonal adjustment, equaled 124.5 in June, 4.2% above the May level (119.5).
Hegelmann USA partners with TuSimple in autonomous network development
Autonomous trucking tech firm TuSimple has announced its partnership with Hegelmann Group, a major European transport and logistics provider that operates a fleet of more than 5,000 vehicles. The partnership includes an initial reservation of purpose-built SAE Level 4 autonomous International trucks for operation in North America.
The trucks will be equipped with TuSimple's advanced autonomous driving system and will be based on a global vehicle platform developed by Navistar.
The partnership between the companies is aimed at addressing the ongoing driver shortage, while also lowering greenhouse gas emissions and improving vehicle and environmental safety, the companies said.
Hegelmann's reservation of factory-production units with TuSimple technology is a primary action in developing a new state-of-the-art logistics network in North America called the TuSimple Autonomous Freight Network (AFN). Early studies show that autonomous trucks in this type of network have the potential to reduce fuel consumption for middle mile transportation.
"TuSimple's innovations will elevate our ability to compete and prosper in the North American market and are analogous to our stated objective to become a global logistics technology adopter," said Andrew Jasinskas, Business Development Project Manager -- Hegelmann USA. "Undoubtedly, autonomous trucks with TuSimple technology are the future of transportation, and Hegelmann's strategy is to likewise be a standard bearer for innovations that push safety and efficiency to the next era of logistics excellence."
TuSimple demonstrated its autonomous capabilities with the industry's first Driver Out (no human intervention or operator) runs in 2021, which the company plans to continue through 2022 as it prepares for full commercialization. TuSimple's Driver Out pilot program is the product of a year and a half of work to co-develop a Level 4 autonomous Class 8 vehicle with Navistar to demonstrate the level of redundancy, reliability, consistency and safety necessary to remove the driver from the truck.
By the end of 2023, TuSimple plans to carry paid freight operations in high-density freight lanes in the southern U.S.
U.S. Xpress partners with APU manufacturer
U.S. Xpress (CCJ Top 250, No. 16) recently partnered with APU provider DClimate to help improve truck efficiency and improve the driver experience.
Beginning in 2019, U.S. Xpress leadership sought an APU solution for its new, tech-forward and driver-first Variant fleet. The company said the APU needed to support environmental stewardship by reducing emissions, and improve overall operational efficiency, while also providing truck drivers with a comfortable space for rest and relaxation.
Impressive results delivered during extensive testing of DClimate's Hybrid APU in 2019 led U.S. Xpress to specify DClimate's system on all new Variant truck purchases beginning in 2020.
Based on installation of DClimate APU devices on approximately 1,800 Variant trucks, the company has seen reduced idle, equating to a monthly emission reduction of 819,702 kg of CO2 and 3,023 kg of NOx. These figures will continue to grow as Variant trucks are added in 2022 and in the years to come, U.S. Xpress said.
"With the addition of DClimate, Variant has seen a significant improvement in fuel economy and the added benefit of reduced maintenance cost attributed to idle," said Greg McQuagge, vice president of corporate maintenance for U.S. Xpress. "These devices are also keeping the cabs comfortable for our drivers, and with less maintenance, it means drivers on the road earning. A driver earning is a happy driver."