Trucking news and briefs for Tuesday, Aug. 23, 2022:
Trucking conditions weakened further in June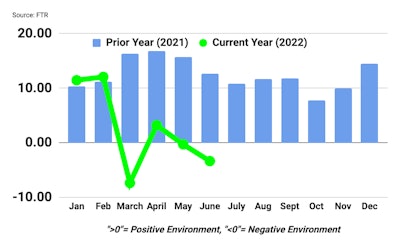 Trucking conditions deteriorated further in June as fuel, financing costs and freight rates were negative factors.
FTR's Trucking Conditions Index (TCI) fell to -3.36 from -0.3 in May. Before May and June, the TCI had not been negative in consecutive months since April and May 2020.
In addition to negative cost and pricing conditions in June, freight volume and capacity utilization were weaker positive factors than they had been in May.
"We might still see some positive outliers in the TCI – especially if diesel prices continue to fall sharply – but the truck freight market has hit an inflection point," said Avery Vise, FTR's vice president of trucking. "Modestly negative readings likely will be the norm rather than the exception, although we are not forecasting that the bottom will drop out. We still expect that freight volume will grow slightly this year and next and that capacity utilization will bottom out above the 10-year average. However, this forecast does not presume an economic recession, so downside risks are substantial."
Ascend names new head of distribution and dedicated transportation
Ascend, which was formed this year after Milan Supply Chain Solutions (CCJ Top 250, No. 145) and its subsidiary J&B Services were acquired and merged to form a new dry van truckload carrier, recently announced a change to one of its key leadership positions as part of the company's continued focus on growth and customer service.
David Dallas has been named President of Distribution and Dedicated Transportation, transitioning from his previous role.
Dallas's new role will include working to expand Ascend's future strategies that will position the company as a warehouse management leader. He will also lead the largest division of the company growing the dedicated transportation services business that supports customers who are interested in converting private fleets.
"We made these organizational changes to further strengthen our focus on the customer," said Ascend CEO Michael McLary. "The secret to change at Ascend, which is constant, is to put all of our energy not into fighting the old but building the new. David has the leadership skills and industry knowledge to help Ascend achieve our vision as well as a determination to build new solutions that will serve our customers well."
Kenworth recalling certain T680 trucks for potential fuel tank issue
Paccar is recalling approximately 586 model year 2022-2023 Kenworth T680 tractors for an issue that could impact the fuel tank, according to National Highway Traffic Safety Administration documents.
According to the recall, mud flap on the affected trucks could contact the fuel tank while the vehicle is in motion, creating wear on the fuel tank over time. Excessive wear of the fuel tank could create a fuel leak.
Dealers will inspect the fuel tank and install an anti-sail device to prevent the mud flap from contacting the fuel tank, free of charge. Owner notification letters are expected to be mailed Oct. 3. Owners can contact Kenworth's customer service at 1-425-828-5888 with recall number 22KWF. NHTSA's recall number is 22V-582.
Mack medium-duty trucks recalled over ECM issue
Mack Trucks is recalling approximately 150 model year 2023 Mack MD Class 6/7 trucks in which the engine control module (ECM) may experience an internal short-circuit, which can result in an unexpected engine shut down.
Affected trucks are equipped with Cummins engines.
Cummins will replace the ECM, free of charge. Owner notification letters are expected to be mailed on Sept. 26. Owners can contact Mack's customer service at 1-800-866-1177with recall number SC0438. NHTSA's recall number is 22V-606.
Hub Group on Monday announced it acquired TAGG Logistics
Hub Group (CCJ Top 250, No. 31) on Monday announced it acquired TAGG Logistics, a provider of e-commerce, B2B and omnichannel fulfillment solutions, including warehousing and transportation services, for $103 million. Since its founding in 2006, TAGG has grown into a nationwide provider with over 4 million square feet of warehousing space throughout the U.S.
The acquisition expands Hub Group's consolidation and fulfillment solutions offering, growing its footprint to 9 million square feet and "advances our strategy to provide the industry's premier supply chain solutions and expands our position in the long term, high growth e-commerce fulfillment sector," said Hub Group Chairman and CEO David Yeager.
TAGG has approximately 800 employees at its 18 facilities.