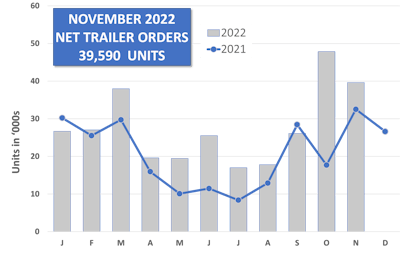 Trucking news and briefs for Friday, Dec. 30, 2022:
Trailer orders continue surge
Net trailer orders continued to soar in November with 39,950 units booked during the month, according to data compiled by ACT Research.
Following the October order bonanza, ACT Research Director of Commercial Vehicle Market Research & Publications Jennifer McNealy said a slowdown in November was expected even as more build slots become available.
"Discussions across the past month continue to indicate more OEMs are expanding the availability of 2023 build slots, but 2023 is not yet fully open," McNealy said. "Supply-chain concerns still linger, so OEMs are hesitant to overpromise and underdeliver for the second half of 2023, where visibility is limited."
Even still, McNealy said that nearly as soon as a build slot is available there is a fleet ready to fill it with an order, adding the backlog stands at about 7.9 months.
FMCSA grants training exemption to Alaska
The Federal Motor Carrier Safety Administration issued an exemption to the state of Alaska to allow the state to waive specified portions of the CDL skills test for drivers in 14 defined geographical areas that lack infrastructure to allow completion of the full skills test.
According to FMCSA, drivers who receive a restricted CDL under the provisions of the exemption are also exempt from the Entry-Level Driver Training (ELDT) regulations.
In its request, Alaska said the threshold for determining whether a driver is eligible for a restricted CDL "is outdated and excludes some remote communities that have unpaved, two-lane roads not connected to the National Highway System," adding that those areas "do not have the infrastructure or driving scenarios to complete the portions of ELDT that require the driver-trainee to demonstrate proficiency in vehicle control maneuvers on the interstate or controlled access highway."
The state asserted that without the exemption, drivers would have to fly to larger cities "and incur travel costs and lost wages" to complete the behind-the-wheel training requirements of the ELDT regs.
Instead of granting an exemption from the ELDT curriculum, as requested by Alaska, FMCSA instead granted an exemption from a specific section of regulations related to Alaskan drivers. The agency said if it granted the exemption that was requested, "affected drivers would be eligible to obtain an unrestricted CDL and operate in any location in the U.S., even though they did not receive the requisite training to safely operate a CMV when entering and exiting an interstate or controlled access highway designed for high-speed vehicular traffic, navigating curves at speed, changing lanes, and stopping the CMV in a controlled manner."
Current regulations as written excluded many remote Alaska communities and required drivers to comply with the ELDT requirements.
AIT Worldwide Logistics signs The Climate Pledge
Global freight forwarder AIT Worldwide Logistics has signed The Climate Pledge. Co-founded by Amazon and Global Optimism, The Climate Pledge is a commitment signed by nearly 400 companies across 34 countries to reach net-zero carbon emissions by 2040 — a decade ahead of the Paris Agreement's goal of 2050. AIT plans to reach net-zero carbon emissions status by 2035 through both emission reduction practices and carbon offset purchases.
As a signatory to The Climate Pledge, AIT agrees to measure and report greenhouse gas emissions on a regular basis, implement decarbonization strategies in line with the Paris Agreement through real business changes and innovations, including efficiency improvements, renewable energy, materials reductions, and other carbon emission elimination strategies. The company also agrees to neutralize any remaining emissions with additional, quantifiable, real, permanent and socially beneficial offsets to achieve net-zero annual carbon emissions.
AIT developed its own environmental sustainability initiatives in alignment with the United Nations' Sustainable Development Goals, with an aim to support sustainable consumption and production and to combat climate change and its impacts.
Internally, AIT teammates also oversee emissions, waste, and energy management processes and programs, including a companywide commitment to recycling and paper reduction. Additionally, AIT uses its transportation management system to track and measure carbon dioxide emissions down to the shipment level.