The repair and transformation of U.S. supply chains in response to the global volatility of the previous three years has been an expensive one, according to the 2023 State of Logistics Report. Produced annually for the Council of Supply Chain Management Professionals (CSCMP) by global consulting firm Kearney and presented by Penske Logistics, the annual report offers a snapshot of the American economy via the lens of the logistics sector and its role in overall supply chains.
Most carriers spent the two years prior to 2022 basking in record profits, but over the course of the last 18 months that dynamic has rebalanced – and from motor fleets' perspective, over-corrected and swinging back sharply in shippers' favor.
[Related: Maintenance cost increases slowing]
Balika Sonthalia, senior partner at Kearney and co-author of the 2023 State of Logistics Report, said much of what happened to the supply chain last year and into this year "has been all about getting back in synch," noting that although the market has swung back in shippers' favor — to the detriment of carriers — "we cannot emphasize enough the importance for all industry participants to begin planning for geopolitical tensions, cybersecurity threats, climate change and related natural disasters, slowing e-commerce growth, and global recessionary factors."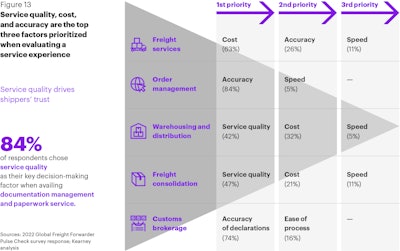 U.S. business logistics costs (USBLC) now stands at a record $2.3 trillion (up from $1.85 trillion last year), representing 9.1% of national GDP — the highest-ever percentage of GDP, the report found. The logistics sector has been a major contributor to inflationary pressures with logistics costs having swollen 19% in 2022. U.S. inflation is down from the 9.1% seen earlier in 2022 (a 40-year high), but has bounced around 5% to 6% in 2023 so far, with a forecasted year-over-year average of 4.7% by the end of the year.
Road freight, the largest chunk of logistics spending, saw little change in overall volume, but capacity increased sharply and sent rates sliding – a change in that dynamics has induced shippers, who turned to dedicated fleets to address the capacity challenges arising during the peak months of the pandemic, to seek a new balance among dedicated, private and one-way services, the report found.
Motor carriers' logistics costs ballooned 6.1% year-over-year on the heels of lower rates and higher business costs.
With improving service levels and falling spot rates, shippers are turning to the spot market rather than to their contracted carriers, Sonthalia said, to optimize costs. To mitigate a flood to the spot market, the 2023 bid season started early, and carriers are revising contract rates in order to preserve relationships — resulting in a somewhat faster decline in contract rates early this year.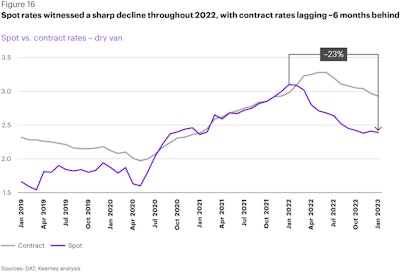 "We've seen some bigger spreads (between contract and spot market rates) from last year... and that is a trend we expect is going to continue in the coming months," Sonthalia said. She said it's difficult to say if rates have reached bottom because some routes are more volatile than others, adding "it's probably stabilizing."
After skyrocketing during the pandemic, the number of new motor carriers had fallen back to pre-pandemic levels by December 2022, indicating, Sonthalia said, that a once prosperous freight cycle for truckers has ended. Andy Moses, senior vice president of sales and solutions for Penske Logistics, suggested that the rate of current carrier exists and authority revocations indicates rates are firming up.
"More service-sensitive segments of the market... shippers aren't going to relinquish their path to great service for a few cents per mile," he said, adding that the worst of carrier exits could be behind us. "I don't think there's going to be a deluge of capacity exit."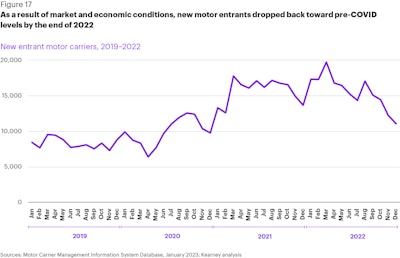 Consumers' post-pandemic return to brick and mortar stores hasn't slowed e-commerce. In 2022, the U.S. e-commerce market grew by 8% to $1.03 trillion (up from $871 billion). It is now 14.5% of the entire U.S. retail market. However, as the U.S. e-commerce market has grown to its largest size in history, its percentage of retail sales has started to flatten.
The latest projections from Kearney's Global Business Policy Council (GBPC) forecast a minor recession in the third and fourth quarters this year with an exit early next year, but overall a positive 0.9%% annual GDP growth. Indeed, Kearney GBPC's managing director Erik Peterson notes that amid declining inflation and potential signs of easing on monetary policy tightening, the U.S. economy could plausibly avoid recession altogether.
Third-party logistics providers are investing more into their technology offerings, as opposed to shippers. The report indicated that 96% of 3PLs have migrated to the cloud (shippers indicated 86% of them have), while 80% of 3PLs are investing in IoT (77% for shippers).
For a number of businesses, reshoring has gone from a strategic possibility to a market reality. According to the Kearney Reshoring Index, American imports of Mexican manufactured goods have grown by 26% (dating back to spring 2020).
Widespread inefficiencies bundled with an ongoing lack of a youth infusion in trucking have historically been a drag on the supply chain. While a number of initiatives have been introduced to attract more potential truck drivers, none improve driver productivity. Based on Kearney studies, on average, over-the-road carriers use about half of drivers' available hours, and of that number, 10% to 25% is unproductive movement.
"It's hard to find talent whether in it's in the office, in the warehouse or in the driver's seat," said project44 Chief Industry Officer Bart De Muynck.