Trucking news and briefs for Thursday, Aug. 24, 2023:
Trucking conditions declined in June, while tonnage fell in July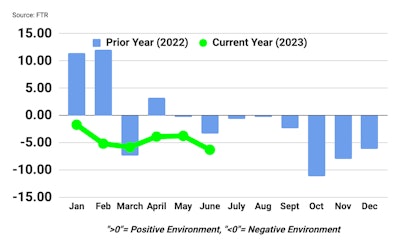 Market conditions for carriers took a nosedive in June, with FTR's Trucking Conditions Index falling to a -6.29 reading from the previous -3.75 in May.
The fall-off reflects a modestly weaker market conditions for carriers, FTR noted. Freight rates were slightly less negative in June, but all other key factors deteriorated. June's TCI reading was the most negative since November.
"Based on our assessment, for-hire trucking companies have already faced the longest period of consistently unfavorable market conditions since the Great Recession," said Avery Vise, FTR's vice president of trucking. "We expect negative TCI readings to continue for nearly a year longer and little, if any, improvement until early 2024."
Vise added that market challenges "are not uniform, as the current market is hitting small carriers much harder than larger ones, especially considering the recent upturn in diesel prices."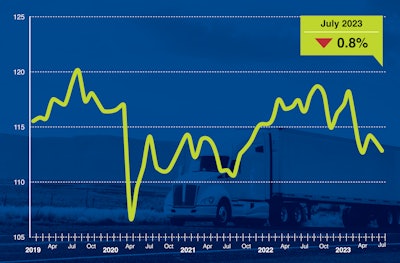 Additionally, the American Trucking Associations' advanced seasonally adjusted (SA) For-Hire Truck Tonnage Index decreased by 0.8% in July after falling 0.3% in June. In July, the index equaled 112.9 (2015=100) compared with 113.8 in June.
"Headwinds for freight remained in July, pushing the truck tonnage index lower," said ATA Chief Economist Bob Costello. "As has been the case for several months, a multitude of factors have caused a recession in freight, including sluggish spending on goods by households as consumers traveled more and went to concerts this summer. Less home construction, falling factory output and shippers consolidating freight into fewer shipments compared with the frenzy during the goods buying spree at the height of the pandemic are also significant drags on tonnage."
Compared with July 2022, the SA index fell 3%, which was the fifth straight year-over-year decrease. In June, the index was down 3.2% from a year earlier.
The not seasonally adjusted index, which represents the change in tonnage actually hauled by the fleets before any seasonal adjustment, equaled 111.5 in July, 5.5% below the June level (118). In calculating the index, 100 represents 2015.
[Related: A little bit of trucking history and perspective]
FMCSA planning data collection on detention's impact on safety
The Federal Motor Carrier Safety Administration is seeking approval from the White House's Office of Management and Budget for a proposed information collection titled "Impact of Driver Detention Time on Safety and Operations."
The study would collect data on commercial motor vehicle (CMV) driver detention time representative of the major segments of the trucking industry, analyze that data to determine the frequency and severity of detention time, and assess the utility of existing intelligent transportation systems (ITS) solutions to measure detention time.
FMCSA estimates that approximately 80 carriers and 2,500 drivers will provide data in the study.
"The study will provide a better understanding of the impact of driver detention time on driver safety and CMV operations and inform strategies that may be used to mitigate driver detention time," the agency said.
For the purposes of the study, FMCSA is considering any time spent at a shipping or receiving facility beyond two hours as detention time.
The agency noted that it conducted a detention-time study in 2014, but it had limitations, "including a small sample of mostly large carriers, a rudimentary estimation of detention time, the inability to identify time spent loading/unloading, and data that did not cover an entire 12-month period."
As such, FMCSA is seeking "additional data from a broader sample of carriers to understand the safety and operational impact of detention time, to better understand why detention time occurs, and to identify potential mitigation strategies the CMV industry may use to reduce detention time while improving operational efficiencies and safety."
Data will be gathered using electronic logging devices, transportation management systems, vehicle telematics systems, safety records and answers to questions delivered through the carriers' dispatching systems, the agency said. After agreeing to participate, carriers will collect and provide one year of data.
The study will analyze the relationships between detention time and characteristics of carriers, facility locations, and driver schedules (appointment times, time of day, day of week, month, and season), FMCSA added. Another analysis will examine the relationship between detention time and safety outcomes during the shifts following the detention time.
FMCSA is accepting public comments on the proposed information collection, which can be made beginning Thursday, Aug. 24, at www.regulations.gov by searching Docket No. FMCSA-2023-0172.
[Related: ATRI identifies detention, diesel tech shortage, more as 2023 top priorities]
Teamsters ratify national UPS contract
The Teamsters Union on Wednesday voted by an overwhelming 86.3% to ratify a new collective bargaining agreement at UPS (CCJ Top 250, No. 2).
The five-year contract protects and rewards more than 340,000 UPS Teamsters nationwide, raising wages for full- and part-time workers, creating more full-time jobs, and securing important workplace protections, including air conditioning.
The agreement passed by the highest vote for a contract in the history of the Teamsters at UPS.
All supplemental agreements were ratified as well, except for the Local 769 LAI supplement, which covers 174 members in Florida. The national master agreement will go into effect as soon as this supplement is renegotiated and ratified. The UPS Teamsters National Negotiating Committee will immediately meet with the company to work to resolve any outstanding issues with the supplement. Upon resolution, the adjusted supplement would be voted on by respective UPS Teamsters in-person in their area.
"Our members just ratified the most lucrative agreement the Teamsters have ever negotiated at UPS. This contract will improve the lives of hundreds of thousands of workers," said Teamsters General President Sean M. O'Brien. "Teamsters have set a new standard and raised the bar for pay, benefits, and working conditions in the package delivery industry."
Highlights of the tentative 2023-2028 UPS Teamsters National Master Agreement include, among other:
Historic wage increases. Existing full- and part-time UPS Teamsters will get $2.75 more per hour in 2023. Over the length of the contract, wage increases will total $7.50 per hour.
Wage increases for full-timers will keep UPS Teamsters the highest paid delivery drivers in the nation, improving their average top rate to $49 per hour.
Safety and health protections, including vehicle air conditioning and cargo ventilation. UPS will equip in-cab A/C in all larger delivery vehicles, sprinter vans, and package cars purchased after Jan. 1, 2024. Two fans, heat exhaust shields, and air induction vents in the cargo compartments will be retrofitted into all cars.
Last month, the UPS Teamsters National Negotiating Committee, as well as representatives of UPS Teamster locals in the U.S. and Puerto Rico, unanimously endorsed the agreement. UPS Teamsters voted electronically between August 3-22.
[Related: UPS avoids strike, reaches deal with Teamsters union]