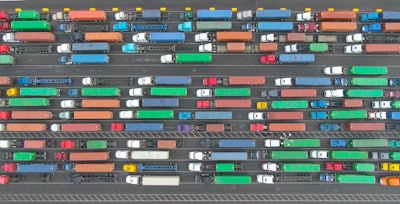 The freight market is starting to lose some of the capacity that saw unprecedented growth during the COVID-19 pandemic when increased consumer spending drove up the demand for it. That consumer spending has since decreased due to economic factors like rising interest rates, inflation and a drop in personal savings rates that initially went up when stimulus checks were disbursed. Add in only moderate growth in the services sector, overall weak manufacturing, a rough housing market and steady – but no growth – spending on goods, and we have a sluggish freight market for the foreseeable future.
But a rebound is coming. It's a slow one, but it's coming, Avery Vise, vice president of trucking at FTR Transportation Intelligence, told a group at the Transportation Intermediaries Association's regional meeting last week.
The market is expected to pick up beginning with the first quarter of next year. GDP in the goods transport sector – the economy tied to freight transportation – was down 3% in the second quarter of 2023 but is forecast to grow in Q3 and Q4, down only 0.6% and 0.7%, respectively. That growth is expected to continue throughout 2024 with forecast growth of 1.6% (Q1), 2.8% (Q2), 3.4% (Q3) and 2.9% (Q4).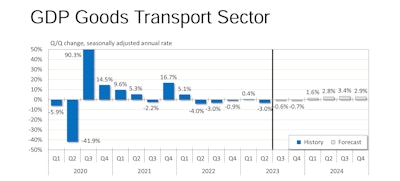 "GDP goods transport sector, that's pretty ugly. It's getting less ugly, I guess is the best spin to put on it," Vise said. "For the last five quarters, it has been negative on an annualized basis – the worst one being the second quarter of last year, but the second quarter of this year was nothing to write home about either. (GDP) is really flat. That's what we're looking at for the next couple of quarters. Then we start to see growth … but it's going to take a long time to get there."
But Vise doesn't consider it strong growth, rather, using the words "modest" and "stagnant" to describe what's happening now and what's to come. He said the market would need to see tremendous freight growth or lose a lot more capacity or drivers (which he said is the most likely scenario) to translate into a faster upturn.
"We're losing capacity, but so far the larger carriers have been picking that capacity up because the overall freight market has not collapsed; it is still pretty stagnant," he said. "So we're not losing enough capacity to change that dynamic yet."
Vise said the loss in capacity isn't evident in the Bureau of Labor Statistics data; it shows a much more stable market. That's because the data represents all employees in the sector, not just drivers, and because many carriers are not employees but sole proprietors. It doesn't account for smaller carriers, which make up a large portion of the industry.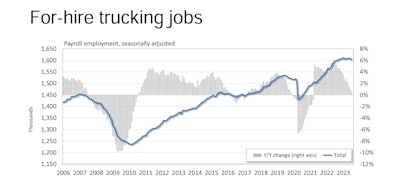 About 20 carriers with 101 or more trucks went out of business in the first seven months of 2021 and 2022; the industry lost 49 in the same period this year.
Many carriers going out of business are one- and two-truck operations, but "we are starting to lose larger carriers. It's not just a small carrier phenomenon," Vise said.
He said the industry has lost 138,000 drivers in the first seven months of this year and roughly 280,000 from July 2022 to July this year. On a net basis, he said the larger carriers still had not recovered their driver population through the middle of last year, and the long-distance specialized sector, which is heavily flatbed, still hasn't recovered to pre-pandemic levels. But local general freight continues to grow because of the strain on final mile, e-commerce and so forth.
"So we are still seeing a disrupted market although it is getting less and less disrupted, which is one reason why in the last more than a year, spot has been weaker and contract has been stronger," he said.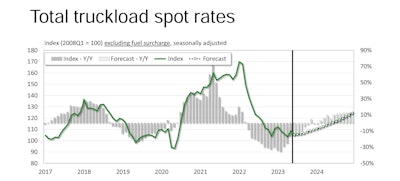 Spot rates have bottomed out but will continue to recover modestly, and contract rates have not quite bottomed out in FTR's forecast but are fairly close to doing so, Vise said, adding that he expects rates to go up but not very dramatically until 2025.
[RELATED: Freight cycle near bottom]
"We're still well above the levels in 2018, which was the highest we've ever seen before. That's good for carriers," he said. "On the other hand, this is nominal data; this is not inflation adjusted. Carrier costs have gone way up. Their equipment costs are a lot higher. Driver pay is higher."
While local general freight continues to grow, overall volume is deficient.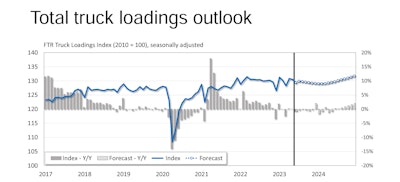 Vise said volume – or lack thereof – in flatbed, as well as the short haul, dump and bulk sectors, is driving rates down across the industry. But volume and rates in dry van and refrigerated are weak right now, too, compared to earlier in 2021, but they're not so bad compared to 2019.
"Our outlook right now is really pretty flat, not just for this year but for next year as well," he said. "Our overall outlook is that we will be just under flat this year in total loadings versus last year. Next year, we'll be up two tenths of a percent, and that's for the entire truck market."