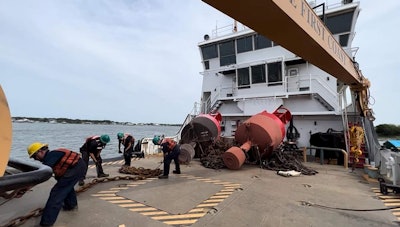 Port of Jacksonville
Unlike major hurricanes that have hit the Southeast in the past, Hurricane Ian's overall impact on the national freight market is not as far-reaching and so far remains more of a regional play according to market analysts.
Higher truck capacity is behind some of that relative inertia at the national level. Prior to the Category 4 storm's landfall near Fort Myers last Wednesday, an ongoing decline in available loads brought on by a drop in consumer spending led to an increase in truck capacity, which continues to keep national freight averages somewhat level in the wake of the storm.
DAT Freight & Analytics reported Tuesday that the total number of loads posted to the DAT One load board network was virtually unchanged last week while the total number of trucks declined 2.5%. Van and flatbed load-post volumes were up slightly compared to the previous week. The number of reefer loads was down almost 7%.
Two weighted national average spot rates between Sept. 25 and Oct. 1 saw a slight increase with vans up 1-cent week-over-week to $2.48 a mile and flatbeds up 3 cents to $2.81 a mile, while reefers remain unchanged at $2.79 a mile, according to DAT.
Truckstop.com's weekly spot market update with FTR Transportation Intelligence -- around their collaborative Market Demand Index -- saw rates rise slightly as well overall, though reefers took a slight 4-cent hit week over week.
[Related: Conditions for carriers improved in July]
However, as DAT industry analysts Dean Croke reminded, timing is everything in the market even when it comes to major storms.
"It would be hard to conclude that Hurricane Ian alone was responsible for the rise in load posts and higher rates since last week coincided with the end of the month and the end of a fiscal quarter, when more volume typically hits the spot market," Croke said.
In line with those expectations, dry van load posts increased a little more than 2% week-over-week, while the number of vans posted to the network fell 1.6%. The van load-to-truck ratio increased from 3.6 to 3.8 as a national average, meaning there were 3.8 loads for every available truck on the DAT One load board network. The national average flatbed ratio was 13.7, up from 12.5. The reefer ratio averaged 6.0 last week, down from 6.3. A higher number indicates more pricing power for the carrier, Croke said.

Trucks roll out in the Southeast
As Hurricane Ian tracked closer to Florida last week and eventually made landfall Wednesday afternoon, FTR Transportation Intelligence Vice President of Trucking Avery Vise pointed out that dry van load postings rose 15% week-over-week in the Southeast "but were down in all other regions except for the Midwest, and the gain there was just under 1%."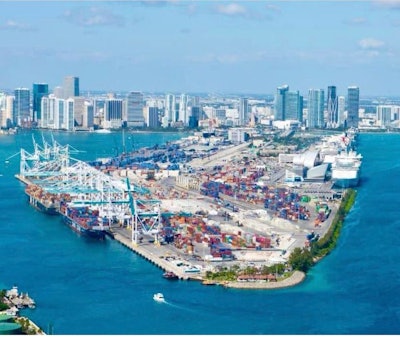 The Southeast also saw refrigerated load postings rise 16.5% week-over-week, Vise said, while all other regions saw a decline.
"We have not identified any rate impact as of yet," Vise said. "However, our conclusion is that with spot volume and the ratio of loads to trucks below or at least close to the five-year average in the van segments, the truck freight system has slack to handle increased activity without putting upward pressure on rates."
[Related: Truck tonnage rebounds in August]
Last week inbound rates and volume increased to distribution hubs in the Southeast, like Atlanta and Savannah, but also to Montgomery, Alabama, Croke said, where Maxwell Air Force Base is located. Shippers are using these markets as staging areas. DAT market analysis show the Atlanta van load-to-truck ratio increased to 4.3 on Monday and Savannah was 5.3 — both above the national average — as brokers looked for trucks to haul freight into Florida. Spot dry van loads from Atlanta to the Lakeland, Florida market, which includes Orlando and Tampa, averaged $3.79 a mile over the last seven days – 34 cents higher than the September average and 9 cents more than the high end of the normal range historically. Flatbed freight from Atlanta to Fort Myers, among the cities hit hardest by the storm, averaged $3.71 a mile over the last seven days, which is 70 cents higher than the September average according to DAT metrics.
"Hurricane Ian has had a more regional impact on supply chains compared to hurricanes Harvey, Irma, and Maria in August and September 2017, or the Polar Vortex in February 2021, which affected wide geographic areas over a longer period of time," Croke said.
Looking ahead
Ongoing needs in Southwest Florida for essential supplies like food, water and fuel will keep trucks busy in the Southeast in the weeks and months ahead but rate gains are unlikely to approach prior hurricane response efforts.
"As recovery and relief continues, we could see additional activity related to the hurricane that could at least firm up rates a bit, but it seems unlikely that we will have a surge like we saw with Hurricane Harvey in 2017, for example," Vise said. "Longer term, we could see more activity in flatbed as residential and commercial rebuilding begin, but that activity likely will result in only localized strength in flatbed metrics."
Croke pointed out that early storm tracking efforts had Ian hitting Puerto Rico and then possibly moving on to Tampa. Forecast models then put the Florida Panhandle in Ian's path. Taking no chances, residents there still dealing with the destructive aftermath of Category 5 Hurricane Michael in 2018 hit area stores for food, water, plywood and other supplies. Hurricane-leery residents in Tampa and Orlando did the same.
[Related: Lessons to be learned in disaster recovery, even if it's not 'your' disaster]
"In the near term, expect strong demand for van, refrigerated, and flatbed trucks across the Southeast, Croke said. "Various forecast models for Hurricane Ian were in disagreement up until a few days before landfall, leading to bare shelves in Tampa, Orlando, Tallahassee, and the panhandle. Restocking in the region should go fairly quickly. Recovery and construction will take much longer and be far more costly."
Jason Miller, Interim Chairperson and Associate Professor of Supply Chain Management in the Department of Supply Chain Management, Eli Broad College of Business at Michigan State University, noted that trucking is the fourth most impacted industry post-hurricane, behind building material retailers, petroleum refineries and durable goods merchants. Per every $1 spent on residential maintenance and repair, trucking gets about 2-cents.
Ports reopen but load concerns remain
Unlike California, Florida is not known as a bustling cargo state. Truckers, particularly owner-operators, driving loads into the peninsular landscape carpeted with tourist hot spots, often struggle finding loads on their way out.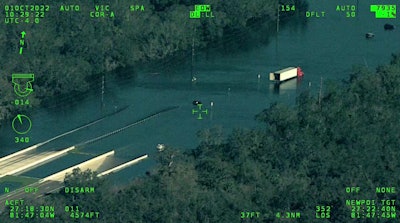 "The big issue for owner-operators is that Florida is an imbalanced market," Croke said. "Very little freight comes out of Florida, especially the farther south you go. If you're heading into central or southern Florida with a load, it's important to price your trip appropriately because there are so few opportunities coming out."
Thankfully, key container ports that shut down last week in preparation for Hurricane Ian have since reopened and resumed normal operations. The Port of Jacksonville, the state's biggest cargo port by volume, was shut down the longest. The port closed Wednesday prior to Ian's landfall near Fort Myers along the Gulf Coast and reopened Saturday. The port bills itself on Twitter as a "top vehicle handling port."
Port Tampa Bay, which is roughly 100 miles north of Fort Myers, and the Port of Miami, which is about 100 miles southeast, also closed last Wednesday. The Port of Tampa Bay reopened Friday and the Port of Miami resumed normal operations Thursday.
With downed powerlines, flooding and debris still impeding traffic in some areas, Florida Highway Patrol continues to Tweet updates on road conditions. On Tuesday morning, FHP advised that State Roads 70 and 72 were still closed in DeSoto County, an inland area roughly 40 miles north of Fort Myers.
Croke advised caution when heading into storm-ravaged Southwest Florida.
"Ideally, you'd have a load waiting for you on the dock when you arrive. In the days and weeks after a hurricane, sometimes you can't even be certain there will people or equipment on the other end to help you unload," Croke said. "You have to know your operating costs, decide how much risk you're willing to accept, and factor them into your negotiations with brokers."