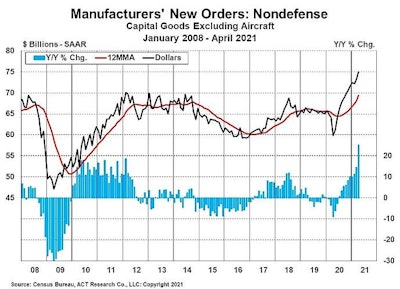 Higher than normal capital expenditures from manufacturers as the economy continues to recover from the pandemic will continue to drive freight demand for the next few quarters, but carriers should expect a swing back in the favor of shippers in the coming months, according to ACT Research in its latest ACT Freight Forecast, U.S. Rate and Volume OUTLOOK report.
"One decidedly different factor becoming clear in this economic recovery is that the ceiling on the capital goods cycle has been decisively broken for the first time since the late-1990s," said Tim Denoyer, ACT Research's Vice President and Senior Analyst. "While not as large as retail in terms of overall freight generation, capital goods spending is freight intensive, and the coming capex boom will certainly benefit freight demand in the next few quarters."
[Related: FTR: Trucking conditions continued record-setting pace in April]
Additionally, Denoyer said a surge in the Cass Shipments Index in May surpassed expectations with its second-highest month on record.
"Soaring freight demand has been overwhelming the industry's capacity these past ten months, as the industry continues to cope with bottlenecks and shortages in this extraordinary recovery," Denoyer added. "While the pendulum of pricing power is clearly with the asset owners, we analyze several leading indicators which suggest it will begin swinging back to shippers in the coming months, with rebalancing likely in 2022."