Trucking news and briefs for Friday, Sept. 22, 2023:
Trucking conditions more favorable in July than June, but still negative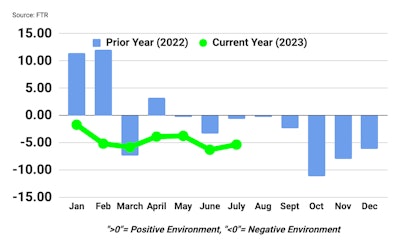 Market conditions for trucking companies in July were slightly better than in June, according to FTR's latest Trucking Conditions Index report.
While improved from June, FTR's index remained negative in July at -5.34, compared to June's -6.29 reading. The firm said the improvement was a result of improved freight volume and capacity utilization, which offset weaker rates and higher fuel costs.
Carriers have continued to face challenging market conditions since July, and FTR noted surging fuel prices in August and September will send the TCI even lower in the near term. Aside from fuel cost volatility, the outlook for trucking conditions is little changed with only gradual improvement toward neutral readings by the third quarter of 2024.
"The overall truck freight market remains unfavorable for trucking companies, but the financial situation for smaller carriers in particular is tightening due to surging diesel prices," said Avery Vise, FTR's vice president of trucking. "Large numbers of small operations are exiting the market, and that exodus could accelerate if diesel prices continue to rise sharply."
Vise noted that "larger carriers have absorbed much of that driver capacity, but truckload carriers are approaching a saturation point due to sluggish freight demand. Declining driver capacity could tighten the market modestly, but significant improvement for carriers will require stronger volume as well."
Port of Oakland hosts 'zero-emission' truck ride and drive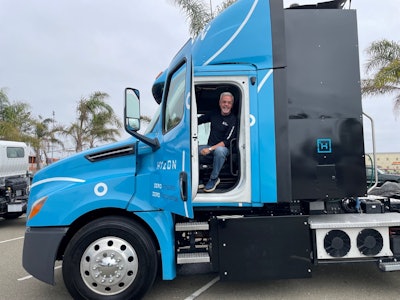 The Port of Oakland joined forces with community partners recently to host a Zero Emissions Truck Ride and Drive event, providing port operators the opportunity to experience "zero-emissions" vehicles firsthand.
The port partnered with Harbor Trucking Association, Calstart, California's Hybrid and Zero-Emissions Truck and Bus Voucher Incentive Project (HVIP), California Air Resources Board (CARB), and PG&E to host the ZEV event on Friday, Sept. 15 at Middle Harbor Shoreline Park.
The event provided a glimpse at future technology for port drayage drivers, motor carriers and other port community members and stakeholders as they were given the opportunity to experience being behind the wheel of battery-electric or hydrogen fuel cell trucks. They also had the opportunity to talk to experts about transitioning fleets to trucks powered by clean technology.
Event attendees got to:
Experience the latest in zero-emissions truck technology
Learn about local charging and parking locations
Learn about financing options and funding incentives
Learn about CARB state drayage regulations
"This event provided port operators with the invaluable opportunity to experience new zero-emissions technology firsthand," said Port of Oakland Maritime Director Bryan Brandes. "Events like this are an essential component to helping us realize our goal as a zero emissions port."
Coke Canada debuts first Volvo VNR Electric in fleet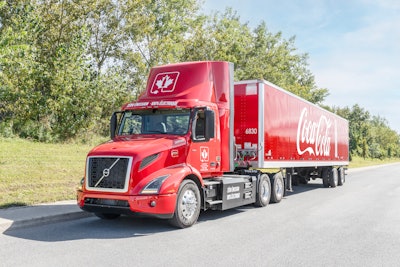 Volvo Trucks North America customer Coke Canada Bottling Limited recently unveiled its first Volvo VNR Electric trucks.
The trucks are part of a six-truck pilot of electric vehicles to service their iconic 'Red Fleet' customer delivery routes throughout the Greater Montreal Area. Coke Canada Bottling was the first Canadian food and beverage manufacturer to announce the adoption of electric Class 8 trucks into its fleet.
As part of Coke Canada Bottling's Toward a Better Future Together environmental sustainability action plan, the VNR Electrics are contributing to the company's goal of reducing carbon emissions from direct sources and supplied energy by 46.2% by 2030. In addition to the deployment of the zero-tailpipe emission trucks, Coke Canada Bottling is adopting other fuel efficiencies in their fleet through electrification of light-duty service vehicles and the use of alternative fuel sources.
"Our global brand and this Canadian, family-owned business are well aligned on rapidly advancing environmental sustainability action plans," said Peter Voorhoeve, president, Volvo Trucks North America. "We look forward to supporting Coke Canada Bottling as they test out feasibility through this pilot. The deployment of the first battery-electric Volvo VNR Electric trucks at their fifth birthday celebration demonstrates the importance of pursuing environmental sustainability goals, which benefit the community and employees at every level."
Coke Canada Bottling's Volvo VNR Electric trucks feature a six-battery configuration that can cover up to 440 km (275 miles) on a single charge as the trucks make several daily round trips of 150 km (93 miles) from the beverage company's distribution center in Montreal to customer locations throughout the region.
Coke Canada Bottling also installed three 150 kW DC chargers with nine dispensers at its Montreal Distribution Center to support drive-through charging for the trucks. The trucks have a battery capacity of 565 kWh and can obtain an 80% charge in just 90 minutes.