Trucking news and briefs for Tuesday, July 4, 2023:
Shippers conditions continue to improve
While trucking conditions improved in April but remained negative, FTR's Shippers Conditions Index (SCI) in April rose to 7.1 from a 4.5 reading in March.
A weaker environment for both freight rates and carrier utilization more than offset slightly stronger freight demand and a deceleration of fuel cost decreases in April, the firm said. The outlook for shippers is positive through mid-2024.
"Shippers conditions improved in April as weaker rates and carrier utilization helped support shippers," said Todd Tranausky, vice president of rail and intermodal at FTR. "The outlook is for a firmly positive outlook for shippers in the economic balance of power between themselves and carriers for at least another 12 months."
Tranausky added that certain conditions, like "economic uncertainty or a higher than expected amount of economic weakness" could extend the positive trend for shippers even further.
Truck driver in I-95 bridge collapse lost control before crash, NTSB says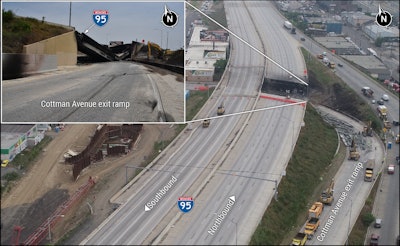 The truck driver involved in the June 11 crash that led to the collapse of an I-95 bridge near Philadelphia, 53-year-old Nathan Moody, "was unable to maintain control of the combination vehicle on the off-ramp," of I-95 onto Cottman Avenue, according to a preliminary report from the National Transportation Safety Board.
As a result, the 2017 International pulling a 2004 Heil tanker hauling 8,500 gallons of gasoline "rolled over and subsequently caught fire under the northbound lanes of the I-95 overpass," NTSB said. The agency noted that the posted speed limit on I-95 in the vicinity of the crash was 55 mph, and the Cottman Avenue off-ramp was posted with a 25-mph speed limit and a truck rollover warning sign.
"As a result of the rollover and subsequent fire, the driver was fatally injured," the agency added. "The fire caused the northbound lanes of I-95 to collapse onto the Cottman Avenue off-ramp. The southbound lanes of I-95 were significantly damaged by the fire."
As previously reported, I-95 was reopened just 12 days after the collapse due to the Pennsylvania DOT using foamed glass aggregate to fill the collapsed area and pave over for temporary lanes while the permanent bridges are rebuilt.
[Related: I-95 in Philadelphia reopens just 12 days after fiery bridge collapse]
Volvo recalling on-road, off-road and auto hauler trucks for steering issue
Volvo Trucks North America is recalling certain approximately 224 model year 2023-'24 VN, VHD, and VAH trucks because the steering gear fasteners may not be properly tightened, according to National Highway Traffic Safety Administration documents.
Loose steering gear fasteners may result in a loss of vehicle control, the recall notes.
Dealers will tighten the steering gear fasteners, free of charge. Owner notification letters are expected to be mailed Aug. 18. Owners can contact Volvo Trucks' customer service at 1-800-528-6586 with recall number RVXX2307. NHTSA's recall number is 23V-441.
[Related: Tesla issues another recall for its electric Semi]
Battery-electric Cascadias recalled for electronic stability control system issue
Daimler Trucks North America is recalling approximately 332 model year 2023-'24 Freightliner eCascadia trucks.
In the affected units, the service brake system may incorrectly calculate the vehicle mass, which can impair the electronic stability control system performance. As such, the trucks fail to comply with the requirements of Federal Motor Vehicle Safety Standard (FMVSS) number 136, "Electronic Stability Control Systems on Heavy Vehicles."
An impaired electronic stability control program may have a delayed response or insufficient braking force when activated, increasing the risk of a crash.
The remedy to fix the issue is currently under development. Owner notification letters are expected to be mailed Aug. 26. Owners can contact DTNA customer service at 1-800-547-0712 with recall number FL978. NHTSA's recall number is 23V-453.