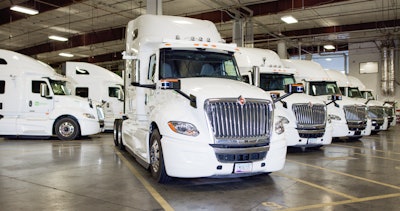 Trucking news and briefs for Monday, April 26, 2021:
TCA names new chairman, officers
D.M. Bowman (CCJ Top 250, No. 212) President James Ward has been appointed the Truckload Carriers Association's 2021-22 Chairman. Ward has been in the transportation industry for 43 years. Prior to joining D.M. Bowman in 1986, he started his career with the Western Maryland Railroad and served as Managing Director of the Transportation Industry Division for Willis of Nashville, Tennessee, starting in 1992 before returning to D.M. Bowman, Inc. in 1999.
In addition to Ward's responsibilities as TCA Chairman, he also serves on TCA's Board of Directors, Financial Oversight Committee, Highway Policy Committee, Regulatory Policy Committee, and Recruitment & Retention Human Resources Committee.
The following individuals will assist Ward as TCA's officers: Immediate Past Chair: Dennis Dellinger, President & CEO, Cargo Transporters, Inc.; First Vice Chair: John Elliott, CEO, Load One, LLC; Second Vice Chair: David Williams, Executive Vice President, Knight-Swift Transportation; Treasurer: Karen Smerchek, President, Veriha Trucking, Inc.; Secretary: Pete Hill, Vice President, Hill Brothers Transportation, Inc.; Association Vice President to ATA: Joey Hogan, President, Covenant Transport; At-Large Officer: John Culp, Executive Vice President of Finance, Maverick USA; At-Large Officer: Ed Nagle, President, Nagle Toledo, Inc; At-Large Officer: Jon Coca, President, Diamond Transportation System, Inc.; At-Large Officer: Mark Seymour, President & CEO, Kriska Transportation Group; At-Large Officer: Trevor Kurtz, General Manager, Brian Kurtz Trucking, LTD.
Trucking stakeholders join TuSimple board
Navistar President and Chief Executive Officer Persio Lisboa has joined the Executive Advisory Board at autonomous technology company TuSimple.
Navistar last July took a minority stake in TuSimple, as did its now-parent company Traton. Lisboa will be accompanied by Nicole Nason, chief safety officer and head of external affairs at Cavnue, and Goodyear Tire and Rubber Company Chairman, Chief Executive Officer and President Richard Kramer as new board members.
Last year, Goodyear announced a strategic partnership to provide tires and tire management solutions to TuSimple's Autonomous Freight Network and earlier this year invested in the company. 
Cavnue was founded by Sidewalk Infrastructure Partners (SIP) to accelerate and realize the full potential of connected and autonomous vehicles, and Nason is a former Administrator of the U.S. Federal Highway Administration.
"Their combined expertise in the areas of transportation, logistics and safety will play a valuable role in helping bring what we believe is a transformational technology to market over the next few years," said Cheng Lu, President and CEO of TuSimple.
Nikola, TA-Petro announce plans for hydrogen fueling stations
Nikola Corporation, through its Nikola Energy division, and TravelCenters of America have agreed to collaborate on the installation of hydrogen fueling stations for heavy-duty trucks at two TA-Petro sites in California, targeting commercial operation by early 2023. 
Paired with the expected 500-mile range of the previously-announced Nikola Tre fuel-cell electric vehicle, Nikola expects the launch stations will enable operations of zero-emission heavy-duty commercial vehicles in and around the greater Los Angeles region and north through California's Central Valley. 
"This exploration into hydrogen supply expands on our commitment to provide customers the widest range of fuel and non-fuel offerings, and on our Mission to 'return every traveler to the road better than they came,'" said Jon Pertchik, CEO of TA-Petro. "Through our new business unit eTA, we are positioning ourselves to facilitate the transportation industry's shift toward alternative fuel offerings including hydrogen, a leading form of energy for Class 7 and 8 vehicles. We are excited about this first foray into the future of heavy duty, long-haul trucks and look forward to supporting our loyal fleet customers as they increasingly adopt decarbonization strategies."