Trucking news and briefs for Friday, Nov. 19, 2021:
Waymo expanding UPS partnership to Class 8 trucks
Autonomous truck tech developer Waymo announced this week it is expanding its partnership with UPS (CCJ Top 250, No. 2) ahead of the holiday season to add autonomous freight movement with Class 8 trucks.
Over the next several weeks, Waymo will conduct autonomous trial runs with UPS using Waymo Via Class 8 trucks equipped with the fifth generation Waymo Driver. The trial runs will take place in Texas, where the Waymo Driver will deliver for UPS' North American Air Freight unit between facilities in Dallas-Fort Worth and Houston.
"These Class 8 trial runs will build on all of the learnings and success we've had testing with UPS over the years, as well as our previous Class 8 trial runs with other carriers across unique verticals, including J.B. Hunt," Waymo said. "While it's still early days, this partnership with UPS is a great example of how Waymo Via is creating an autonomous delivery solution spanning trucking and local delivery that can offer customers unique safety benefits, network flexibility, and scalability."
New Orleans woman pleads guilty in staged-accident fraud scheme
United States Attorney Duane A. Evans in the Eastern District of Louisiana announced this week that Chandrika Brown, 30, of New Orleans, pleaded guilty to Conspiracy to Commit Mail Fraud, in violation of Title 18, United States Code, Section 371, arising out of staged automobile accidents with tractor-trailers and other commercial vehicles occurring in New Orleans.
According to the guilty plea, Brown, along with her co-defendants, Doniesha Gibson, of New Orleans, and Ishais Price, of New Orleans, and a co-defendant driver conspired to commit mail fraud in connection with a staged accident with a co-defendant driver.
The guilty plea brings the total number of defendants convicted in "Operation Sideswipe" to 29.
According to court documents, Brown claimed that on Oct. 15, 2015, she was a passenger in a 2014 Dodge Avenger owned and driven by Gibson that was hit by a Hotard bus while traveling on the I-10 near the flyover of the I-510. Price was also in the vehicle.
In truth, a co-defendant asked Gibson to recruit Brown and Price to ride along as a passenger, and he then intentionally sought out a commercial vehicle to intentionally hit. After the staged accident, the co-defendant driver switched seats with Gibson, and they called the New Orleans Police Department.
Gibson, along with the passengers, falsely stated that the Hotard bus illegally changed lanes and caused the accident. Thereafter, Brown, Gibson, Price, and the co-defendant driver each retained counsel and made demands against Hotard's owner and insurer for personal injury damages. As a result of the claims, the insurer utilized the U.S. mail to send the settlement drafts to Brown, Gibson, Price, and the co-defendant driver's counsel. The total settlement for the Hotard bus accident was approximately $677,500.
Brown faces a maximum sentence of up to five years in prison. Upon release from prison, she also faces a term of supervised release of up to three years, and/or a fine of up to $250,000 or the greater of twice the gross gain to the defendant or twice the gross loss to any person, and a mandatory $100 special assessment fee. Sentencing is scheduled for Feb. 16, 2022.
Averitt celebrates 50th anniversary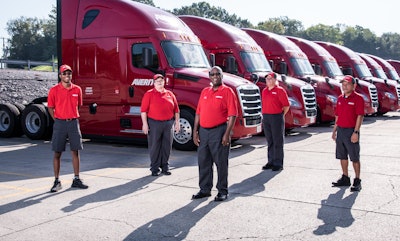 Averitt Express (CCJ Top 250, No. 30) recently marked the official date of its 50th year of service on Oct. 1, 2021. As the culmination of a year-long celebration of its 50th anniversary, Averitt marked the special day with celebrations at its facilities across the country, including at its corporate headquarters in Cookeville, Tennessee.
On Oct. 1 and dating back to National Truck Driver Appreciation Week (Sept. 12-18), the festivities at Averitt's facilities included special ceremonies, grab-and-go meals and employee prize drawings for wireless headsets, GPS units, gift cards, televisions, iPads and more.
For the grand company-wide prize, five over-the-road drivers had their names drawn to be assigned a brand-new 2022 Freightliner truck. The winners were Hickory, North Carolia-based Crystal Austin; Little Rock, Arkansas-based Rey Cabigquez; Greensboro. North Carolina-based Troyshawn Downey; Charlotte, North Carolina-based Tim Johnson; and Jackson, Tennessee-based Rebecca Sanders.
In 1958, Thurman Averitt founded the company as Livingston Merchant's Co-Op in Livingston, Tennessee. In 1969, Averitt incorporated his company and called it Averitt Express. While making regular deliveries in Nashville, Averitt became acquainted with Gary Sasser, who at the time was a young dockworker. Sasser happened to ask Averitt one day if he would be interested in selling his company. After some thought, Averitt said yes.
On Oct. 1, 1971, Sasser, at the age of 21, purchased Averitt Express, which at the time consisted of two associates, three tractors and five trailers. Today, Sasser serves as Averitt's chairman and chief executive officer. The company now employs more than 9,000 people and operates approximately 4,600 tractors, 15,000 trailers and 140 facilities across the country.
"In 1971, I was just a 21-year-old kid who was going to night school, but I knew that I wanted to be in the transportation industry," said Sasser, who also took logistics training while serving in the United States Marine Corps Reserve. "I was surprised when Mr. Averitt agreed to sell, and it didn't take long to face my first challenge: how to make payroll. We actually sold the trucks and leased them back just so we could have some operating capital to give everyone a paycheck. We learned a lot in those early days."