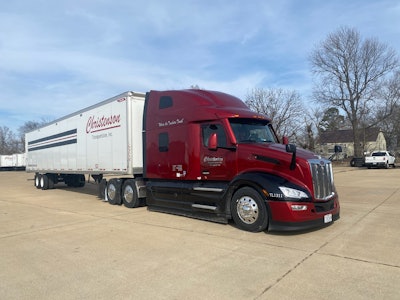 Christienson Transportation
When fourth-generation truck driver Don Christenson became a driver right out of high school, autonomous vehicles were merely a thing of the future. Christenson, now president and CEO of Missouri-based Christenson Transportation, Inc., is leading his trucking company into that future with plans to deploy 500 autonomous trucks.
The company recently signed a deal with autonomous trucking technology provider Locomation to restructure its operating model to run its trucks 20-plus hours a day, followed by deployment of 500 trucks equipped with Locomation's Autonomous Relay ConvoySM (ARC) systems on five separate Autonomous Relay NetworkSM segments.
Christenson said his company will begin with a hub in Nashville, featuring six lanes – each 500 miles – along the I-40, I-24 and I-65 corridors.
"Not only do we think we'll be 100% Locomation autonomous vehicles within the next few years, but we believe we'll be able to grow our fleet and improve the quality of life for our drivers and capacity for our customers," Christenson said at the Truckload Carriers Association conference in Las Vegas this week when the deal was announced.
The company expects to increase capacity by 52%, reduce empty miles by 50%, improve fuel efficiency by 18% and reduce its greenhouse gas emissions for shipper customers with Locomation's freight optimization. The impact of the increased loaded miles and 30% reduced operating cost, combined with increased market share on the lanes in which they operate, is expected to quadruple Christenson's bottom line net profit.
"ARC enables a carrier to safely operate two trucks up to 22 hours a day, delivering twice the cargo, twice as far and twice as fast, which means a big boost to their capacity, efficiency and profits," said Locomation Co-founder and CEO Çetin Meriçli.
He said the system dramatically increases utilization, cuts idling time and reduces – and in some cases eliminates – empty and deadhead miles. According to a peer-reviewed study by Boundless Impact Research & Analytics, Locomation's technology also allows for a 20% reduction in fuel consumption and another 22% in greenhouse gas emissions, providing a new value proposition for shipper customers who are interested in reducing their Scope 3 emissions.
Locomation's ARC system is a human-led convoy of two trucks that are electronically tethered, enabling one diver to operate the lead truck, while the second driver rests in the follower truck. The Human-Guided AutonomySM solution allows carriers to safely operate two trucks for 20 to 22 hours a day while remaining in compliance with the U.S. Department of Transportation's hours-of-service regulations.
Christenson said it was important to him to deploy a model that didn't seek to replace the driver. The second phase, he said, will be two trucks with one driver.
"We believe there still needs to be a pilot in charge of the vehicle. In commercial airlines, we've had autopilot for probably well over 50 years now, but we still have pilots in the plane," he said. "We wanted something we thought was going to come to market sooner than later by not forcing the driver out of the cab on day one."
He said it will also be helpful in recruiting new drivers.
Andrew Erin, director of safety and risk at Pennsylvania-based PGT Trucking, said capacity is his company's biggest problem, and this technology will help expand its capabilities to deliver more customer freight. PGT said last year that it plans to deploy 1,000 Locomation AVs.
"Drivers are our primary limiting factor. Even in times like now (when) we can't get trucks, drivers are our primary limiting factor," Erin said. "Despite every good idea we've come up with over the years, we still turn down like 98% of loads that we're offered. We're very excited to partner with Locomation to potentially double the amount of loads we can move with our existing driver force."
Bruce Stockton, vice president of fleet services at Missouri-based Wilson Logistics, said the pool of eligible truck drivers has been shrinking for the 35 years he's been in the industry. As trucking companies compete for the same driver, he said this technology increases the number of eligible candidates to become a commercial vehicle operator and reduces the number of operators required to cover capacity.
Wilson Logistics was the first adopter of Locomation's technology and renewed its commitment just ahead of Christenson's deal to deploy 1,120 ARC units on its southwest routes starting in 2023.
Meriçli said Locomation is working with Wilson to engineer six freight lanes for full autonomy valued at $524 million in annual revenue and an estimated $120 million in operating profit once the technology is fully deployed. Those numbers, he said, are based on the high rates of asset utilization and operational efficiency expected from Locomation's autonomous trucking system.
He said Locomation, which has a fleet of 12 ARC units and is in the process of building another 20, aims to finalize its core technology development and ramp up production by the end of this year with a goal to deploy hardware to early customers in 2023.