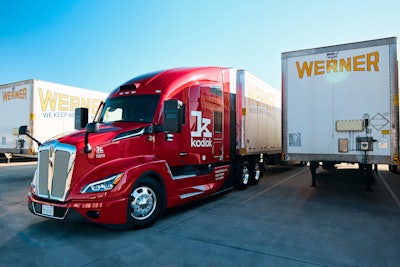 Autonomous technology trucking company Kodiak Robotics Thursday announced a collaboration with Werner Enterprises (CCJ Top 250, No. 13) to establish an autonomous trucking lane and to showcase how efficiently autonomous trucks can be used via a transfer hub model.
The relationship kicked off last month with a week-long pilot program in which a Kodiak truck, accompanied by a human safety driver, completed four round trips (eight segments) between Dallas and Lake City, Florida. During the pilot, Kodiak completed a total of 152 hours of operation – including mandatory rest breaks, time for refueling and driver swaps – covered 7,957 miles, and achieved 100% on-time delivery performance with a calculated average speed of 65 mph.
Werner had trailers ready for a Kodiak self-driving truck to pick up on both ends of the trip, and Werner's local drivers completed first-mile pickup and final-mile deliveries – a truckport/transfer hub model that Kodiak Founder and CEO Don Burnette said maximizes the amount of time the Kodiak Driver – the company's autonomous platform that uses a sensor fusion system and lightweight mapping solution – spends driving. The company noted that 94% of all miles were driven in autonomy while accompanied by a human safety driver.
Werner's Senior Vice President of Van/Expedited Chad Dittberner said the Omaha, Nebraska-based carrier is eager to establish the hybrid model of drivers and ongoing autonomous lanes "to create new and unparalleled levels of efficiency while staying focused on Werner's value of putting safety first."
Burnette said the Kodiak Driver is designed to do the often-undesirable highway portions of long-haul routes, "allowing drivers to handle the deliveries that let them sleep in their own beds at night."
Werner Enterprises also joined Kodiak's Partner Deployment Program, which helps carriers establish autonomous freight operations and seamlessly integrate the Kodiak Driver into their fleet.
Kodiak Robotics in April, alongside U.S. Xpress, launched Level 4 autonomous freight service between Dallas-Fort Worth and Atlanta. Using a Kodiak self-driving truck and U.S. Xpress trailers, the two companies in May completed a first-of-its-kind pilot, hauling freight on four round-trips (eight segments), covering approximately 6,350 miles and delivering eight commercial loads between Dallas and Atlanta.