Trucking news and briefs for Tuesday, Sept. 20, 2022:
IVECO, Plus ready to start on-road testing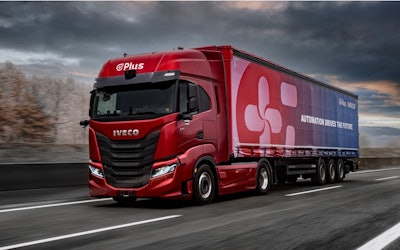 European truck manufacturer IVECO and autonomous truck tech startup Plus on Monday announced the completion of the initial phase of their autonomous trucking pilot, which focused on deep engineering integration and closed course testing.
This milestone showcases the technical feasibility and capabilities of the PlusDrive-powered IVECO S-WAY truck, and its readiness for the next important phase of the pilot, which is to conduct public road testing. This achievement paves the way for IVECO and Plus to produce a semi-autonomous product as a first step and to prepare for ultimately manufacturing fully autonomous vehicles. Initial public road testing in vehicles supervised by a safety driver will cover a number of countries in Europe including Austria, Germany, Italy, and Switzerland. The diversity in terrain, road gradient, weather, and driving scenarios all help to continuously expand the capabilities and features of Plus's autonomous driving technology.
Volvo Trucks presents a new fully electric axle for extended range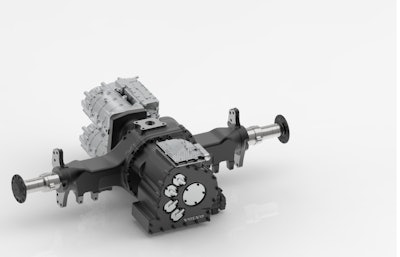 Volvo Trucks has unveiled a fully electric rear axle, freeing up space for more batteries and extending range for its lineup of battery electric trucks.
The new e-axle, presented this week at the IAA fair in Hannover, Germany, allows even more batteries on the truck by integrating the electric motors and the transmission into the rear axle. More batteries mean longer range, which creates opportunities for long distance transports to also be electrified. On the fuel cell electric trucks, that will be introduced in the second half of this decade, the additional space comes in handy for installing other components.
"This is a breakthrough for electric trucks and a clear signal that there will be a huge demand for public fast-chargers for heavy trucks in the near future, not the least along highways," said Jessica Sandström, Volvo Trucks Senior Vice President of Global Product Management.
Saia expanding in Kansas
Saia (
CCJ
Top 250
, No. 21) announced Monday its planned phased opening of three new Saia LTL Freight terminals in the Midwest. The first two facilities, one in Dodge City, and another in Hays, Kansas, opened this week. A third terminal in Colby is slated to open within the next few weeks.
With the addition of these locations, Saia has opened a total of five terminals during just the third quarter.
"We are proactively working to grow our network of terminals in the state and region so we are offering complete direct service," said Kevin Szydel, Vice President of Operations, West. "Adding these three new facilities will further strengthen our service and presence for customers, providing them with increased efficiencies by reducing transit times. The terminals will give us more flexibility in our day-to-day operations."