TuSimple
Self-driving technology company TuSimple continues to notch off achievements while testing its autonomous trucks, but the San Diego-based start-up can't always say the same for other vehicles—particularly those that don't abide by traffic laws.
TuSimple Chief Administrative Officer Jim Mullen told Commercial Carrier Journal that a TuSimple test truck was recently side-swiped by a vehicle in Arizona that ran a red light. Nobody was injured in the hit and run, but police are taking a much closer look at the video TuSimple passed along.
"We have the video footage," Mullen said "We've given it to law enforcement. They're looking at the video to see if they can identify the driver."
TuSimple compiles plenty of travel data that has become important during an unprecedented time of nuclear verdicts. This, Mullen said, makes trucking companies excited. "Our technology—our cameras, our LIDAR, our radar—it detects everything that's going on," he said.
[Related: Volvo adds Aurora as AV partner to spur development]
Mullen was the former general counsel at Werner. Following a collision, accident reconstruction specialists are often hired to better gauge details and render an opinion on the collision, he said, but the high-level, unblinking eyes of TuSimple's Level 4 autonomous technology provides much more information than carriers have had in the past.
"We'll have all that data now. We'll have literally the video of the action," Mullen said. "We'll know exactly where the accident happened, how fast the vehicles were going and the jurors or the judge or whomever, they'll have all the data you could possibly need to make an evaluation. We think that's going to be very helpful for the industry on combating unreasonable verdicts."
Life in the fast lane
In addition to lowering risk on the road, TuSimple's self-driving technology can greatly reduce shipping times because driving limitations imposed by hours of service (HOS) rules don't apply to computers.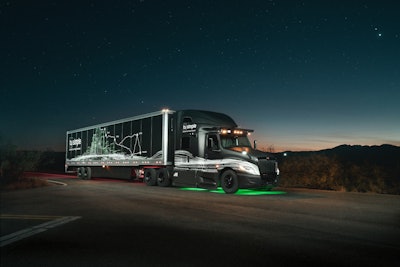 During a recent run from Arizona to Oklahoma City, a TuSimple truck hauling a load of watermelons for pilot-test collaborators Giumarra and Associated Wholesale Grocers cut ten hours off a trip that typically averages 24 hours.
"There was no break time, no hours of service issues so it went straight through," Mullen said. "That's how we arrived at that 10 hours savings time."
Time-sensitive industries stand to gain from quicker delivery times and that's particularly true for food shippers.
"That's an industry which has freight capacity concerns fairly regularly and is oftentimes subject to the wild fluctuations in the spot market," Mullen explained. "And of course, there's the desire to get the produce to market as quickly as possible so spoiling is reduced. And expanding the length of haul and decompressing the time leads to more areas to be serviced by fresh produce."
Other shippers concerned about freight delivery times—and who isn't?—are also excited about turning back the clock.
"When we talk to our strategic partners, that's one of the elements of the autonomous network that excites them—expanding the speed to market and reducing the transit time," Mullen said.
Drivers out in the fourth quarter
Safety drivers currently go along for the ride in TuSimple's fleet of 50 trucks, all of which work south of the Mason-Dixon since, Mullen said. The trucks "aren't there yet" when it comes to driving in the snow.
The trucks have been performing "really well in rain and wind" and other outdoor conditions found in the Sun Belt—so well that later this year safety drivers will be pulled from the cab.
"In the fourth quarter, probably November, we're going to take the human out on a pilot basis in Arizona," Mullen said.
A roughly 100-mile trip from Tucson to Case Grande will be absent of people, save for those virtually monitoring the truck.
"We'll do that a handful of times in November as a pilot with the human out," Mullen said.
Other than the Arizona pilot, TuSimple does not plan on removing safety drivers on a regular basis until Navistar rolls out its production truck in 2024.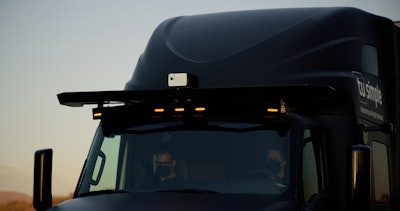 In addition to lowering risk and improving delivery times by removing the driver, Mullen said the other benefit fleets will enjoy is eliminating the cost of drivers.
"Labor costs are the largest cost factor in trucking, so that that's going to help dramatically," he said.
In addition to saving on driver costs, fleets will see fuel savings add up given more precise acceleration and braking. A study conducted by the University of California at San Diego showed that TuSimple's self-driving computers easily outperformed people in terms of driving efficiency.
"We compared our AV miles versus our manually driven miles and there was about a 10% MPG improvements in AV versus manual," Mullen said. "Our AV drives very smooth. It doesn't get on and off the throttle and brake frequently."
Fuel purchasing is another possibility for fuel savings from AVs. An autonomous truck doesn't care about which locations have driver lounges or showers, notes Justin King, head of product innovation for Comdata, a FleetCor company.
[Related: AV truck firm Embark partners with Arizona DOT to improve work zone safety]
King believes the truckstop landscape will evolve quickly once autonomous trucks hit the road. "You won't need as many of them," he said. "The reason why we have so many truckstop chains [now] is because people have preferences. A robot doesn't care. It stops wherever the lowest price is."
Regulatory considerations at the federal level have been supportive of driverless trucks and that hasn't changed, Mullen said, under the Biden administration.
"We haven't seen anything on the legislative side that's a showstopper or problematic for us," Mullen said. "We don't see that environment changing for the worse at all."
Looking ahead
TuSimple anticipates adding roughly 20 Navistar test trucks equipped with its AV system by the end of the year. That will take its test fleet to 70 trucks.
More trucks means more mapping and AV analysis by engineers back at the office and safety drivers inside the cab.
"They obviously not only ensure that the artificial intelligence does what it's supposed to be doing, but they're also there to help correct any sort of deficiencies," Mullen explained. "Also their experience as over-the-road truck drivers helps educate the artificial intelligence on how to handle situations on the road."
As fleets transition to autonomous trucks, drivers will still be needed, Mullen explained, to take over driving once a truck reaches a terminal where both AV and non-AV trucks will be present.
"I think not only TuSimple, but our customers—the shippers and the motor carriers—they're going to want to separate AV from manual operations," Mullen said. "I don't think they're going to want one dock being AV and [humans] right next to it."
Some fleets may elect to keep drivers for regional and city routes while relegating AV trucks for long-haul since, as Mullen pointed out, it's more difficult to hire and retain over-the-road drivers.
In any event, drivers shouldn't be concerned about being replaced by an AV anytime soon.
"There's no doubt in our mind that if you're a truck driver today, and I don't care if you got your CDL yesterday, you're going to be able to retire a truck driver without a doubt," Mullen said.
Roughly 6,700 reservations have been placed for Navistar trucks equipped with TuSimple's AV system.
"We're focusing on expanding and increasing those reservations as we approach 2024," Mullen said.
To that end, TuSimple's AV routes will be expanding beyond the West where they've mostly been at work in Arizona, Texas and New Mexico.
"By the end of the year, we'll be hauling freight to Florida, North Carolina and Georgia," Mullen said.
Note: CCJ Senior Editor Aaron Huff contributed to this story.