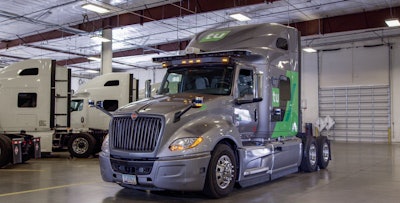 TuSimple
A Tesla crash on Saturday in Texas that claimed the lives of two men, one of them being a doctor, has stirred up legitimate concerns about self-driving technology.
These concerns, however, should be governed by facts which will continue to arise as investigations continue with Texas officials, the National Highway Traffic Safety Administration and the National Transportation Safety Board.
What's already come into question, according to the Houston Chronicle, is whether the 2019 Tesla Model S owned by 59-year-old Dr. William Varner was actually in self-driving mode when it ran off the road, crashed into a tree and caught fire killing Varner and his 69-year-old friend Everette Talbot in a gated community north of Houston.
On Monday, two days after the crash, Tesla CEO Elon Musk tweeted that, "Data logs recovered so far show Autopilot was not enabled and this car did not purchase FSD (Full Self Driving). Moreover, standard Autopilot would require lane lines to turn on, which this street did not have."
Police reported that no one was behind the wheel as the car headed towards a cul-de-sac and on Tuesday served Tesla with search warrants to gain access to vehicle data according to Reuters. Talbot's body was recovered from the front passenger seat and Varner's from a seat in the back.
Police said according to witnesses the men had left Warner's home to test the car in self-driving mode and crashed just a few hundred yards away.
The car had been badly burned and required a massive amount of water over a four-hour period to fully extinguish the compromised lithium-ion battery pack. The Houston Chronicle reported that it took 23,000 gallons from a nearby hydrant to snuff-out the battery fire while Car and Driver put it between 25,000 and 30,000 gallons.
[Related: Isuzu forges partnership for first autonomous final-mile medium-duty truck]
The conflicting data that's pouring in is a reminder of the need for thorough investigative work which doesn't abide by daily, weekly or monthly deadlines at media outlets around the globe.
In the meantime, the crash has evoked concerns for self-driving technology particularly in larger class vehicles. In a conversation I had this week with Jim Carello, dealer principal at Regional International Corp. in Henrietta, New York, we had been talking about Carello's role with the fuel-saving SPIER exhaust induction system when the topic turned to autonomous trucks.
"Let me ask you a question," Carello said. "You write articles all day long. After hearing what just happened to those two guys in the Tesla, do you think somebody is going to want two 53-footers or a 53 and a 48-foot tandem (trailer) running down the thruway mid-February in a snow storm with no driver in it?"
[Related: Major fleets partner with self-driving truck developer TuSimple on autonomous freight network]
It's hard to beat a great question especially from a source that's been selling trucks for over three decades. Carello's absolutely right. Headlines like this can steer people away from autonomous driving technologies all together. But, like so many others, Carello's keeping a close eye on the evolution of such technology and sees its potential.
"Now don't get me wrong," he continued. "There will be places that they [self-driving trucks] will be great. Run in the Southern corridor. Run in Texas. Run in those areas [where lane markers aren't obscured by snow]. But when you get a highly dense area, I think that it's going to be a bit of a challenge."
Engineering for better days ahead
Impressive progress is definitely being made with self-driving trucks. One of the more recent and bigger stories on that front came from Ford where engineers undertook a series of long road trips to validate their company's new BlueCruise self-driving feature.
After 110,000 miles of road testing across the U.S. and Canada, Ford announced that BlueCruise hands-free highway driving will be available later this year for 2021 F-150 and 2021 Mustang Mach-E vehicles equipped with Ford Co-Pilot360 Active 2.0 Prep Package.
BlueCruise is an SAE Level 2 driver-assist technology that allows for hands-free driving so long as the driver pays attention to the road ahead. A camera scans for driver eye movement (even through sunglasses) to ensure that the driver's watching the road otherwise the system cuts off.
[Related: Who's at fault in a self-driving truck crash?]
What sticks out from Ford's report are two things: first, BlueCruise is reserved for highways approved by Ford, and second, Ford reported that these self-driving tests reduced the stress often associated with long road trips.
"I drive long-distance quite often, whether out to Boston or down to Florida to visit family or friends, and usually I mentally tire out on drives that far," said Ford active safety engineer Alexandra Taylor who logged more than 3,000 miles while testing BlueCruise in an F-150 during what Ford calls its Mother of All Road Trips. "The one thing that became clear is that, when using BlueCruise, long drives aren't nearly as mentally taxing to me."
If Taylor's already seeing the benefits of hands-free driving in 3,000 miles, it's tempting to think how much a system like this could benefit long-haul drivers and possibly lead to fewer collisions and improved driver retention rates.
Testing does take time, though, and the process needs to be respected. On that note, self-driving start-up TuSimple announced last July that it had partnered with major carriers to test its self-driving tech in real-world conditions over the next four years. That's some serious test time, but then again, Class 8 trucking is a serious business that can't afford many mistakes.
More self-driving truck technologies are aiming for the road ahead. Earlier this month, Isuzu North America Corporation and middle-mile logistics startup Gatik announced a partnership to develop fully autonomous medium-duty trucks, an industry first. Read more about that here.
In January, Paccar announced plans to work with autonomous vehicle upstart Aurora Innovation to develop—what else—self driving trucks. Read more about that here.
Following Ford's lead, self-driving technology that requires drivers to play an active role down the road seems key--at least at this point. Computer-assisted driving features continue to evolve and continue to reduce accidents. GM and the University of Michigan reported in late 2019 how collision mitigation features had reduces crashes up to 81%. In a litigious age where billboards abound for crash-hungry, nuclear verdict attorneys, that's good news.
Doubtless, computer-assisted driving technologies, are rightfully earning a bigger seat behind the wheel. It reminds me of a recent conversation I had with Newsmax anchor Grant Stinchfield who also runs a small fleet of Kenworth T680s in Dallas, Texas. I asked Stinchfield to pitch in his two cents on self-driving.
"I understand technology is going to be coming to the forefront and I'm not against it," he said. "When I look at things typically—and people will get mad when I say this—computers on average do a better job than people do. Computers do not make as many mistakes as people do, but when they make mistakes, it goes pretty badly. But you know, when humans make mistakes, it goes pretty badly as well."