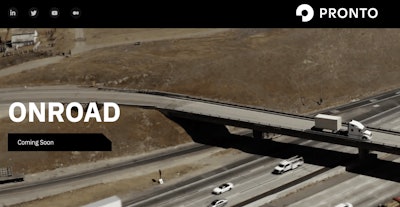 Pronto
Though impressive advancements continue to hit the road, turns out on-highway autonomous truck development is more difficult than first believed according to Pronto AI Co-founder and Chief Operating Officer Ognen Stojanovski.
Stojanovski recently spoke with Commercial Carrier Journal about the challenges of autonomous truck development, Pronto's focus on off-highway and the outlook on taking self-driving tech to the road.
Stojanovski has definitely etched out his place in autonomous truck history. While working at the now-defunct Otto in October 2016 as the head of research and government policy, a Budweiser truck equipped with Otto's self-driving technology set a then-record for completing the longest trip in an autonomous truck.
The 132-mile journey from Colorado Springs to Fort Collins, Colorado, was completed without human intervention, a big feat at the time that had many in the industry, including Stojanovski, feeling a little too optimistic about when self-driving trucks would be ready for prime time.
"At the end of the day, it's the predictability," Stojanovski explailned. "I mean, there's been huge advances in AI, machine learning, whatever you want to label it, and we think we're at the forefront of that. But, still, the software can't generalize and predict as well as we, and I think many others, had hoped even a few years ago."
[Related: Former trucking CEO joins autonomous truck startup]
As anyone who spends time driving on the road can attest, driving conditions can quickly change whether that's owed to errant drivers, weather, mud, bugs … and the list goes on.
Autonomous driving systems that can accurately and continuously predict how changes in driving conditions will necessitate changes in steering, acceleration and braking are still a ways off for Class 8 tractor-trailers, Stojanovski said.
"Most of the driving that ends up happening on roads and on highways from automated systems is reactive," he said. "The system sees something then reacts to it. It's not predictive enough. And now some predictions are happening; it's improving, but it's just not to the level where [it needs to be]."
Stojanovski pointed out how even the typical scenario of a car passing a tractor-trailer can still be daunting for an autonomous system to really nail down.
"If you and I are on the highway and we see in the rear view mirror, say, a really sleek looking red Ferrari coming on our left lane, we're like, 'Okay, that person's passing us, and that person's done cutting us off, right?
"So you can start to adjust your driving before the event happens, right? Because you can predict some things are going to happen and generalize that to other situations you've been in," Stojanovski continued. "The software though is just not that predictive. The software for automated trucks is really good at reacting to things. So when the cutoff does happen, maybe the automated driving system can slam on the brakes faster than you or I would with our reaction times. But you know what? It would've been better for it to avoid that situation in the first place had it been better at predicting."
Off-road autonomy helping to build on-road results
When visiting Pronto's website, it quickly becomes apparent that the San Francisco-based company is focusing much of its time on off-road autonomy.
Self-driving yellow iron-like front-end loaders and articulated dump trucks top their homepage while the section below it, Onroad, states "Coming soon." Try clicking on that section, and nothing happens. Click on Offroad above, and it takes you to an interesting page titled 'Autonomy Simplified' with attention-getting print and video.
Regardless of their shift to mining, Stojanovski said Pronto is still working in on-road autonomy at private sites and also pointed out that Pronto is the tech provider for the only truck-focused autonomous vehicle demonstration project sponsored by the U.S. Department of Transportation and led by the Virginia Tech Transportation Institute.
"We're about three years [into] the four-year study. So by the middle of next year, there's going to be a whole bunch of research results being released, including with on-road Class 8 fleets, where there's going to be some really interesting learning where they'll be the first ones to have adopted fully autonomous technologies into their everyday business operations," Stojanovski said. "And it'll have been powered by Pronto's technology, and that's something I think FMCSA [Federal Motor Carrier Safety Administration] is very excited about, certainly Virginia Tech."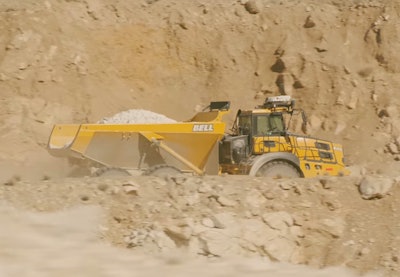 In the meantime, Pronto remains busy integrating its A2B autonomous haulage system in off-road mining operations around the globe.
It's there that Stojanovski said driving conditions can be both more challenging and also less complex at times than on-road applications — namely because the vehicles aren't sharing the roads with less-than-safe drivers at highway speeds.
"As far as the traffic conditions, you can obviously constrain it and control it a lot more and put operational safeguards more so than you can on a public highway where people do crazy things and it's much more unpredictable. In that sense, it can be simpler off road," Stojanovski said. "But it could be a lot more challenging as far as obviously the terrain. You're not driving with nice paved roads; you're dealing with some real challenges. Tires blow out all the time at mines."
A recent bout of nasty weather in California pushed the technology even more.
"One of the mines where we're operating in California was hit with torrential rains," Stojanovski said. "California the last few weeks was quite an adventure and provided a lot of learning through weather conditions. Mines tend to be located in very remote, very extreme areas, so super cold snow blizzards to extremely hot places — some of the driest, hottest deserts in the world."
Lessons learned from off-road driving are passed along to on-road driving.
"We think that will give us a heads up and a lot of learning about how to do it on the roads when the tech's there," Stojanovski said.
Pronto's Level II driver assist system, Copilot, which was introduced a few years ago, remains a viable option going forward.
"We'd love to go back a year or two from now and really try to work with OEMs, work with the trucking fleets and get those driver-assist solutions out there because even if the technology can't go driverless, it can still add a lot of value," Stojanovski said.