Trucking news and briefs for Friday, April 21, 2023:
C.R. England partners with autonomous truck maker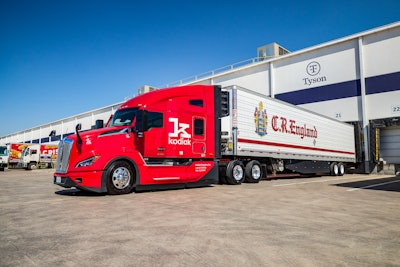 C.R. England (CCJ Top 250, No. 29) is partnering with autonomous trucking company Kodiak on a pilot program to autonomously ship Tyson Foods products between Dallas and San Antonio, Texas.
The deliveries will launch in April using Kodiak self-driving trucks and C.R. England refrigerated trailers. Safety drivers will be in the trucks in the initial stages of the pilot.
"Tyson Foods is pursuing the leading edge of technology in all aspects of our business, especially in transportation," said Patrick Simmons, vice president of transportation at Tyson Foods. "Autonomous trucks are just one piece of the puzzle in this innovation journey to use technology to operate more efficiently and to help ensure our transportation loads are delivered in a timely fashion."
Through the partnership, C.R. England also joined Kodiak's Partner Deployment Program, which helps carriers establish autonomous freight operations and seamlessly integrate the Kodiak Driver, Kodiak's self-driving system, into their fleet. Integrating self-driving trucks into C.R. England's fleet will introduce a host of environmental and other benefits, including improved safety, reduced fuel consumption and lower carbon emissions.
Utah paper company buys state's first Volvo VNR Electric
Volvo Trucks North America customer Utah PaperBox, a 109-year-old family-owned business that has delivered paper products in the Salt Lake City region for five generations, has become the first company in Utah to invest in a zero-tailpipe emission Volvo VNR Electric truck.
The Class 8 battery-electric truck will help to reduce emissions in the region – which has significant air quality challenges due to its unique topography – and support Utah PaperBox's commitment to being a sustainability leader.
"With roots that go back more than 100 years in the community, Utah PaperBox is a prime example of an established company that is changing the way they operate to be a good environmental steward for future generations," Jared Ruiz, Regional Vice President – West, Volvo Trucks North America. "In addition to supporting Utah PaperBox, our dealer partner Mountain West Truck Center will support other customers in the region in deploying battery-electric trucks as the dealership completes our rigorous accreditation process to become the first Volvo Trucks Certified Electric Vehicle (EV) dealership in the state."
The six-battery configuration Volvo VNR Electric offers a range of up to 275 miles, enabling the company to service its high-traffic delivery routes between Provo, Ogden and Salt Lake City.
Charging infrastructure for the truck is expected to be installed this month in preparation for the truck's arrival at Utah PaperBox's Salt Lake City facility. The 150 kW chargers will provide the Volvo VNR Electric truck with an 80% charge in about 90 minutes and will utilize its existing solar power to avoid off-peak costs for charging from the grid.
As part of its overall sustainability initiatives, the family-run paper company has made significant investments in solar energy, previously installing 1,000 solar panels that generate up to 1100 kWh per day. The solar panels also provide power to 40 kWh charging stations for employees' personal electric vehicles at its facility.
"My daughter is the fifth generation of our family to join the business, so we understand the vital importance of protecting the air quality in the community where we have lived and worked for decades," said Steve Keyser, president, Utah PaperBox. "We are proud to be the first company in Utah to deploy a Volvo VNR Electric, and our driver is wild with excitement at the chance to drive the battery-electric truck. I predict we will not be the only company making the transition, not just from an environmental standpoint, but for the many business advantages offered."
XPO names new COO
XPO (CCJ Top 250, No. 7) has announced that Dave Bates is joining the company as chief operating officer, North American LTL, effective April 21.
"Dave is a high-impact executive with a strong track record of driving excellence in all aspects of LTL operations," said Mario Harik, chief executive officer of XPO. "We're delighted that he'll be leading our operations in creating ongoing value for our customers and investors."
Bates joins XPO from 27 years with Old Dominion Freight Line (No. 10), where he was responsible for all day-to-day operations in North America for the last 12 years as senior vice president, operations. He started his career with roles at Carolina Freight Carriers and Roadway Express.
Alaskan driving school seeks ELDT waiver
Alaska's Ice Road Driving School is petitioning the Federal Motor Carrier Safety Administration for an exemption from the skills road test portion of the behind-the-wheel (BTW) entry-level driver training (ELDT) requirements for driver trainees.
Specifically, the school is asking for an exemption from the requirements that driver trainees seeking a Class A or Class B CDL demonstrate proficiency in BTW maneuvers related to entering the on ramp, exiting the off ramp, right turns, and left turns.
Alaska's Ice Road Driving School requests the exemption regarding routing prescriptions that are specific to exact off- and on-ramps, and right and left turns, adding that it will aid in the safe administration of road tests by the Alaska State Department of Motor Vehicles.
The school says that because of the unique road system and challenging terrain in Alaska, it's difficult to adhere to the driver training regulations. They further explain that the road configurations lead to only a few major established safe road systems in Alaska.
The school said it believes that the road skills test for a CDL applicant can safely be administered by the state test examiner as set routes can be established and approved without the CDL applicant completing certain portions of the mandatory BTW training.
Alaska's Ice Road Driving School is seeking the exemption on behalf of itself and all state and local commercial driving schools in Alaska, as well as individuals qualified as third-party testers in the state.
FMCSA is accepting public comments here through May 22.