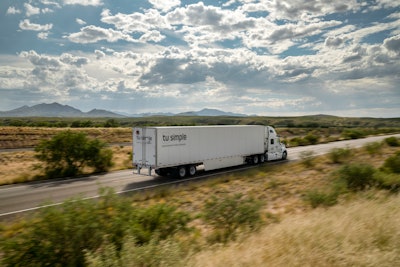 TuSimple
TuSimple announced Thursday a major reduction in its U.S. job force following a similar cut made in December.
The news follows the company's announcement last week of a possible Nasdaq delisting for failing to submit its quarterly report on time.
The latest job cut will end positions for 30% of its U.S. employees. In December, the San Diego-based company laid off 25% of its workers. Most of those positions were in the U.S. The combined job cuts are expected to result in annual savings of $120 million.
Just as he did in December, TuSimple president and CEO Cheng Lu once again pointed to market conditions as a cause for their latest layoffs.
"As we relaunch TuSimple, we have taken a variety of factors into consideration including further deterioration of global economic growth, significantly reduced capital availability in the self-driving industry and redundant hardware availability," Cheng Lu said. "Given these factors, we believe this restructuring, while difficult, aligns our capital spend with the pace of overall industry readiness and improves our long-term competitive position. These decisions are not made lightly as they impact many of our colleagues. Our company would not be where it is today without their contributions. For that, they have our utmost gratitude."
[Related: Autonomous trucks deliver challenges for insurers]
TuSimple has continued to weather ongoing challenges. In December, prior to its layoff announcement, TuSimple and Navistar called off their autonomous partnership.
In February, the Justice Department was urged by a U.S. national security panel to consider possible espionage charges against TuSimple leaders over data sent to fuel cell startup Hydron in China according to the Wall Street Journal. TuSimple issued a statement on its website denying any wrongdoing and said in part that the data transfer to Hydron "is the same type of information shared with other potential truck manufacturing partners so those vehicles can be custom built to be compatible with our technology." An investigation may take years WSJ reported.
In March, the Federal Motor Carrier Safety Administration concluded an investigation following a crash that occurred April 6, 2022, in which a TuSimple truck made contact with a concrete median divider in Tucson, Arizona. No injuries were reported.
The FMCSA investigation went well according to Lu.
"We were happy to cooperate with the FMCSA throughout their investigation and were happy to see the investigation closed without any penalties brought against the company," Lu told CCJ .
Ryan Amerman, TuSimple's vice president of capital markets and business development, said the company is focused on advancing its autonomous technology as its trucks continue to run daily out of its Tucson, Arizona, facility.
"We will continue validating our system by testing (but on a smaller scale) and continuing to run simulations with the data we have collected," Amerman said. "We will continually refine our system and work towards automating one lane at a time, starting with Tucson to Phoenix. TuSimple remains focused on commercializing Level 4 autonomous trucks."
The company is banking on its recently announced TuSimple Domain Controller (TDC) which is set for production in the fourth quarter.
"The TDC unlocks the potential for a variety of autonomous driving solutions ranging from advanced L2 to full L4 self-driving - providing customers and partners with a true low-cost, integrated go-to-market solution," Lu said. "When in use, it has the power to process more sensor data, sensor fusion and complex driving operations than traditional edge computing systems."
[Related: Hirschbach, Aurora add autonomous lane in Texas]
Lu said TuSimple's autonomous technology can distinguish between a human being and an inanimate object like a log or pole.
"We use state-of-the-art deep learning techniques to recognize a person and distinguish them from other objects such as poles or signs," Lu said. "In addition, through our Cybermap technology, once a truck is able to identify a human or an object near the road, it's able to instantly add that object to our mapping system so that all trucks within our fleet are aware of its existence."
Lu's not so worried about inclement weather like snow and intense rain proving to be barriers to autonomous trucking. Instead he sees public relations as the greater challenge.
"I think there's still some work to do in the public acceptance of autonomous trucks and we're actively trying to improve that," Lu said. "For example, we recently did a voluntary safety audit with a third party company called TUV SUD. They looked over our policies, processes and procedures for test driver selection, training and oversight. The results were positive, in fact, it showed we meet the guidelines and requirements of industry best practices.
"We've maintained that safety was our number one priority but we wanted people to know that our dedication has been verified. I think as people learn more about the industry they'll see the benefits it brings - not only is it safer, but it cuts down on fuel consumption and reduces the carbon footprint of the industry," Lu continued.
Strong start, challenges along the way
TuSimple gained the attention of trucking manufacturers, fleets and Wall Street when it accomplished some industry firsts in the fledgling world of trucking autonomy.
In December 2021, TuSimple conducted the world's first successful driver out run in an autonomous Class 8 truck. The 80-mile journey at night from a rail yard in Tucson, Arizona to a distribution center in Phoenix included surface streets and highways. The truck interacted successfully with motorists, traffic signals, on-ramps, off-ramps and emergency lane vehicles. Lu is proud of that feat and a few others.
"We were the first autonomous vehicle company to go public with a traditional IPO, and we conducted the world's first driver-out autonomous freight test," Lu said. "Now, with the development of the TDC, TuSimple is the only AV trucking company to develop its own central compute unit."
However, it's doubtful that TuSimple will be able to put any of its technology to work in California anytime soon. Legislators there are working to ban autonomous trucks which Amerman noted is bad for business.
"The regulatory environment plays a strong part in business opportunity, and draft bills like what we're seeing in California do not help usher in the job growth and market opportunity that this technology will offer," Amerman said. "We, and others in our industry, have been vocal in our opposition to such bills and have been engaging with various legislators to offer creative ideas that seek to resolve concerns and ensure the safe and efficient adoption of autonomous vehicle technology."
Despite political pressure and a high corporate tax structure, Amerman said TuSimple has no plans to move its headquarters out of California.
Regarding the notice of delisting TuSimple received earlier this month from Nasdaq, Amerman said TuSimple hired UHY as their new auditor and is "working hard to file our delinquent filings as soon as practicably possible" to avoid delisting.
When asked if TuSimple will remain a viable force in trucking autonomy following its setbacks Amerman said, "Yes, TuSimple remains focused on commercializing autonomous trucking. By reducing our cost structure and reorganizing our technology team, we intend to make ourselves smaller and leaner while we continue the research and development of our technology. We believe we have industry-leading technology, and since the industry opportunity is unchanged, we intend to continue investing in our technology. We have a strong balance sheet and since last year have taken proactive measures to protect the cash on the balance sheet so that we can extend our runway without having to raise additional capital."