Trucking news and briefs for Thursday, May 4, 2023:
Hirschbach testing Aurora autonomous trucks on Dallas-to-Houston run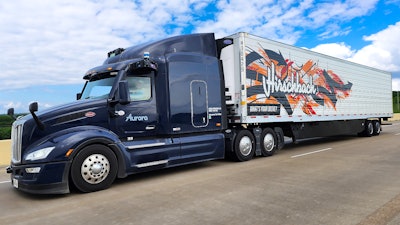 Hirschbach Motor Lines (CCJ Top 250, No. 49) has started a commercial pilot program with Aurora Innovation to test and deploy autonomous trucking for refrigerated cargo between Dallas and Houston.
"Since joining Aurora's Industry Advisory Council, I have had a front row seat to the positive impact of autonomous technology," said Richard Stocking, co-CEO of Hirschbach. "Autonomous trucks will provide safe and reliable capacity to supplement our existing network of incredible company drivers. We will identify opportunities that will expand autonomous capabilities across Hirschbach's network that will hopefully supplement our drivers from monotonous stretches of highway and allow them to spend more time with their families."
The new pilot will use a Peterbilt 579 upfit with the Aurora Driver autonomous driving system.
"We are extremely excited that Hirschbach has the confidence in Aurora's technology and our ability to deliver perishable goods safely and on time," said David Maday, Senior Vice President, Business Development & Product Strategy at Aurora.
Aurora's new, next-generation trucking terminal in Dallas is designed to support these operations to maximize efficiency for a variety of customers, including refrigerated trailers. Aurora Driver-equipped tractors with Hirschbach reefer trailers started to make the 400-mile round-trip along the I-45 corridor between Aurora's Houston and South Dallas terminals this week.
Postal, drayage carrier orders 50 Nikola hydrogen fuel cell trucks
AJR Trucking, a carrier for the United States Postal Service and a drayage carrier operating in the Ports of Los Angeles and Long Beach, announced a purchase order for 50 Nikola Tre hydrogen fuel cell electric vehicle (FCEV) trucks from Tom's Truck Centers. Deliveries are expected to take place between Q4 2023 and Q1 2024.
Nikola and its Southern California dealer, Tom's Truck Centers, will support AJR Trucking in securing its voucher application to CARB's Hybrid and Zero-Emission Truck and Bus Voucher Incentive Project (HVIP) program with the expectation of receiving $270,000 per FCEV in point-of-sale incentives. An additional $40,000 in federal tax credits is expected from the Inflation Reduction Act.
AJR Trucking and Nikola will also explore the opportunities to deploy Nikola's 10,000 psi (700 bar) mobile fueling solution at AJR Trucking properties in Compton and Santa Clarita, California, to provide fueling for the FCEVs. AJR expects to receive competitively priced hydrogen fuel delivered by Nikola to its terminals in support of the FCEV deployment. Net of the various incentives, AJR Trucking anticipates rough cost parity with its existing fleet of trucks in its postal service and drayage operations.
"We are confident the future of trucking is zero-emissions, and based upon our operational needs, the Nikola Tre FCEVs were the only zero tailpipe emission vehicles that could meet our range, performance, and cost targets," said Jack Khudikyan, owner of AJR Trucking. "We are excited to be at the forefront of the deployment of this new technology and to be able to offer our customers zero-emissions freight solutions. We look forward to working with Nikola and USPS to integrate the FCEVs into our mail hauling operations starting in Southern Calif. and envision expanding the use of these trucks throughout our operations nationwide."
Bill to protect carriers from staged-accident fraud reintroduced
A bill that would protect trucking companies from defending against or settling fraudulent insurance claims as a result of staged collisions has been reintroduced in the U.S. House of Representatives.
Last week, Reps. Mike Bost (R-Illinois), Garret Graves (R-Louisiana) and Henry Cuellar (D-Texas) reintroduced the Highway Accident Fairness Act, which was first introduced in the last Congress in 2021.
The bill would make staging accidents with commercial vehicles a federal crime punishable by up to 20 years in prison, or by a minimum of 20 years in prison if a staged crash results in "serious bodily injury or death to another person," the bill reads.
The bill would also provide jurisdiction to federal courts in civil cases alleging injury or loss of life in crashes involving commercial vehicles in which more than $5 million in damages are sought and the plaintiff and defendant are from different states.
Legislation looks to streamline CDL licensing process
U.S. Rep. Darin LaHood (R-Illinois) recently introduced a bipartisan bill to help streamline the process for obtaining commercial driver's licenses.
The Licensing Individual Commercial Exam-takers Now Safely and Efficiently (LICENSE) Act, would streamline burdensome licensing regulations by making permanent several waivers that the Federal Motor Carrier Safety Administration implemented in response to COVID-19.
The bill would allow state and third-party examiners who have maintained a valid CDL test examiner certification and have previously completed a CDL skills test examiner training course to administer the CDL knowledge test without completing a CDL knowledge test training course. The continued availability of CDL knowledge testing would help maintain an adequate and sustained supply of trained truck drivers, a press release from LaHood said.
The bill also would allow states to administer driving skills tests to applicants from other states, streamlining the credentialing process.
Rep. LaHood was joined by U.S. Reps. Henry Cuellar (D-Texas), Troy Balderson (R-Ohio), Jim Costa (D-California), Dusty Johnson (R-South Dakota), and Josh Harder (D-California) as co-leads of the legislation.
Mack adds Cummins nat-gas engine as option on Granite models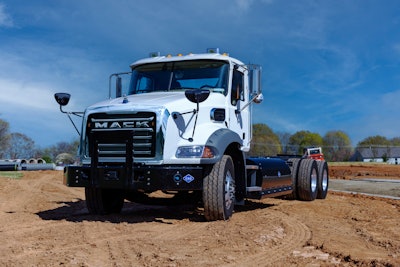 Heavy duty trucks are on a path to electrification and zero emissions, but natural gas is the current reduced emissions rest stop.
Mack Trucks on Wednesday added the 320-horsepower Cummins L9N engine compressed natural gas engine as an available option on Mack Granite models, targeting waste customers that want an alternative-fuel solution (or that generate their own fuel).
Exclusively available in axle-back configuration, the Mack Granite CNG model is matched with an Allison 4500 fully automatic 6-speed transmission and features the new, more modern fascia with an updated chrome grille and self-heating LED headlamps that offer brighter illumination, improving forward visibility by up to 29% and peripheral visibility by up to 50%. Mack introduced the refreshed Mack Granite model at World of Concrete 2023, January 17 in Las Vegas, Nevada.
Self-heating LED headlights round out the updates and add to the suite of safety features already on previous Mack Granite models. The integrated heating elements automatically sense the ambient temperature and turn on to keep ice and snow from building up in colder environments and an anti-fog coating prevents condensation in warmer, humid environments to improve visibility.